Key Highlights
Creditbit price somehow managed to stay above the 0.00040BTC support against the Bitcoin.
It looks like there is a chance of a double top pattern forming at 0.00052BTC on the 7-day chart of CRBIT/BTC (data feed from Coinmarketcap).
On the downside, an important is at 0.00042BTC, which holds the key in the short term.
Creditbit price remained above key levels against the US Dollar and Bitcoin, and now CRBIT/BTC is likely forming a short-term double top pattern.
Creditbit Price Resistance
In the last analysis, we discussed that a break and close above 0.00050BTC in Creditbit price may ignite an upside recovery against the Bitcoin. The price failed to move above the stated level, as there were continuous offers presented near 0.00052BTC. The stated level acted as a major hurdle and prevented upsides towards 0.00060BTC. The price also failed to settle above the 50% Fib retracement level of the last decline from the 0.000620BTC high to 0.000400BTC low.
The most important point is failure near 0.00052BTC. There is a likely a double top pattern forming at 0.00052BTC on the 7-day chart of CRBIT/BTC. If the pattern is true, there are chances of further losses in the near term below 0.00042BTC. On the downside, there is a bullish trend line waiting at 0.00043BTC on the same chart. We can consider it as the neckline support area.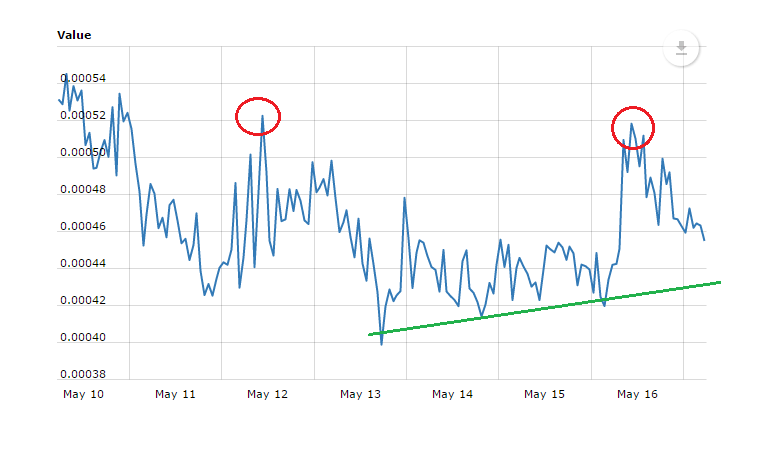 A break and close below the 0.00042BTC support may call for the pattern confirmation and more declines. On the upside, we need a close above 0.00052BTC. As long as the price does not move above the mentioned level or 0.00060BTC, it remains at a risk.
Looking at the indicators:
Hourly MACD – The MACD for the CRBIT/BTC pair is struggling to move in the bullish zone.
Hourly RSI – The RSI for the CRBIT/BTC pair is currently well below the 50 level with no signs of buyers.
Intraday Support Level – 0.00042BTC
Intraday Resistance Level – 0.00052BTC
Charts from Coinmarketcap