Crypto.com is one of the centralized exchanges that survived the market tribulations of 2022. Recent analysis done by CryptoCompare shows that the CEX had an average market share of 4.6% last year. Its native token Cronos, despite the challenges, was able to withstand the beating.
Although this is incredibly small compared to the big shots of the market, its mere survival could mean big things for its growth. 
CRO And Macroeconomic Trends
The crypto market saw its value drop sharply as the bear market gripped the broader financial market. With major crypto institutions collapsing and the crypto market learning the mistakes of the 2008 financial crash, the industry is ready for a new start this year. 
The Federal Open Market Committee (FOMC) Meeting Minutes that kicked off yesterday certainly had an effect on Cronos (CRO) as a whole. After dropping in price in the past days, the minutes gave new hope to investors as Cronos traded at $0.0597 and gained 2.4% in the past 24 hours.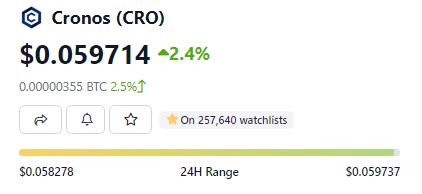 Image: Coingecko
Major cryptocurrencies like Bitcoin and Ethereum also rose after news of a seemingly dovish macroeconomic stance by the U.S. Federal Reserve. 
This dovish stance can be a sign that the consumer price index (CPI) might be lower than that of November's. A strong sign that the previous year's interest hikes have a strong effect on managing the inflation problem. However, it remains to be seen whether it did lower or not. 
Image: CryptoSlate
Investors Should Watch This Level…
Good macros aside, the central bank is still hawkish on the acceptance of crypto on the financial system. But with that said, the crypto market and the traditional financial space are increasingly intertwined with one another and with the International Monetary Fund pushing for regulation. 
Although the markets should anticipate the introduction of legislation, CRO investors should still focus on the macro trends that will have an effect on the market right now. Next week, the Fed is expected to release the CPI data that would have an effect on the markets. 
Meanwhile, investors and traders should watch a breakthrough on the current CRO resistance at $0.0607 which would be a bullish indicator of things to come.
But with the CPI data incoming, holding off any major decision could be the wisest choice to do. 
CRO/USD pair trading at $0.0595 on the daily chart | Chart: TradingView.com
Monitoring how Bitcoin and Ethereum move will also be crucial. Even though Cronos correlation is low right now, major market movements made by these two top cryptos would determine where the entire cryptocurrency market might go. 
However, with the fears of a recession gripping the markets, gains higher than $0.0638 might be impossible for Cronos as investor sentiment is dampened.
As the situation unfolds, investors and traders will have an answer as to what to do with their Cronos holdings.