A perfect storm of ICOs, Bitcoin, and an emerging finance industry full of unknown tech born from mysterious figures helped crypto soar in 2017. Eventually, the bubble inflated too large and ultimately burst. There hasn't been quite the same level of FOMO since.
That all could change if more crypto companies go public over the next two years and bring more mainstream interest to the space.
Coinbase IPO Could Create Domino Effect For Crypto Industry
One month ago, rumors began to circulate that San Francisco-based Coinbase was preparing a stock market listing worth $8 billion. Criticism began to swirl around how ironic an IPO would look for the crypto-focused firm, rather than launching as tokenized shares in some capacity.
As an emerging industry leader, they should be seeking to set trends, not adhere to past traditions.
Related Reading | Why A Stock Market Listing For Coinbase Is Ultimately Ironic For Bitcoin
While the development has yet to be confirmed, a public listing for the cryptocurrency exchange is inevitable. The young industry hopes to someday mature and be respected amongst other financial markets in the same manner.
The added visibility and legitimacy of crypto firms being listed publicly will do wonders for raising the industry out from the shadows of the internet and its origins from the dark web.
The number of #crypto companies listed on public markets will increase considerably in late 2020 and through 2021.

If the public mkt debuts coincide with an accelerated bull market, there likely will be a substantial increase in retail FOMO into the space. https://t.co/uO0jcZFtSP

— John Todaro (@JohnTodaro1) August 4, 2020
And as more and more firms follow this trend, late in 2020 and all through 2021, it could accelerate any bull market and cause a "substantial increase in retail FOMO" says former Wall Street bond trader and Head of Research at TradeBlock, John Todaro.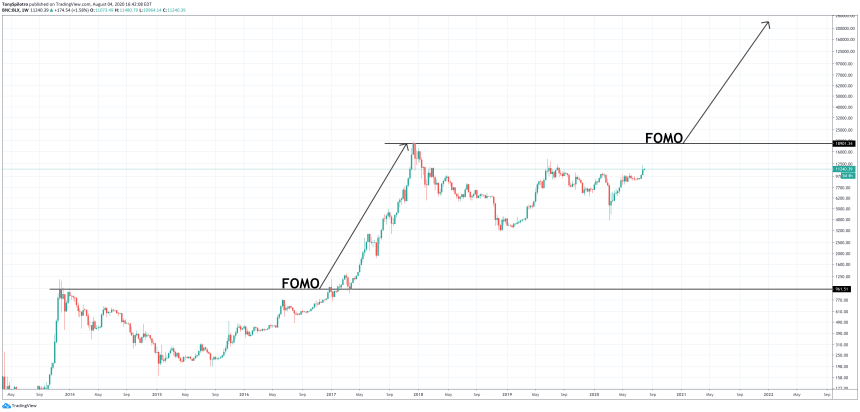 BTCUSD FOMO Levels | Source: TradingView
Bitcoin Retail FOMO To Return After Break of $20,000, Coinciding With Institutional Interest
The added visibility and hype surrounding not only cryptocurrency brands, but a renewed bullish momentum around the assets themselves could yet again create a perfect storm for the asset class.
FOMO and irrational exuberance during the 2017 bubble drove asset valuations to exorbitant levels. Valuations are now much higher than before the last bubble, and cryptocurrencies are no longer an unknown form of futuristic financial tech.
The negative stigma associated with the bubble has slowly been shed, and new narratives are developing.
Institutions, hedge funds, and more are finally taking note of the cryptocurrency industry. This type of high wealth investor has recently begun to dip their toes into the space, and a boom in crypto companies going public could further attract institutional interest.
Related Reading | Chartered Market Technician Claims Bitcoin Poised For Strong Uptrend
Todaro expects a "number" of these crypto companies to eventually be listed throughout the next year and a half, and it could help strengthen any uptrend the market has started.
If Bitcoin breaks above $20,000, and retail investor FOMO fully returns, coinciding with a new digital gold rush from smart money investors, any new uptrend could lead to astronomical prices.