The general sentiment in the crypto market seems to be turning bearish as Bitcoin and Ethereum record losses over today's trading session. The two larger cryptocurrencies by market cap still record some gains over higher timeframes but seem poised for a dicey week.
Related Reading | Bitcoin Puell Multiple Lifts Off From Buy Zone, Bull Momentum To Follow?
At the time of writing, Bitcoin (BTC) trades at $22,100 with a 3% loss in the last 24 hours. In the meantime, Ethereum (ETH) trades at $1,520 with a 6% loss over the same period.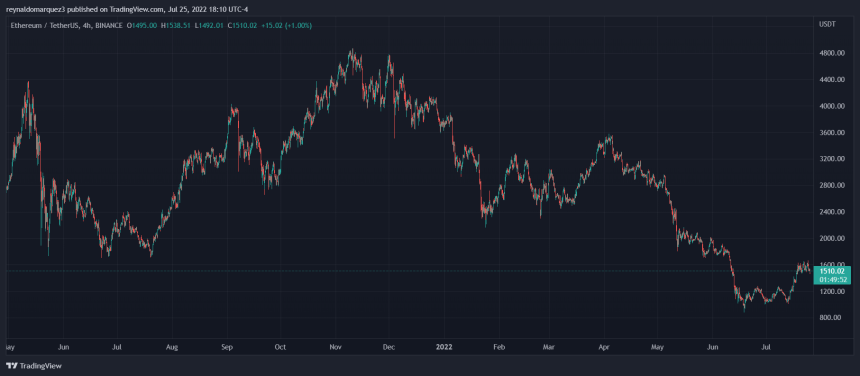 The crypto market faces some hurdles with this week's public companies' earnings reports. If public companies failed to meet market expectations, risk-on assets could resume their bearish trend.
Jurrien Timmer, Director of Macro for investment firm Fidelity, believes this earnings season has been "boring". So far, only 104 companies in the U.S. public market have released their reports with Meta, Apple, and other major entities still to go.
In addition to that, the U.S. Federal Reserve (Fed) could announce a decision on interest rates hike. Most market participants expect a 50 basis point to 75 basis points increase, anything higher in combination with a poor earnings season could trigger downside volatility for crypto assets.
On the second week of this earnings season, Timmer said the following sharing the chart below:
After all the handwringing about "the next shoe to drop," a boring earnings season would be a relief. Q2 so far appears to be just that, with 72% of companies beating (lowered) estimates by an average of 4.3%. Only 104 companies reported so far, but it's good start.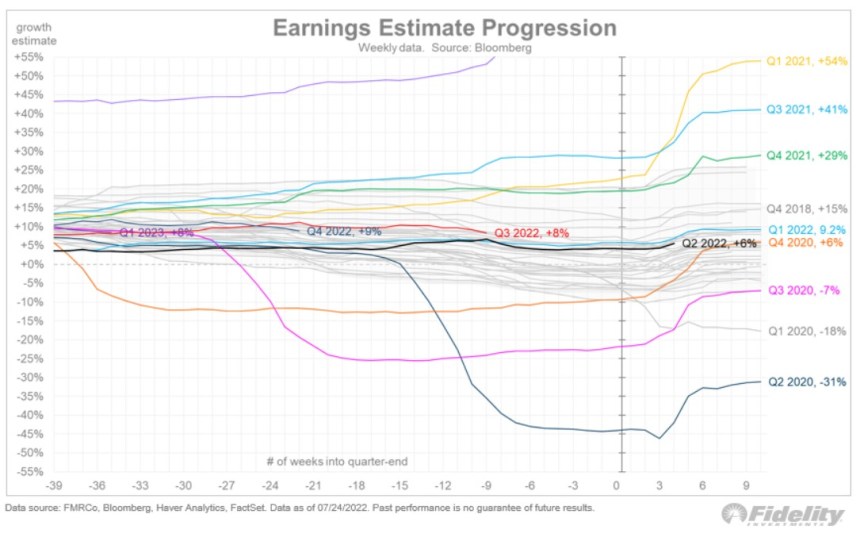 Should Crypto Investors Prepare For The Worst?
Further data provided by Timmer hints at an extension of July's bullish price action for the S&P 500. This major index records a 16% drop since January 2022 and could trend higher forming a "risk rally" if "earnings growth" continues to hold.
In the past months, Bitcoin, Ethereum, and the crypto market have seen positive appreciation after a major Fed event. This Wednesday, the financial institution will hold its Federal Open Market Committee (FOMC) meeting.
According to Timmer's conclusions, if earnings remain "boring" the crypto market seems likely to push further upwards. However, the Fed might push down risk-on assets with a 100-bps hike.
Related Reading | Is Ethereum Stronger Than Bearish Macro Factors? Why ETH Will Be Tested This Week
Via Twitter, a pseudonym analyst makes the case for a hawkish Fed on the back of "solid" data recorded by the U.S. jobs markets. This data might hint to the financial institutions that they can "keep pushing until something breaks". The analyst said:
So long as the market sees US employment holding up, it will be on edge for tighter monetary policy shifts (sell the rally). The Fed know that breaking the employment market will help calm inflation. If people are losing their jobs and have no dollars to spend, demand-side pressures wane and the supply-side can normalize.