This biggest one day dump this year, Ethereum, XRP, Bitcoin Cash, EOS and Cardano dropping double digits
The crypto winter is getting colder as markets tanked yet again over night to a new 2018 low. Total market capitalization plunged below $200 billion and kept going to reach its lowest level since the end of October 2017.
Bitcoin briefly dipped below $6k once again and is holding the level just above it. With a loss of 6.5% on the day BTC is down to $6,050 and poised for further declines. Trade volume has dropped from $6.6 billion to just over $5 billion at the time of writing.
Ethereum has crashed, taking an epic nosedive of 17.5% to trade at $265. This puts it back to mid-2017 price ranges when sentiment was largely bullish. Over the past week ETH has shed 35% as its market cap dumped nearly $15 billion. From a July high of just over $500 Ethereum has crashed almost 50% marking its biggest decline since early January. Ethereum has not been this low since September 15 last year when it briefly dipped to $200. Many have blamed ICO projects for dumping ETH onto the market as all cryptos get pummeled. The dust may settle at around $200 which has been a strong support point for Ethereum in the past.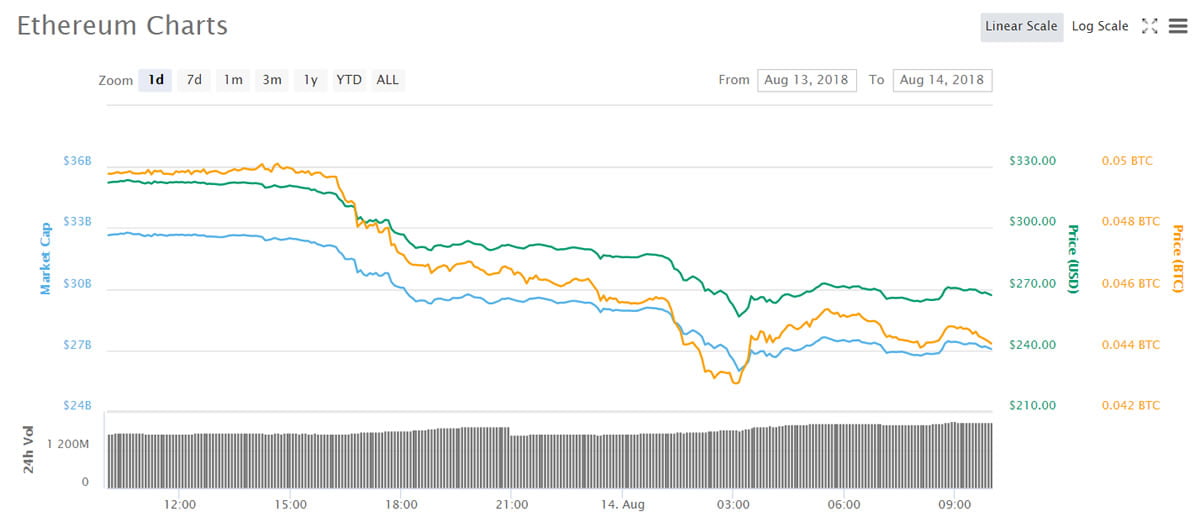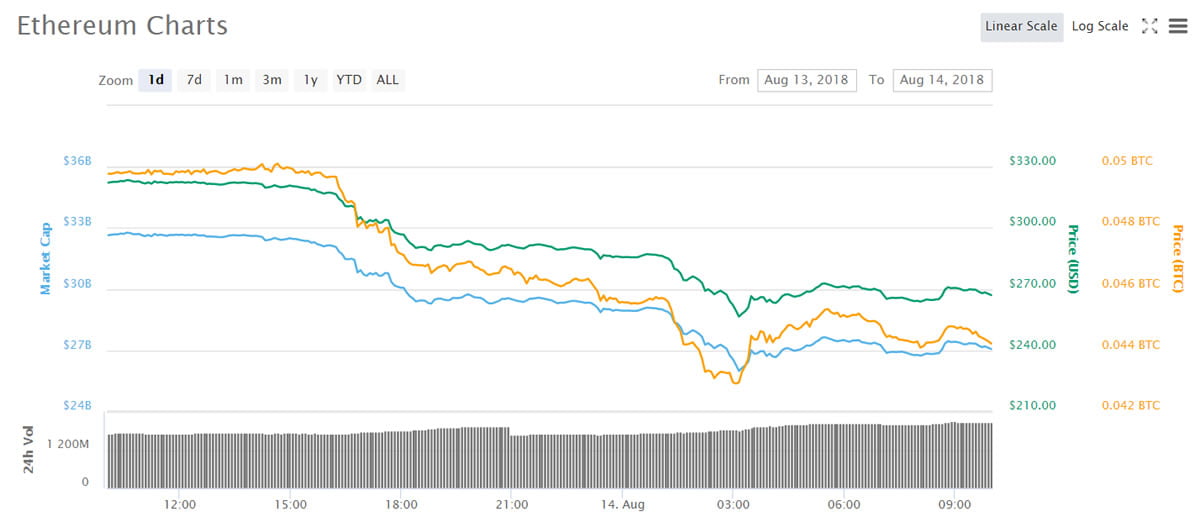 All altcoins are dumping once again with Cardano taking the biggest hit in the top ten of 19.4% on the day. Bitcoin Cash, XRP and EOS are not far behind with losses of 14-16%. The market cap chart has certainly been shaken up by the August rout which has continued unabated. In the top twenty there are four altcoins getting absolutely smashed with over 20% declines on the day. These include Tron, Iota, Neo and Binance Coin, the latter taking the biggest dump of 23%.
Not a single coin in the top one hundred is green at the moment, not even the stablecoins such as Tether, Dai and TrueUSD. The biggest loss has been suffered by Ark which is down almost 30% in 24 hours. There are nine other altcoins with an over 25% decline at the moment including Kucoin Shares, Bitcoin Private, Zilliqa, Icon, Augur, and 0x.
Total crypto market capitalization hit a new 2018 low of $189.6 billion a few hours ago marking a loss of $30 billion in just 15 hours. On the day they are down almost 12% which is one of the biggest one day dumps of the year. Currently market cap is at $193 billion with a daily trade volume of $15 billion. Things are still looking very precarious in crypto land.
FOMO Moments is a section that takes a daily look at the top 25 altcoins during the current trading session and analyses the best performing ones, looking for trends and possible fundamentals.