Markets are flat again today; Ox surging, XRP and Tezos recovering slowly.
It seems that things are back to horizontal territory for crypto markets as very little has moved over the past 24 hours. Total market capitalization remains over $210 billion where it was this time yesterday.
Bitcoin has flat lined again and is stuck at just below $6,600. Analysts have noted a symmetrical triangle formation which could lead to a breakout from its consolidation. Volume has fallen back after the recent spike and has stabilized at $4 billion. Ethereum is still weak but it is holding $210 at the moment, no change from yesterday.
Altcoins are a mixed bunch once again today. In the top ten XRP is showing the best gains with 4% to $0.466. Stellar and Cardano are also both up over 2% but the rest have declined slightly. Looking at the top twenty today only Neo and Tezos are in the green rising a couple of percent on the day, all of the other altcoins have dropped back a little.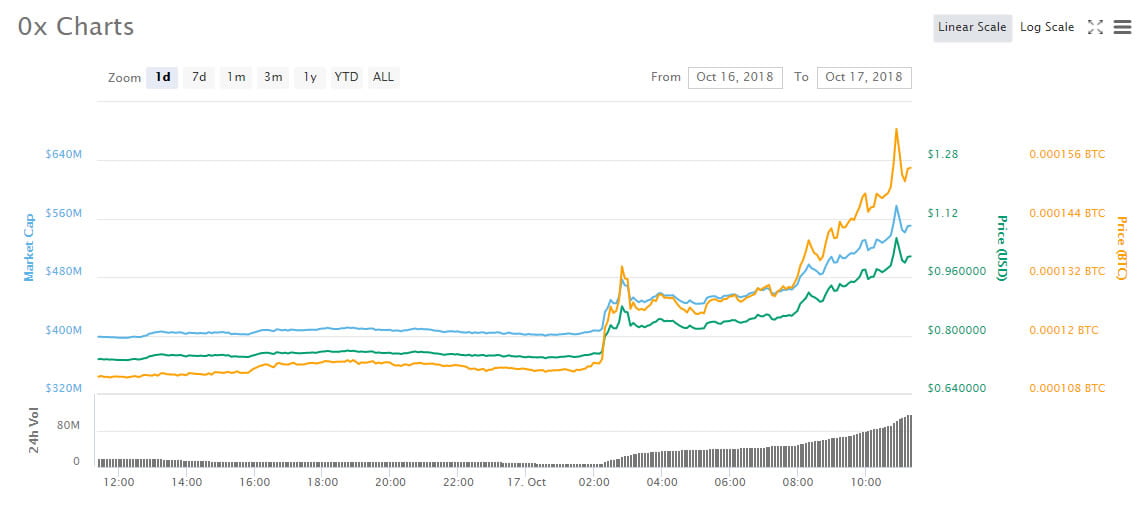 Today's big pump is DEX protocol 0x which has surged 35% to just over $1. Trade volume has also jumped from $20 million to over $115 million as 0x goes live on Coinbase:
ZRX is now live at https://t.co/bCG11KveHS and in the Coinbase iOS and Android apps. Coinbase customers can log in now to buy, sell, send, receive, or store ZRX. https://t.co/kzDisSZrFu

— Coinbase (@coinbase) October 16, 2018
On the week 0x has made gains of almost 40% and over the past month it has made almost 80% recovering back to late July prices. Binance has most of the trade volume with over 50% and, no surprise, second exchange is Coinbase Pro taking almost 20% of the trade in ZRX.
Other altcoins in the top one hundred performing well at the moment include PIVX up 14% and MobileGo trading 12% higher at the moment. Getting beat up is Eternal Token which is shedding 23% at the time of writing.
Total crypto market capitalization has not moved much overnight and is still around $212 billion. Volume has fallen back to $12 billion and the sideways channel seems to have resumed. Bitcoin dominance has dropped a little back to 53.8% but it is still strong against the altcoins, most of which are at their lowest levels for over a year.
FOMO Moments is a section that takes a daily look at the top 20 altcoins during the current trading session and analyses the best performing ones, looking for trends and possible fundamentals.