Markets still sideways; Binance boosts Decred, Tezos also climbing, Qtum pulling back.
More monotony today on crypto markets as there has still been no major movements. Another drop from weekend levels has seen market capitalization fall back below $210 billion as the bears keep things on the floor.
Bitcoin has made a tiny decline to take it below $6,500, but only just. BTC is trading at $6,480 right now and a bearish channel seems to be forming so further drops could be on the cards. Ethereum has already fallen back and is a percent down on the day taking it below $205.
The rest of the altcoins are mixed today with more red than green on the charts. XRP and Bitcoin Cash are both down over a percent while Stellar and Monero are both up by a similar amount. The rest are static for another day.
In the top twenty only Tezos is showing a decent gain, making 6% on the day to trade at $1.42. There are a couple more in the green including Ethereum Classic which has made over 3% today. Dropping back is Zcash and VeChain both losing over 2% on the day.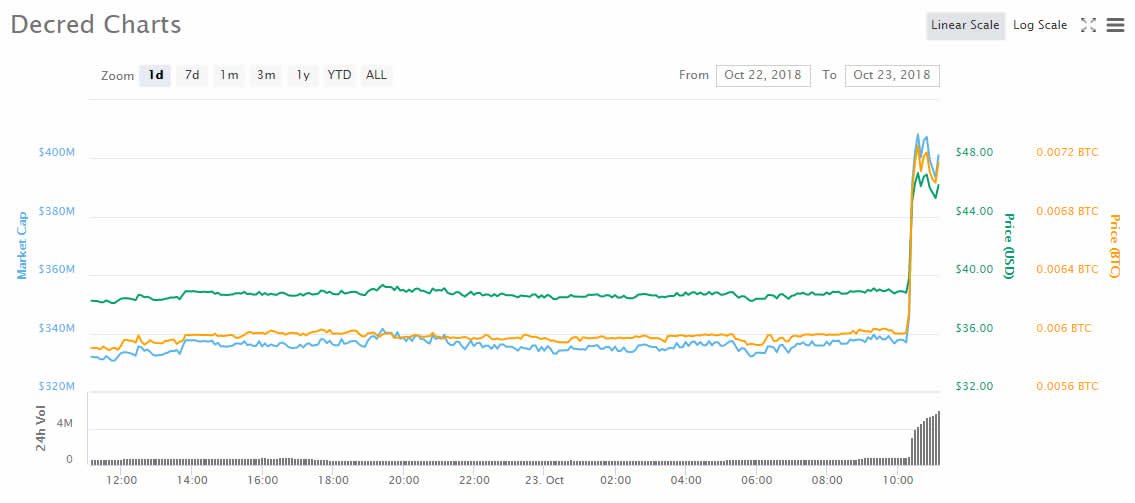 Today's big pump comes from Decred which has bolted almost 25% a couple of hours ago to over $47. DCR has since retracted a little but is today's top performer in the top one hundred. A Binance listing has caused the predictable pump for Decred;
#Binance Will List #Decred ( $DCR) on 2018/10/24https://t.co/b4EPrXG9cQ pic.twitter.com/SJEtkfeH3D

— Binance (@binance) October 23, 2018
DCR trade volume has skyrocketed tenfold from around $600k to over $6 million. South Korea's Upbit is taking the majority with Bittrex and Huobi not far behind. Also performing well today is Chainlink which is pumping a similar amount. Crypto.com and Polymath are also in double figures at the moment with gains of 14-16 percent.
Altcoins losing the most in the top one hundred right now are Qtum and Electroneum both shedding over 6%.
Total crypto market capitalization has hardly moved in 24 hours and is still at $209 billion. A spike added a couple of billion a few hours ago but that has already been eaten up by the bears. Markets are pretty much at the same level they were this time last week and the tedium continues.
FOMO Moments is a section that takes a daily look at the top 20 altcoins during the current trading session and analyses the best performing ones, looking for trends and possible fundamentals.