More movements on markets today; EOS, Iota, Tron, and Dash all performing well.
Crypto market momentum has continued upwards this week as further gains for most digital coins keep them in the recovery zone. Total market capitalization has been boosted by another $5 billion and has made it over $230 billion, its highest point for 22 days.
Bitcoin managed to break resistance at $7k and push further with a 2% climb on the day to $7,080. The next significant level for BTC is $7,250 and the buyers seem to be in control at the moment. Ethereum has also followed making a gain of 2.5% on the day to pass $290 for the first time in over a week.
Most of the altcoins are in the green today with EOS leading the charge in the top ten. EOS is currently up 15% on the day, trading at $6.20, it has made over 34% on the week from a low of $4.63 last Wednesday. The EOS team has announced that they will develop a new voting system which will be used to let the community decide what to do with the funds raised in the EOSIO.savings account which has now reached a value of $35 million in tokens. Over the past month though, EOS is still down 25% from $8.22 this time last month.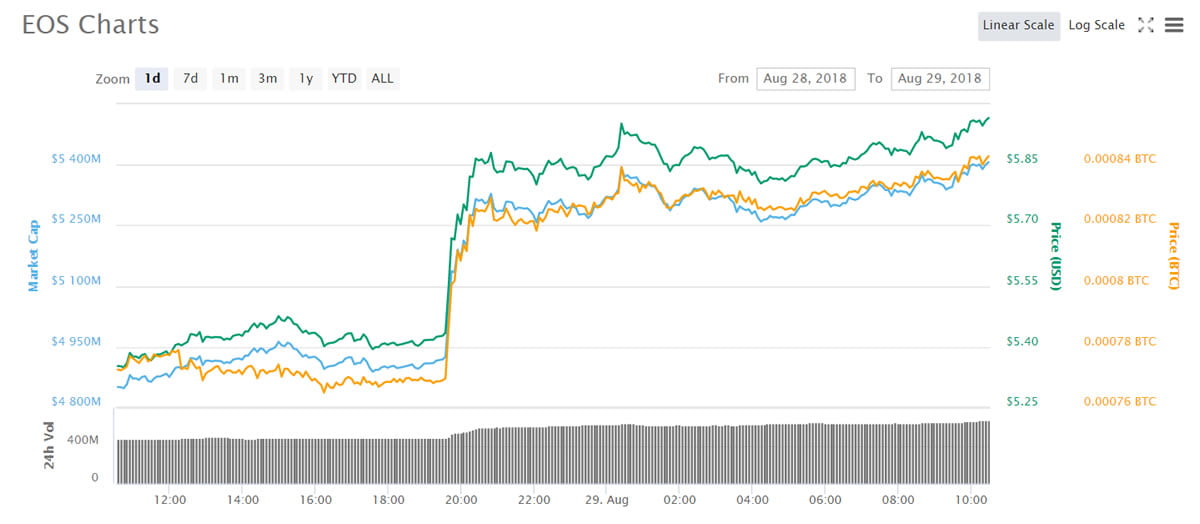 Iota is the other big mover in the top ten with an 11% rise to $0.786 while the rest are posting smaller gains of 1-3%. Further down the list the top twenty is showing similar movements aside from Dash which is still being lifted from its Latin American mobile deal. Dash is up a further 10% on the day to $198. Tron has made 6% to $0.026 while the rest are up just a couple of percent. VeChain has actually fallen back on the day dropping 2%.
Looking at the top one hundred Philippines based newcomer, Noah Coin, has pumped 72% as it enters the chart at 98. Holo is also on a pump with 28% gained on the day. Altcoins falling back at the time of writing include Substratum dropping 10%, and Nano and Aion both losing over 5% on the day.
Total crypto market capitalization has risen a further 2.6% on the day to $231 billion, its highest level for three weeks. Over $20 billion has flooded back into the markets since Friday and trade volume has inched up to $13 billion. It remains to be seen whether this recovery is real yet but more bullish sentiment is definitely welcome after 'Red August', the lowest month of the year in crypto land.
More on EOS can be found here: https://eos.io/
FOMO Moments is a section that takes a daily look at the top 30 altcoins during the current trading session and analyses the best performing ones, looking for trends and possible fundamentals.