Markets recovering a little on Sunday; XRP moving up, Stellar and Monero not far behind.
A Sunday bounce has pulled cryptocurrency markets back from the abyss … for now. Following one of the largest falls this year during the week markets are recovering a little today as total capitalization creeps back up over $185 billion.
Bitcoin has made it back to $5,600 with a small gain of 1.3% on the day. Since its 2018 low of $5,350 on Thursday Bitcoin has regained 4.7%, however, since the same time last week it has dumped 12.5%. Ethereum has not been able to recover much at all and has only made it back to $176 with 1.4% added at the time of writing.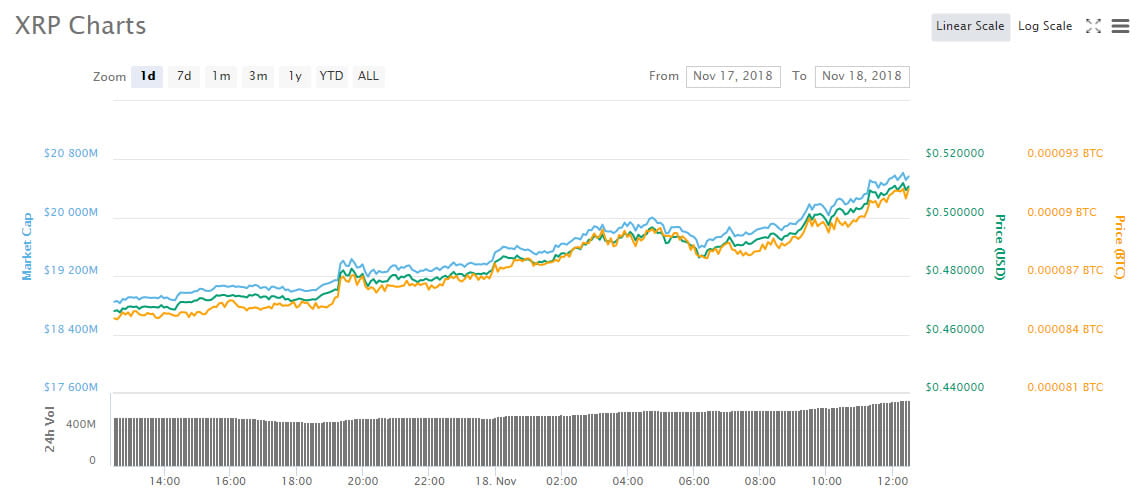 XRP is the big mover in the top ten today, accelerating away from Ethereum in third spot. XRP has risen 10% on the day taking it to $0.516 at the time of writing. It is now over $2.5 billion clear of ETH in terms of market cap. Momentum has come from Switzerland which has given the green light to the first cryptocurrency ETP (exchange traded product) with over 25% invested in XRP. Japanese traders have been buying up the token on Bitbank this morning as trade volume climbs 36% on the day to $730 million.
Stellar is also recovering well today with a 5.5% gain, pushing it up to fifth spot above EOS. Monero is not far behind adding around 4.5%. The rest are up around 2-3 percent on the day. In the top twenty Zcash has clawed back 4% but the rest are only gaining one or two. Nem and Tezos were still marginally in the red at the time of writing.
Today's obscure fomo pump is BOScoin, entering the top one hundred with a 16% surge on the day. Stratis is also doing well adding 10% and CyberMiles is climbing over 7%. Still dropping like a stone is Nasdacoin with a further fall of 14%.
Total crypto market capitalization has gained a little on yesterday's low levels. $5 billion has been added over the past day to lift markets 2.8% to $186 billion. Things are still grim on the weekly and monthly views with a 12.5% dump for crypto markets for these periods.
FOMO Moments is a section that takes a daily look at the top 20 altcoins during the current trading session and analyses the best performing ones, looking for trends and possible fundamentals.