Gradually emerging cryptocurrency Darkcoin performed fairly well in the BTC markets recently, rising from 743,310 satoshis to 814,565 satoshi between the Jan 31st and Feb 2nd trading session.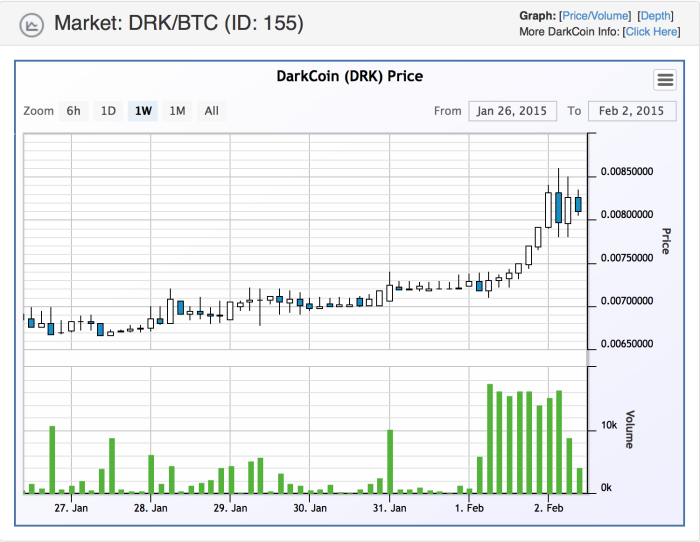 Before attempting this successful bull run, the DRK/BTC was trending sideways due to low trading volume. As you can see in the Cryptsy chart above, the trade volume spiked almost instantly during the 1/2 trading session, causing price to jump violently. Incidentally, it was around the same time when Bitcoin attempted to reverse from its prevailing downtrend, which it successfully did. So there might be a possibility that Darkcoin traders simply got influenced – an ideal scenario.
At the same time, Litecoin charts were almost non-reactive to Bitcoin's reversal. It simply means that traders opted to shift their near-term profits to a cryptocurrency that was ten steps away from Litecoin (in terms of market cap). At press time, the BTC/USD price has sured around 3% in over the last 24 hours, while Litecoin's has dropped 1.5%.
Possible Reasons Behind the Darkcoin Surge
We cannot deny the fact that Darkcoin was among the only top cryptocurrencies that survived the previous Bitcoin crash fairly well. With its developer Evan Duffield gaining fame after winning the 'Proof of Honour' award, and a multitude of projects lined up to release, the fundamentals around this coin are indeed supporting it. The Darkcoin price movements in the last few days could just be a pump that will soon transform into a fall. But for the long-term, traders are indeed optimistic about this anonymity-offering cryptocurrency.
Overall, it looks like a famous FIFO scenario (First-In-First-Out) as red candles are beginning to make their mark in today's trading session. Better hold a little bit to confirm the longevity of this pump and sell on top.
Disclaimer: We hold no responsibility of the losses faced by following the aforesaid opinions. Its a volatile market in the end and could go haywire without an alarm.
Image Credits: Flickr and Cryptsy.