After indicating increased upside momentum on its longer-term chart, darkcoin price could make a quick pullback to the moving average on its 1-hour chart. As seen on the DRK/BTC chart from Cryptsy, the cryptocurrency seems to be retreating from its latest rally against bitcoin.
The shorter-term moving average is still treading above the longer-term moving average on the 1-hour chart, confirming that the uptrend is likely to stay intact.
Price pulled back to the longer-term moving average, which held as a dynamic support level.
The pullback candle formed a long spike near the MA, indicating that plenty of buy orders were triggered at that area and that the uptrend might resume.
RSI is on its way down but seems to be turning back up, which suggests that buying pressure is returning a bit earlier.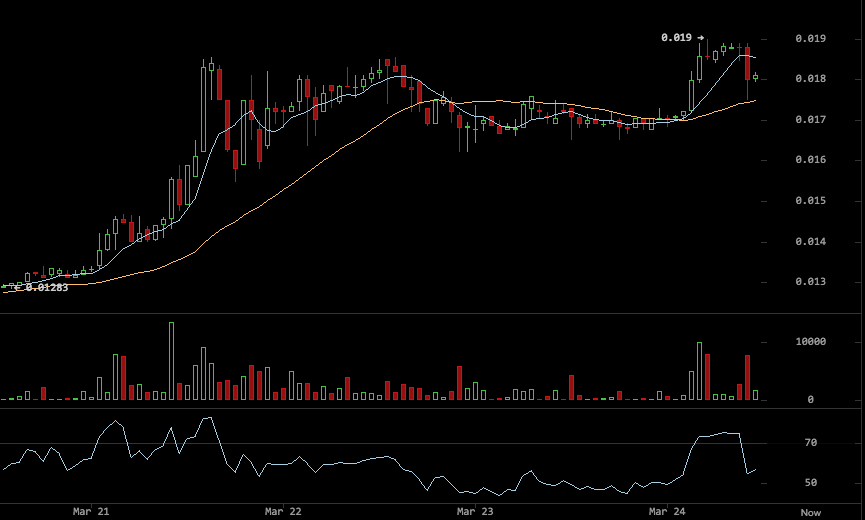 If the uptrend resumes, darkcoin price could head back to the previous highs near 0.0190 and possibly go for new ones if buying momentum is strong enough. On the other hand, if the resistance holds and sellers return to action, dogecoin price could retreat further to support at 0.0170.
A break below the 0.0170 area might indicate a longer-term market correction for darkcoin price or perhaps the start of a potential reversal. This could be confirmed once the moving averages cross lower, but it seems that the gap between the two is widening for now and suggesting a continuation of the current uptrend.
Conclusion
Darkcoin price enjoyed significant upside momentum after the recent upside break past the resistance on a longer-term chart. However, a short-term pullback might take place to the moving averages on the 1-hour chart or perhaps until the next area of interest at 0.0170 might be seen. Volume is picking up, reflecting increased market interest on the pair and the potential for stronger price moves in the coming days.