Darkcoin price has been rallying strongly these days, following an upside break from the descending triangle resistance visible on the longer-term charts. Looking at the 3-day price chart of DRK/BTC from Cryptsy reveals that darkcoin price is fast approaching record highs since the cyrptocurrency was introduced.
Darkcoin price is moving around 0.0215 against bitcoin, with the record highs located around 0.0274 since May last year.
Volume has been picking up in the past few days following the upside breakout and surge in buying momentum, which means that more traders are taking an interest on this cryptocurrency pair.
Three consecutive bullish candles have formed, reflecting that buyers are gaining energy to push for more gains.
The shorter-term moving average is higher than the longer-term moving average, confirming the ongoing uptrend. The moving averages are treading farther apart, which indicates a strengthening rally.
RSI is moving up, which means that buyers are in control for now, although the indicator is closing in on the overbought area and may show a return in selling pressure.
Darkcoin price could find near-term support at the moving averages in the event of a quick pullback or market correction.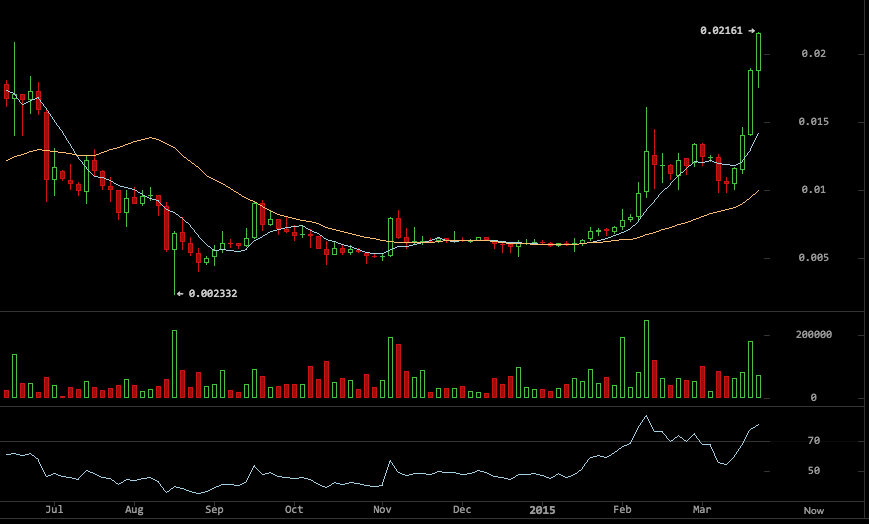 A larger pullback might last until the previous peak of the triangle around the 0.0160 levels, which line up with the 50% Fibonacci retracement on the latest rally. A break below this area or the moving averages might be indicative of a reversal or profit-taking.
Conclusion
Darkcoin price has been able to sustain its upside momentum, which even strengthened due to the pickup in volumes over the past days. The digital currency is on its way to test record highs against bitcoin but short-term corrections might still take place for buyers to gain more steam. Technical indicators such as moving averages and RSI also confirm the pickup in buying pressure and further gains for darkcoin.