That Darkcoin has been trading downwards is nothing new, but an interesting revelation is that the altcoin may break out from the narrowing range very soon. Darkcoin hit a high of 0.02495BTC in March, following which the price has been in a contracting lower top, lower bottom structure.
At present, each Darkcoin is worth 0.01450BTC.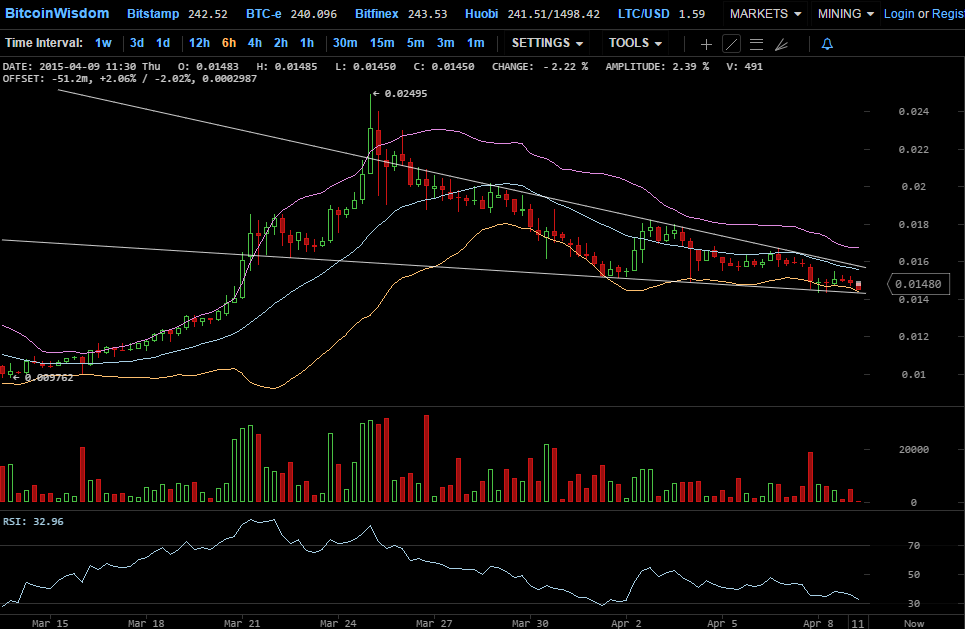 An analysis of the 360-minute DRK/BTC price chart indicates that Darkcoin is at a make-or-break juncture and the current scenario strongly favors the bears.
Downward Bias – Darkcoin is now trading infinitesimally close to the support level (the lower line marked in the chart) after having failed at piercing the resistance line (the upper, downward sloping line). Both these lines are of crucial significance to the cryptocurrency since they have been tested numerous times in the past. A breakout will accelerate the price movement in the chosen direction.
Bollinger Bands – The lower range of the Bollinger bands as well as the 20-6h simple moving average are important technical levels. As can be seen from the chart above, the lower range has proved to a valuable support to Darkcoin; it is presently coinciding with the support line. The SMA is at 0.01560BTC and is close to the resistance line.
Relative Strength Index – The RSI indicator is in a perfect lower top, lower bottom structure. The cryptocurrency has been losing strength even when the price is trading flat to negative. This is a major sign of weakness and indicates that Darkcoin may breach the support on more efforts by the sellers.
The chart clarifies that unless bulls decide to boost their efforts, the floor will crumble. Short-term traders and speculators should only consider building short positions while the range holds. Even though a breakout is expected in the near future, timing the market would be ill-advised.