LEND, the native token of non-custodial lending platform Aave, fell almost 40 percent from its year-to-date top of $0.384.
The plunge followed a steep 2,000 price rise that occurred amid a hype-oriented boom in the decentralized finance sector.
Technical indicators, coupled with a rally in proof-of-work tokens, now suggest that the LEND downtrend may continue.
Aave's LEND token surged by more than 2,000 percent in 2020. But its rally is appearing to come to an end.
After topping at near $0.384 earlier in July, the LEND/USD exchange rate corrected lower by circa 40 percent. As of Monday, the pair had established an intraday low at $0.232, a move that crashed it below its parabolic support for the first time this year.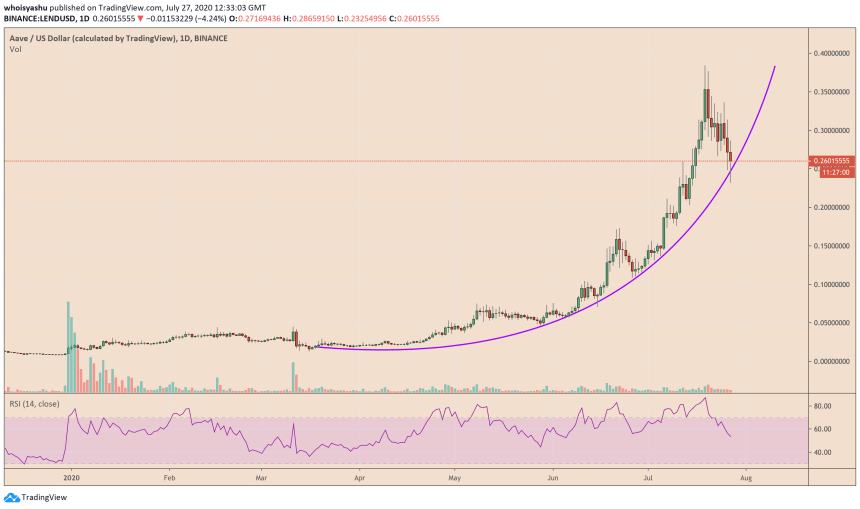 Aave's native token LEND broke below its long-term parabolic support on Monday. Source: TradingView.com
Stealing Limelight
Traders held the price from falling any deeper below the purple curve, as shown in the chart above. The LEND/USD exchange rate formed a sizeable bearish wick and shortly recovered, indicating that there is still some buying sentiment left near the parabolic support.
But LEND continued to trade in a negative area for Monday.
Part of the reason was Bitcoin and Ethereum, the two leading cryptocurrencies that surged impressively higher into the current session. Incidentally, LEND had surged by 675 percent in the last two months, specifically as Bitcoin and Ethereum consolidated sideways in a narrow trading range.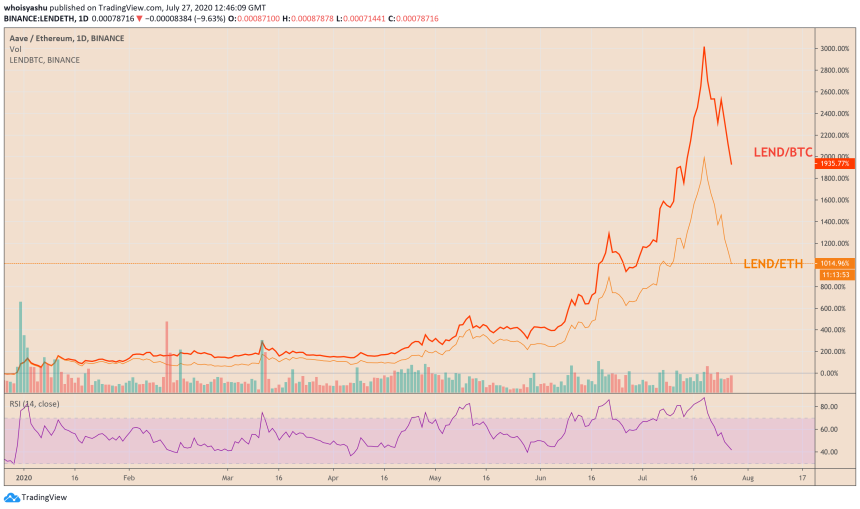 As demand returned for the top two assets in the final days of July 2020, it prompted LEND traders to offload part of their bullish positions for the relatively more bullish tokens. Against bitcoin, the DeFi token plunged by up to 44.11 percent. At the same time, it corrected lower by as much as 55 percent.
Profit-Taking Could Hurt LEND
As Bitcoin grows amid higher global demand for safe-haven assets (read Gold), the selling pressure on LEND may mount further. That is very visible during its first parabolic rally in 2018. Back then, the LEND/USD rate surged by more than 1,500 percent, only to wipe those gains entirely by the end of 2018.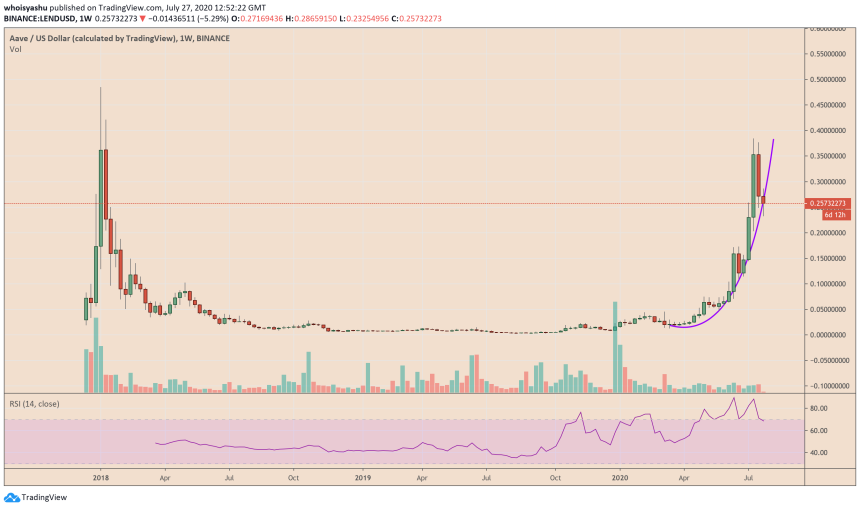 LEND previous parabolic trend resulted in a 100 percent wipeout. Source: TradingView.com
Back then, the boom appeared out of a so-called ICO hype. This time, the craze was for decentralized finance tokens. Providing that demand returns for these assets even as Bitcoin rallies further, they would risk further downside correction due to their overbought status.
The weekly chart above shows LEND in a similar stage. Its Relative Strength Index, above, 70, reflects a booming selling pressure. If it persists, then LEND may, at last, break below the parabolic support. If not, then traders would use the local low to accumulate more tokens to continue the rally.