The Terra ecosystem keeps on expanding, increasing the total market cap of its native token LUNA. The cryptocurrency has managed to enter the top 10 digital assets by market cap replacing memecoins DOGE and Shiba Inu (SHIB).
Related Reading | Terra's UST Becomes First Decentralized Stablecoin To Surpass $10B Market Cap
As of press time, LUNA follows the general sentiment in the market with a 4.4% loss in the last week, but some profits in lower timeframes. The Terra-based cryptocurrency trades at $49,58 and has seen much less loss than larger cryptocurrencies, such as Bitcoin and Ethereum, which record over 10% losses in the same period.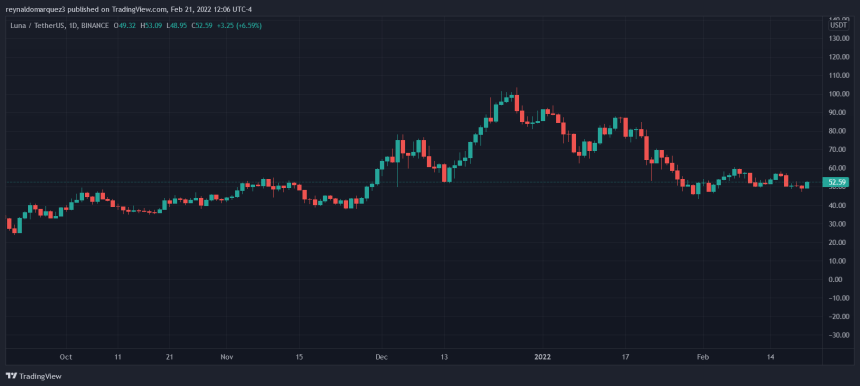 Terra's success seems supported by its protocol's tool to provide users with vast opportunities to generate profits via staking or "locking down" their tokens. In that sense, the ecosystem's stablecoin UST has also seen impressive growth zooming on Tether (USDT), and USD Coin (USDC), in terms of market cap.
Via his Twitter account, Do Kwon, Terraform Labs Co-Founder, mentioned a new use case that seems poised to increase the demand for UST. Lending and borrowing platform Mars protocol announced the start of its lockdrop which incentivizes users to lock their UST to receive rewards.
I'm coming in https://t.co/7jRgSEVR31

— Do Kwon ? (@stablekwon) February 21, 2022
User will yield farm the protocol's governance token MARS by locking any amount of the stablecoin for the next 3 to 18 months, as clarified in an official announcement. After this period is concluded, the user will be able to withdraw 100% of their initial investment. The team behind the protocol said:
All participants who lock $UST will receive a "drop" of fully transferable MARS governance tokens when the full protocol launches in ~2 weeks. As knowledgeable DeFi users with skin in the game, lockdrop participants will receive the vast majority of circulating MARS tokens at launch (around March 7).
Terra Enables More Yield Farming Opportunities
Created as an open-source, algorithm, and non-custodial credit protocol supported by its own governance model, the Mars protocol will distribute 10,000,000 MARS governance tokens to participants within the Terra ecosystem. The airdrop has the objective of helping Mars to "function properly".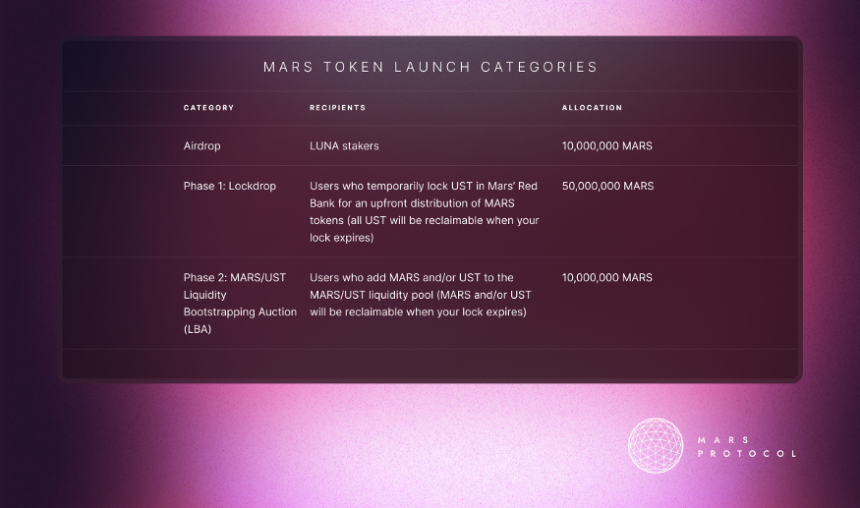 In addition to those users locking their UST on the protocol, liquidity providers for the MARS/UST trading pair on the decentralized exchange Astroport will be able to earn a portion of 10,000,000 in the governance token for 1 year. This process will be post-launch and will include those users with UST deposits to the Red Bank.
Related Reading | Terra (LUNA) Holders Approve New Sports Sponsorship Deal

LUNA holders will benefit from this launch, as stated by the team behind Mars, with a one-time distribution on 10,000,000 MARS. In order to receive the airdrop, users needed to be stakers by January 1st, 2022, when a snapshot was taken to determine the beneficiaries. The announcement added:
Airdrop recipients will be able to claim their tokens for up to three months after the launch of Mars. Any unclaimed tokens will be returned to the Martian Council — a DAO of xMARS token holders.