Crypto influencer David Gokhshtein has told his nearly 700,00 followers on Twitter that he expects Ethereum co-founder Vitalik Buterin and and Elon Musk to join forces to upgrade Dogecoin.
The Dogecoin price, possibly triggered by Gokhshtein's speculation, saw a massive spike of more than 12% at one point in the aftermath. The price shot up from $0.0823 to as high as $0.0913 on Binance. At press time, however, DOGE was already experiencing a slight correction of the swing and was trading at $0.0882.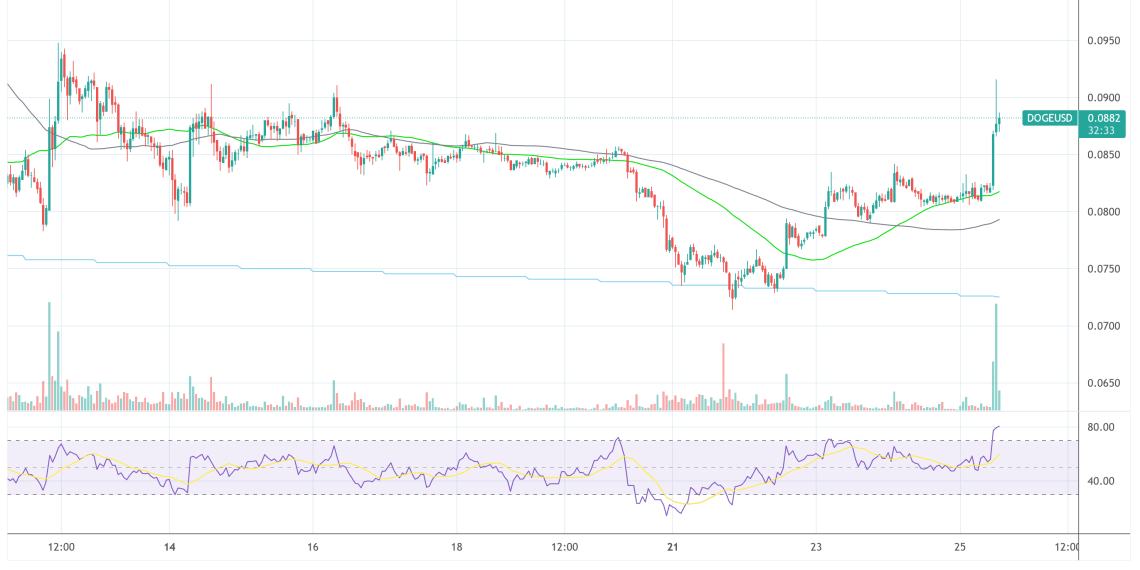 "I feel that we'll all seen Vitalik and Elon working together to somehow upgrade DOGE", Gokhshtein tweeted and added that "they won't work on Bitcoin — well because Vitalik tried that in the past and was kicked and Elon is interested in turning something that started off as a joke into something serious."
However, it is important to remark that neither Musk nor Buterin have commented on Gokhshtein tweet.
The crypto-influencer is making a pure speculation, presumably based on previous statements made by both individuals. Musk is known to be one of the biggest, if not the biggest Dogecoin (DOGE) supporter. His tweets have caused massive swings in the DOGE price in the past.
Last but not least, there are rumors and hints – which Musk has never fully dispelled – that Musk himself is the biggest holder of Dogecoin (DOGE).
Deep Dogecoin Ties Between Buterin And Musk
Vitalik Buterin, for his part, has already spoken out several times on the subject of a DOGE upgrade from proof of work to proof of stake.
According to Buterin, Dogecoin has been in consideration for a move to proof-of-stake for some time. Buterin shared this assessment at Mainnet 2022, a crypto conference held Sept. 21-23 in New York.
Back in August 2021, the Dogecoin Foundation announced its re-launch. First established in 2014, the foundation has since been able to count on the support of the Ethereum mastermind.
Buterin joined the board of the newly established Dogecoin Foundation as one of its four-member advisory team. A representative of Elon Musk is also on board.
This is not necessarily surprising given the Tesla CEO's previous activities regarding Dogecoin. Not least, Musk had called for a drastic reduction in transaction fees on the Dogecoin network, among other things.
Moreover, Buterin has donated large amounts of DOGE to the Dogecoin Foundation several times in the past, the last time in November 2021. A year ago, he donated 20 million DOGE.
So, even though Gokhshtein's statement is pure speculation, there are indeed some connections between the two personalities that make a joint effort not seem impossible.