John Culifferthe, Bank of England's Deputy Governor, discouraged crypto's use in the UK's finance system. He announced earlier that although cryptocurrencies are becoming more supported within United Kingdom's financial system, they aren't a significant threat.
However, he also recommended that enhanced regulations should be enforced as digital currencies constantly expand.
Related Reading | New To Bitcoin? Learn To Trade Crypto With The NewsBTC Trading Course
The bank stated in a publication that there is a need to regulate cryptocurrency at a local and an international level.
Earlier in July, the bank warned against cryptocurrency spillover into traditional markets. It also said about banks, institutional investors, and payment operators' absorption of cryptocurrency for transactions.
Cryptocurrency Price Appreciation
While cryptocurrencies like Bitcoin, Ethereum, and Tron prices spiked at the year's first half. Just briefly, it climbed to $2.5 trillion in value. Collateral backers for the Bitcoin protocol promised to provide another store of value while the storers struggled to yield, given its meager interest rates.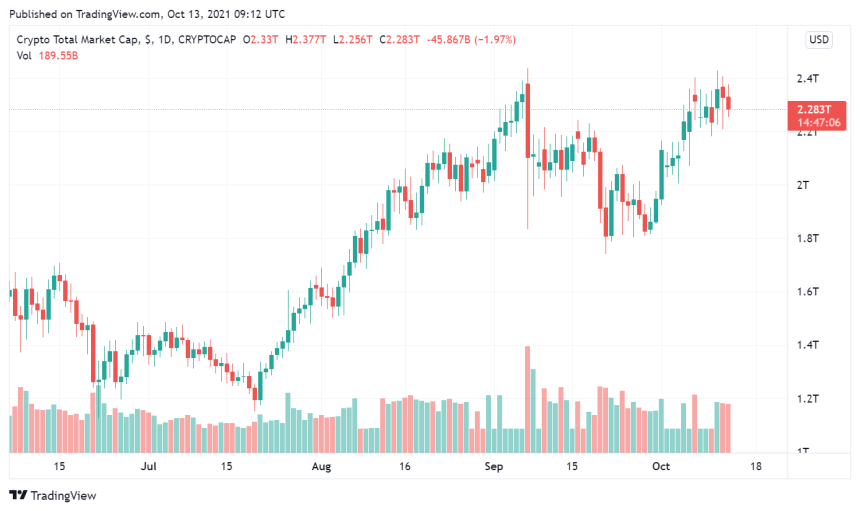 The cryptocurrency market is currently facing a decline | Source: Crypto Total Market Cap on TradingView.com
On the contrary, cryptocurrencies have very high volatility, and the digital currency market has dipped more than $1 trillion in market value since May 2021. Bitcoin's price has dropped from an ATH (All-Time-High) price of almost $65,000 in April this year to about $32,000 on Wednesday this week.
Financial Regulators Issue Warnings
Regulators have been giving frequent warnings about cryptocurrency. In particular, China has banned all digital transactions, declaring them illegal.
Related Reading | Shiba Inu Outranks Chainlink And Takes Place In Top 15 Crypto-Assets
However, Binance – the world's biggest crypto exchange- was banned last month from the United Kingdom. Binance was among the numerous exchanges that didn't register with the financial regulator, given that it couldn't meet up with the anti-money laundering requirements.
Featured image from Pixabay, chart from TradingView.com