Over the past few weeks, Ethereum Classic (ETC) hit crypto headlines, as multiple exchanges finally announced fiat-to-crypto support for the popular cryptocurrency.
Coinbase Consumer Meet Ethereum Classic
Coinbase's support for Ethereum Classic has been in the works for a while now, originally announcing that the firm's engineering team had begun testing implementation in early-June. Although many Ethereum Classic proponents were over the moon about this proactive step, the San Fransisco-based firm went quiet on ETC's listing for weeks.
But as reported by NewsBTC previously, on August 3rd, Coinbase's engineering team came out of hiding to reveal that it had entered the "final testing" phase for the support of Coinbase's 5th crypto asset. Along with issuing this announcement, the crypto startup also pointed out that August 7th was when it planned to accept incoming ETC deposits on Coinbase Pro, with fully-fledged trading expected to be implemented through a four-stage process just a few days later.
August 7th passed, and Coinbase Pro's four-stage implementation process succeeded, but there were still multiple steps left on the platform's radar, namely support for Coinbase Consumer (Coinbase.com) and its in-house institutional-focused index fund. This plan was acknowledged in the original announcement, with the platform citing liquidity concerns as a leading factor to why the asset would not be initially available on all products and services.
Over the past 48 hours, the situation surrounding this asset has quickly shifted, with the company introducing ETC support for the Coinbase Index Fund and its consumer-focused platform in rapid succession. Firstly, the Coinbase Index has been rebalanced to include Ethereum Classic, which now accounts for 0.91% of the index in accordance with the weighted market capitalizations. As such, a Coinbase Index Fund investor will hold a 0.91% stake in Ethereum Classic.
Starting at 5pm PT tomorrow, Coinbase Consumer customers will be able to buy, sell, store and use Ethereum Classic (ETC) on https://t.co/pl8Hu0qDiW and through the mobile app. pic.twitter.com/Qd7KgYpE0y

— Coinbase (@coinbase) August 15, 2018
Secondly, Coinbase has just announced that on August 16th at 5:00 PM (PST), Ethereum Classic will be available on the exchange's retail-focused platform (Coinbase.com). The exchange wrote:
"ETC will be available to customers in every country where Coinbase Consumer is available. We're thrilled to offer ETC to all of our customers and will continue working to add more assets to Coinbase."
Ethereum Classic Posts 16% Gain Amidst A Shaky Market
In a direct correlation with these announcements, Ethereum Classic saw an influx of buying pressure, and a subsequent spike in price, with the asset currently posting a gain of a staggering 16%. As it stands, ETC the best performing asset in CoinMarketCap's top 100, with the 5th highest volume figure. ETC is also one of the only four cryptocurrencies in the top 20 that has posted a gain, as the market remains in a shaky state following a large downtrend.
It is likely that speculators are doing their best to cash in on the potential influx of investor interest following a Coinbase listing, as the exchange has been continually touted as one of the most influential services in this space.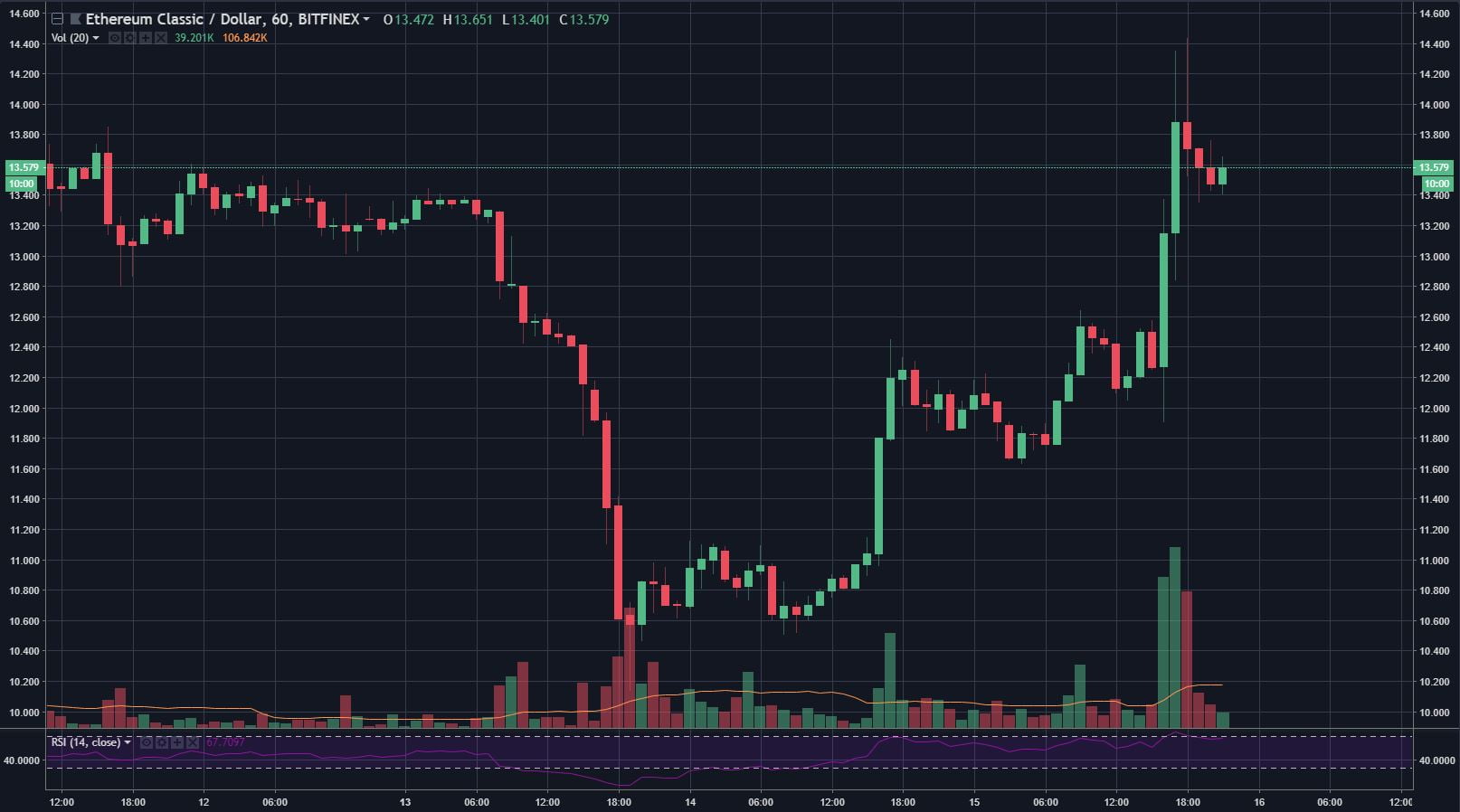 This is an evident example of the so-called "Coinbase Effect," where assets listed or even fleetingly mentioned by the firm see a large uptick in popularity and price. But while it is clear to see why ETC is performing well today, others are not too sure about the mid to long-term prospects of this asset, as ETC was eclipsed by ETH in terms of price and real-world adoption months, if not years ago.
Featured Image from Shutterstock