Ethereum is pushing higher after temporarily retracing due to weakness in the stock market. The price of the leading cryptocurrency just pushed up to $375, which is near a multi-day high and an important resistance region around $380.
Analysts think that the asset is primed to move even higher as the asset forms a technically bullish chart structure.
Ethereum Could Soon Continue Higher
Ethereum is primed to continue its ascent as it passes pivotal resistance levels, analysts say.
One cryptocurrency trader shared the chart on September 11th, noting that ETH has recently crossed a pivotal horizontal. This technical accomplishment, the analyst suggested, will take ETH back to the local highs around $490 in the coming weeks.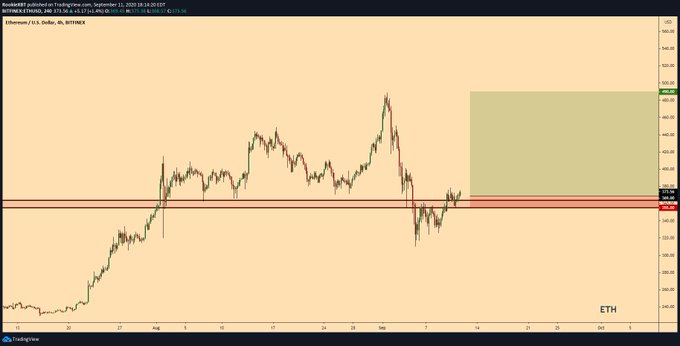 Chart of ETH's price action over the past few weeks with analysis by crypto trader RookieXBT (@RookieXBT on Twitter). Chart from TradingView.com
This was echoed by another pseudonymous trader, who noted that Ethereum's ability to bounce from the $310-315 lows it saw earlier this week implies a bullish recovery is highly likely:
"$ETH doesn't look too bad if we're being honest. Weekly could use some more work but LTFs suggesting a move up. Resistances being flipped…"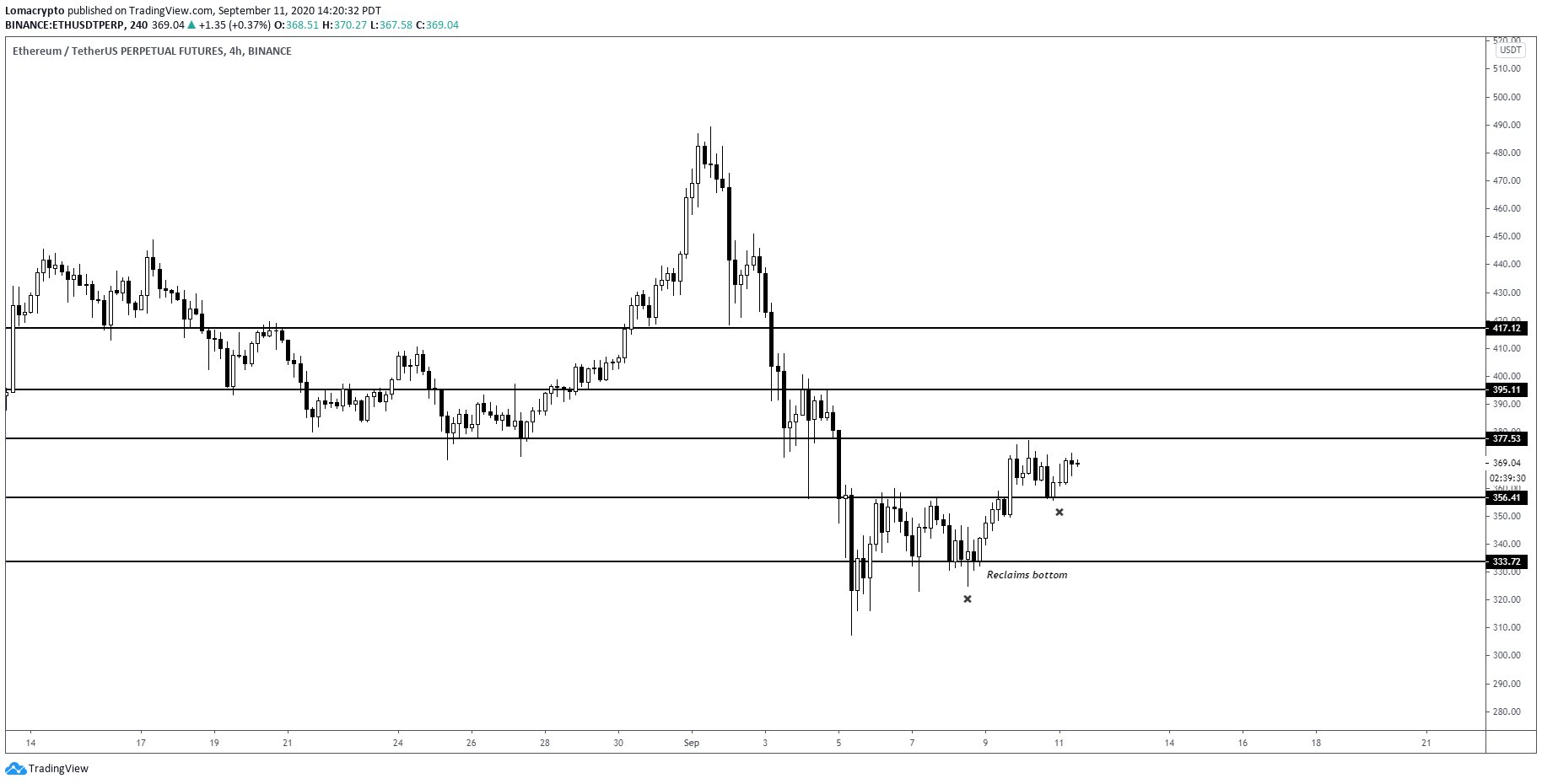 Chart of ETH's price action over the past few days with analysis by crypto trader Loma (@LomahCrypto on Twitter). Chart from TradingView.com
There are also longer-term analyses that suggest that Ethereum is still on track to grow in the months and years ahead as the fundamentals for the cryptocurrency continue to align in favor of network growth.
All Eyes on Bitcoin
For the time being, Ethereum's price action is being driven by that of Bitcoin.
There are factors suggesting that BTC could retrace, thus putting ETH at risk of a drop. For one, on-chain data indicates that investors are hesitant to leverage long at the moment: 
"According to the Estimated Leverage Ratios, the BTC market sentiment remains uncertain. Traders are conservative in their directional bets," they said while referencing the below charts.
There are also uncertainties about the legacy markets that threaten to sink Bitcoin in the short term.
Photo by Afonso Coutinho on Unsplash
Price tags: ethusd, ethbtc
Charts from TradingView.com
Ethereum Just Pushed Up to $375: Here's What Analysts Think Comes Next