After the continuous sink in the mining profitability of both digital assets year-on-year, Bitcoin miners have been set back to seats as Ethereum miners consecutively surpassed them in mining revenue and recorded a gap of $224 million in April 2022.
This month was not so good for Bitcoin miners as they were able to generate around $1.16 billion only. Notably, this figure is down by $44 million from the previous month's mining revenue of Bitcoin. The last month saw $1.7 billion in recorded income.
Related Reading | TA: Ethereum Bears Aim Big After Recent Breakdown Below $2.5K
Bitcoin miners' total profitability was down by 31% from April 2021 to the present. In that time, $1.7 billion in revenue was recorded.
Similarly, the single-day high of BTC mining revenue in April was 3% low than the peak value of March. As per YCharts, the best-day high in March 2022 lasted at around $47.54 million and $46.01 million in April. And it dropped 23% from the best-day high of January, which saw $60.16 million.
Unlike Bitcoin, Ethereum mining revenue in April increased by 3% generating $1.39 billion. While Bitcoin, at the same time, recorded $1.16 billion in mining revenue.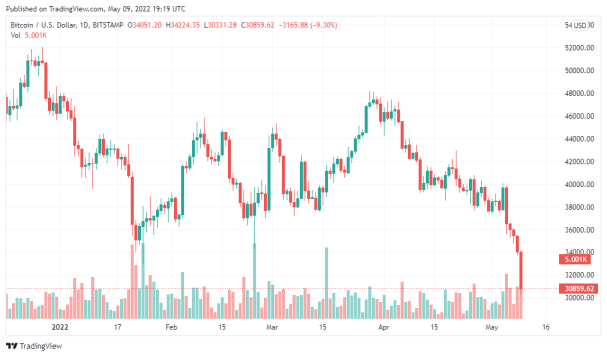 Still, the Ethereum mining revenue has decreased yearly from its previous marks recorded till April. The mining revenue of Ethereum in April 2022 is 17% below the previous year's mining income of April 2021. Last year it was around $1.68 billion.
Ethereum Becomes Preferred Choice Of Miners In 2022
Although Bitcoin stands as the largest and most popular digital asset, Ethereum has become the most preferred choice of the miners seeing a higher income generated in 2022.
It was not the first time Ethereum outpaced Bitcoin in mining revenue; it surpassed BTC mining by $260 million in January, $190 million in February, and $130 million in March 2022.
To understand the reason behind disparities in the mining incomes of two digital assets, first, it needs to consider the fact that mining revenue is calculated per the value of cryptocurrency and earned coins within a specific timeframe.
Likely, Ethereum mining revenue increased in March 2022 and traded between $3,000 to $4,000 until most of April. And it traded in the range of $2,900 and $3,400 in March.
On the other side, the Bitcoin price in April traded between $37,000 and $44,000. And in March, it had a higher trading value ranging from $43,000 to $48,000.
Related Reading | Bitcoin Price Plummets To Lowest Point In 2022, Will $33,000 Hold?
Crypto mining is the process of verifying and adding new transactions to the blockchain for a cryptocurrency. The miner who wins the competition gets rewards with some amount of the currency and/or transaction fees.
Featured image from Pixabay and chart from TradingView.com