The bear market has resulted in multiple losses for individuals and even large entities, and according to recent data shared by crypto analytics site, Dune analytics, the majority of all ETH stakers are in the loss while fewer stakers remain in the money.
The reason behind the result of more losses than profit is due to the market conditions starting in 2021 after the Ethereum Beacon chain was launched, to the present. ETH had reached a new all-time high (ATH) but has also fallen by more than 50% from the ATH.
Weekly Staked ETH Fall To Lowest Levels as Only 20% Of ETH Staked Is In Money
The January 4 published data further showed that 80% of ETH staked are currently recording losses. The stakers who happen to be part of the 20% still in money are those that staked ETH at prices lower than the current levels.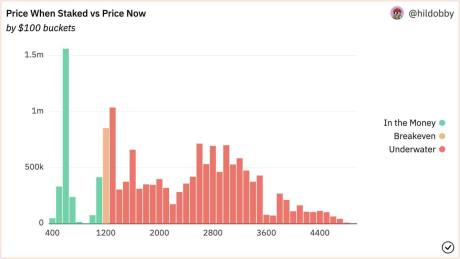 Per the data, a significant chunk of staked ETH was staked when ETH was still in the $600 price range — this dates back to December 2020 when the Beacon Chain was launched. Though ETH has since increased to a point where it's now 50% higher than the 2020 price level, 80% of the currently staked ETH was staked at prices equal to or above $1,200.
Following the massive losses recorded in staked ETH, the amount of weekly staked ETH has seen a sharp decline with fewer ETH staked since the last quarter of 2022. Over the past week, only a total of 25,000 ETH has been staked. 
Prior to the extreme market conditions, figures of roughly 150,000 ETH were being staked per week. Should ETH continue into a downward movement, chances are there could be massive withdrawals from ETH staking contracts when a withdrawal mechanism is implemented later this year. 
Considering The Long Term Perspective 
Another narrative worth considering is the long-term perspective. Given the fact that most stakers already had an initial idea of keeping their ETH for the long term, they might as well turn a blind eye to the current price levels of Ethereum. 
Besides, staking ETH directly or through an exchange would usually involve a committed two-year lockup period. For context, 15.9 million ETH is currently staked, representing 13.2% of the entire supply, according to Dune data reports. 
However, even with the dip that seems to be never-ending, there are still hopes for Ethereum and even other altcoins. As of the time of writing, ETH is up by over 3% in the last 24 hours with a trading volume of $5.2 billion over the same time period.
Furthermore, a reversal is expected to happen, given the sharp upwards movements in what seems to be a false move.
Featured image from istock, Dune analytics and TradingView