Phase 0 of Ethereum 2.0 took a step forward today following the submission of EIP 2982. Phase 0, also known as the "beacon chain," refers to the transition from proof-of-work to proof-of-stake.
More specifically, in Phase 0, the goal is to lay the groundwork for staking and the operation of sharding chains.
"At first, the beacon chain will be responsible for registering validators and coordinating everyone's staked ETH. This is foundational to the rest of Eth2 and lays the groundwork for the shard chains."
Product Marketing Manager at Set Labs, Anthony Sassano, tweeted news of the GitHub submission, much to the delight of his followers.
ITSHAPPENING.GIF@dannyryan has submitted an EIP for eth2 phase 0 👀https://t.co/eqvEDiT3FT pic.twitter.com/NHM3DJ8i4D

— Anthony Sassano | sassal.eth 👨‍🌾 🏴 (@sassal0x) September 16, 2020
Following months of delays and uncertainty, this finally gave Ethereum holders something to cheer about. As yet, no date for the Phase 0 rollout has been given.
However, Ethereum developer Afri Schoedon previously stated that a November 2020 rollout is likely, barring the discovery of critical issues.
"The Ethereum 2.0 beacon chain will launch in November unless we find severe bugs in clients or protocol. I'm in-between Vitalk and Justin with my estimation here, I don't think that we necessarily need to delay Ethereum 2.0 into 2021 unless we find critical issues. We are well on track for a late 2020 launch."
Taking into account the submission of EIP 2982, Schoedon's rollout date does look likely.
Ethereum is up 4% on the day having broken key resistance at the $370 level.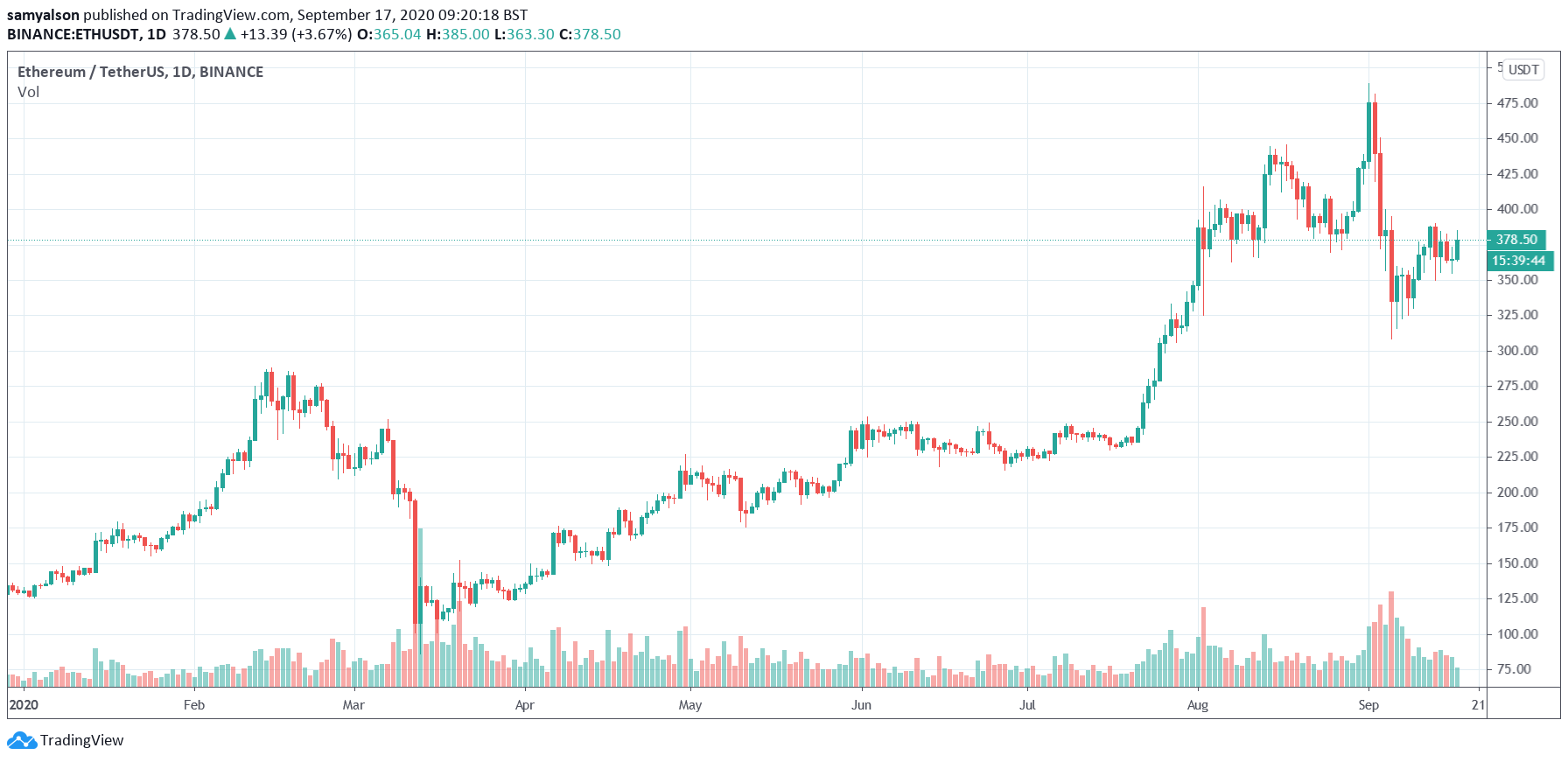 Ethereum daily chart with volume. (Source: tradingview.com)
Hoskinson Raises Doubts Over Ethereum's Security
Throughout this period, many have questioned whether the Ethereum team can deliver the goods under time pressure.
Ethereum co-founder, Vitalik Buterin was heavily criticized for saying Phase 0 should launch even if it isn't ready.
With that, IOHK CEO Charles Hoskinson tweeted his concerns over the rush to finish. In particular, Hoskinson drew attention to the Gasper finality protocol used in Ethereum 2.0.
Referencing a Stanford University research paper titled "Ebb-and-Flow Protocols: A Resolution of the Availability-Finality Dilemma," Hoskinson requested Buterin's response to the findings.
Great paper and difficult security questions for Ethereum 2 to address. Very excited to see Vitalik's reponse: https://t.co/TgLeuqrHQr

— Charles Hoskinson (@IOHK_Charles) September 16, 2020
Finality refers to the point at which transactions are final. In other words, once a transaction reaches finality no-one can change, reverse, or cancel it.
All cryptocurrency ledgers go through a process of the finalized ledger lagging the full ledger until network partitions catch up. The latency level of a chain will affect the chain's finality rate and vice versa.
However, researchers simulated an attack on the Gasper protocol and discovered it was insecure under standard conditions.
"However, we discovered an attack in the standard synchronous network model, highlighting a general difficulty with existing finality-gadget-based designs."
Hoskinson clarified the findings by saying, under Gasper, it's possible for attackers to delay the syncing process between the finalized ledger and the full ledger. Meaning, an attacker could potentially change, reverse, or cancel a transaction during that extended latency period.
"In particular, we discovered a liveness attack on Gasper in the standard synchronous model where messages can be delayed arbitrarily by the adversary up to a known network delay bound…."
Buterin has yet to respond to the claims.