On-chain data shows Ethereum profit-taking has spiked to high levels not seen since February 2021, a sign that could be bearish for the asset's price.
Ethereum Profit Taking Rises As ETH Continues To Rally
As per data from the on-chain analytics firm Santiment, this profit-taking may suggest that the holders don't believe the rally would last too long. The relevant indicator here is the "ratio of daily on-chain transaction volume in profit to loss," which, as its name already implies, measures the ratio between the profit-taking and loss-taking volumes in the Ethereum market.
The metric separates these two volumes by going through the on-chain history of each coin being moved to see what price it was previously sold at. If this last price for any coin was less than the current ETH value, then that particular coin is being sold at a profit now, and so the indicator would count its sale in the profit-taking volume.
Similarly, if the previous price was greater than the latest one, then the coin is currently being moved at a loss, and the transfer contributes to the loss-taking volume.
Since the indicator takes the ratio between these two volumes, it can tell us whether there is more profit-taking or loss-taking going on in the Ethereum network currently.
Now, here is a chart that shows the trend in this ratio for Ethereum over the past year: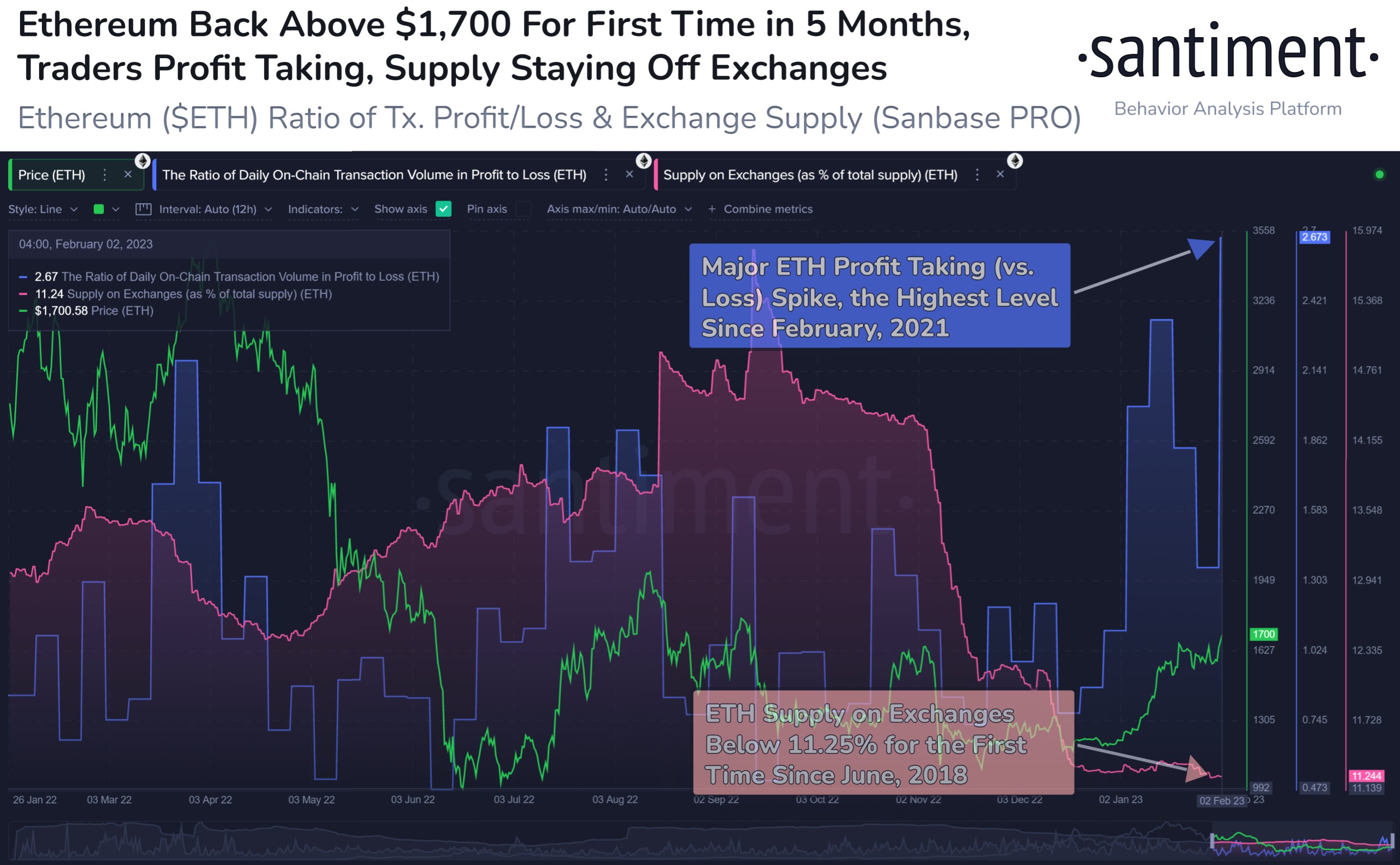 The value of the metric seems to have been pretty high in recent days | Source: Santiment on Twitter
As displayed in the above graph, the Ethereum ratio between the transaction volume in profit and that in loss observed a sharp spike above the '1' mark earlier during this rally. This means that a greater amount of profit-taking was happening as compared to the loss-taking back then.
Soon after this surge, the rally saw a slowdown, suggesting that this selling for profits may have been behind it. In the last couple of days, the cryptocurrency has again made an attempt to continue the upwards momentum, in which the price briefly broke above $1,700 for the first time in five months.
With this latest price rise, the ratio's value seems to have shot up as well, suggesting that investors see this surge as an opportunity to collect their profits. The current level of profit-taking has been even higher than what was observed last month. In fact, the values right now are the highest since February 2021, about two years ago.
Santiment notes that this trend could suggest traders don't believe this climb will continue for too long. In the past day, the Ethereum price has already come back to lower levels, implying that the selling may already be showing an effect on the price.
ETH Price
At the time of writing, Ethereum is trading around $1,600, up 4% in the last week.
Looks like the value of ETH has seen some rise during the past day | Source: ETHUSD on TradingView
Featured image from Becca on Unsplash.com, charts from TradingView.com, Santiment.net