An Ethereum initial coin offering (ICO) participant and one of the earliest supporters of the smart contract platform has moved 6,000 ETH worth $9.96 million to Kraken, a cryptocurrency exchange, recent data from Lookonchain on September 18 reveals.
The unidentified whale received 254,908 ETH when each traded for 40.31 during the crowdfunding in 2014. This amount is currently worth over $466 million at spot rates.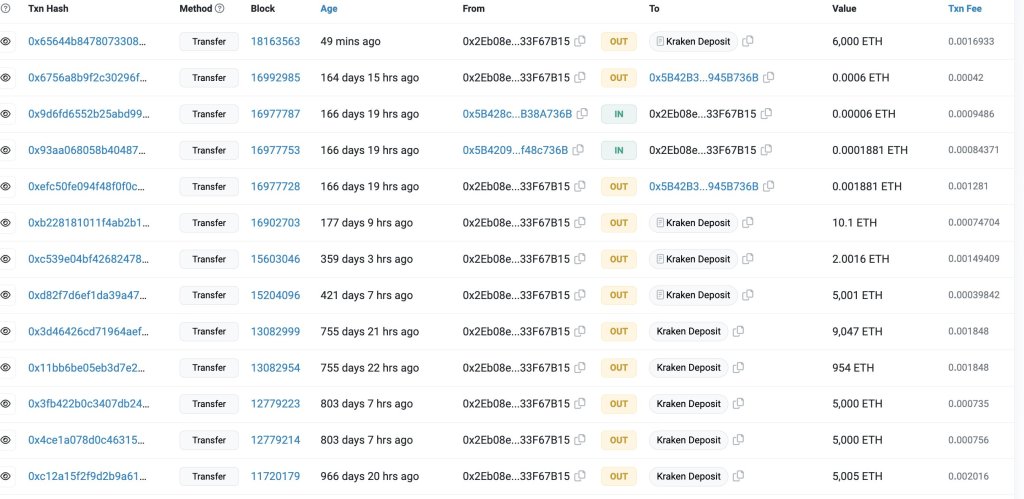 Ethereum Whale Transfers Over $9.96 Million To Kraken
The anonymous nature of public blockchains, including Ethereum, makes it harder to decipher the owner's identity. Determining whether an entity or an individual controls the address is also more complex. 
Whale transfers to a crypto exchange are usually considered bearish since the ramp provides an easier swapping option for token holders to cash out. Typically, crypto whales have the potential to impact the market due to the sheer size of their holdings.
Accordingly, their trading decisions can influence prices, increasing volatility. Therefore, the recent deposit to Kraken may suggest that the whale plans to sell, taking a profit.
On the brighter side, the whale could be moving their coins via an intermediary, in this case, Kraken, before transferring them to other platforms like Rocket Pool or Lido Finance for staking. 
In the current proof-of-stake consensus algorithm used by Ethereum, whales can earn annual staking rewards if they lock at least 32 ETH. While the whale can set up a node and stake, liquidity staking providers like Rocket Pool allow users to stake coins and earn staking rewards using their infrastructure. 
As of September 18, there are over 804,000 validators, that is, users who have locked at least 32 ETH operating an Ethereum full node. Cumulatively, over 25.7 million ETH have been locked.


ETH Prices Recovering
As of this writing, the transfer on September 18 is amid the broader recovery in the crypto market. Of note, Ethereum (ETH) prices are up roughly 6% from September lows. Overall, supporters are bullish, expecting more growth in the days ahead.
The pump also means bulls have reversed some of the losses of September 11, and the current formation may anchor the next leg up that could propel the coin above $1,750, or August 29 highs, and later peel back sharp losses recorded on August 17. 
From the candlestick arrangement in the daily chart, ETH remains under pressure, dropping 23% from 2023 highs of around $2,140.
However, since bears didn't reverse losses of the June to July leg up, buyers have a chance following the rejection of lower lows from around the 78.6% Fibonacci retracement level of the Q3 2023 trade range. Presently, the September and August 2023 lows remain critical support levels for ETH, with the retest of August 17 lows on September 11 causing concern for optimistic traders. 
Feature image from Canva, chart from TradingView