Ethereum has rallied above $1,400 today as on-chain data shows ETH sharks have been busy accumulating recently.
Ethereum Shark Addresses Have Grown By 3,000 In the Last Two Months
As per data from the on-chain analytics firm Santiment, the current number of shark addresses in the market is the highest since February 2021. The relevant indicator here is the "ETH Supply Distribution," which tells us which coin groups have how many wallets.
These coin groups are ranges that define the number of coins the addresses currently hold in a particular group. For example, the 1-10 coins cohort includes all wallets holding at least one and at most 10 ETH. The Supply Distribution metric for this group would then track the total number of addresses falling inside this range.
In the context of the current topic, the coin group of interest is the 100-10,000 coins cohort (which is made up of two separate groups, 100-1,000 coins, and 1,000-10,000 coins; they have just been merged). Now, here is a chart that shows the Supply Distribution data for this Ethereum coin group: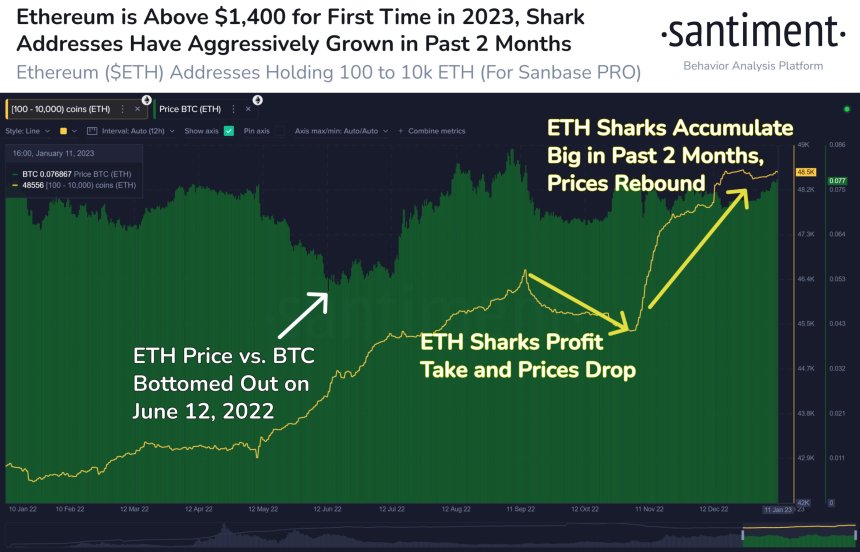 It looks like the value of this metric has observed some uptrend in recent weeks | Source: Santiment on Twitter
This coin group's lower and upper bounds convert to around $140,000 and $14 million. The Ethereum investors who hold amounts in this range are called the sharks, and although they aren't as crucial as the whales, movements from these holders can still have significant implications on the market.
As shown in the above graph, the Ethereum sharks were taking profits during September and October last year as their total number of addresses declined to a low. However, over the past few months, accumulation has rapidly taken place in the market as 3,000 new shark addresses have been created on the network.
ETH has been rallying in recent days as these sharks have been accumulating, and for now, these investors aren't showing any signs of stopping either. The total number of addresses belonging to this cohort is 48,556, the highest level the indicator has seen since February 2021, almost two years ago.
If these sharks budge here and take some profits while the prices are high, the rally might lose steam and end. However, if these investors keep this accumulation up instead, it would be a bullish sign for Ethereum, and the rally may continue.
ETH Price
At the time of writing, Ethereum is trading around $1,400, up 12% in the last week.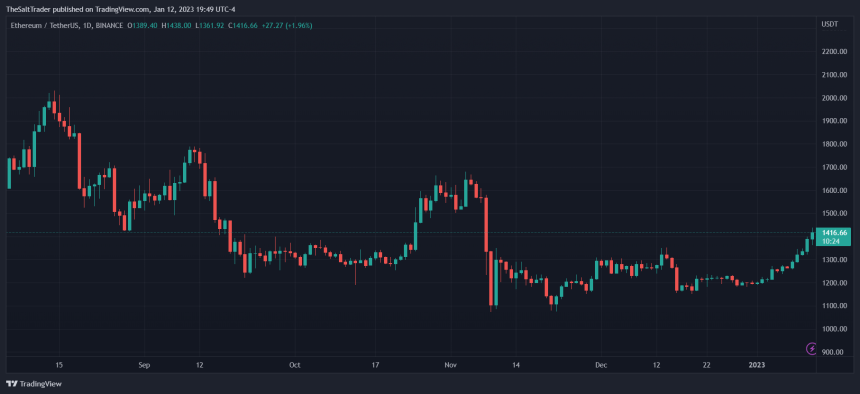 The value of the crypto seems to have sharply surged in the last few days | Source: ETHUSDT on TradingView
Featured image from Gerald Schömbs on Unsplash.com, charts from TradingView.com, Santiment.net