The past few days and weeks have seen Ethereum's decentralized finance ecosystem erupt higher.
As Camila Russo, a former Bloomberg journalist turned Ethereum publicist, accentuated this when she noted on June 19th that the past week has seen the value of tokens locked in DeFi applications surge by 40% to $1.4 billion.
Some are skeptical that the gains seen in DeFi will spill over to ETH. Cryptocurrency investor and commentator Humboldt Capital, for instance, wrote on June 14th:
"An investment thesis for ETH centered on continued growth of DeFi, is like advocating to invest in the S&P 500 vs just the Tech sector. So far, the biggest Achilles' heel for ETH is the fact you don't need to invest in the protocol layer, you can just invest in the best apps."
That's to say, they believe that just because DeFi sees adoption doesn't mean ETH will rally.
But, a prominent fund manager begs to differ.
Ethereum Could Soon Rally Hard Due to DeFi: Blocktown Capital Partner
John Todaro, part of the management team at BlockTown Capital and the head of research at TradeBlock, said that Ethereum will eventually benefit from DeFi platforms "hitting escape velocity."
There's a lot of excitement around new DeFi tokens. Reminder that most of that collateral locked up across those platforms is in #Ethereum.

As that outstanding ether supply comes down and demand from DeFi platforms hits escape velocity, $ETH will rally hard.

— John Todaro (@JohnTodaro1) June 18, 2020
This has been indirectly echoed by Michael Novogratz, CEO of Galaxy Digital ad a former Goldman Sachs partner. He said at a digital conference earlier this year:
"One of the things for the Ethereum narrative is valuing the network kind of like we do with Facebook — the more network effects you get, [the better]. Like getting Tether to migrate its coins to Ethereum brings people using that to the network."
A Bearish Technical Outlookn
Although Ethereum does have the fundamental wind of DeFi hitting its sails, the technical outlook for the leading altcoin is currently bearish.
Referencing the chart below, a trader suggested that Ethereum is currently following a fractal from 2018. The fractal suggests that ETH's recent price action looks similar to that seen during the drop from the all-time highs in 2018.
The analysis predicts that Ethereum will plunge towards $150 in August/September, marking a 35% drop from current prices.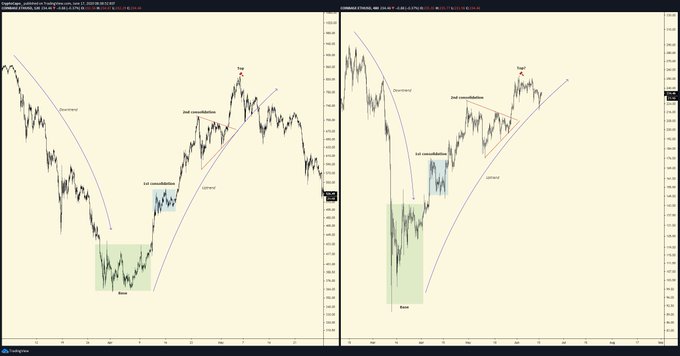 Ethereum fractal analysis by il Capo of Crypto (@CryptoCapo_ on Twitter). Chart from TradingView.com
Adding to the expectations of a correction, blockchain analytics firm Glassnode reported that 80% of ETH's total supply is currently in a state of profit.
This is determined by determining the price at the time Ethereum addresses started to hold the cryptocurrency.
This is pertinent to price action as because the last time Glassnode observed an 80% of the asset's supply in profit, prices dropped from $290 to $88 in the span of a handful of weeks. And the time before that, ETH dropped from the 2019 highs above $350 to the December lows around $120.
Featured Image from Shutterstock
Price tags: ethusd
Charts from TradingView.com
Ethereum Could Soon "Rally Hard" as DeFi Hits Escape Velocity: Fund Manager