Bitcoin, Ethereum, and most other cryptocurrencies have largely stalled over the past few weeks. That's in terms of price.
But data shows that the two leading blockchains are seeing rapid growth in usage. This comes in spite of fears that a second leg to the 2020 bear market/trend is on the horizon.
Blockchain Data Shows Ethereum Is Growing as a Network
According to blockchain analytics firm Santiment, Ethereum's growth has spiked over recent weeks, rising consistently since the March lows.
The number of new ETH addresses created each day "just crossed above 100,000 again yesterday." The metric is on track to trend "toward its 2020 high of 116,000 new daily address created."
Santiment further explained the significance of the blockchain's recent growth:
"Ethereum's network growth metric has rapidly been on the rise since the beginning of 2020, creating 237% more addresses yesterday than it did on Jan 1, 2020 (and ~+200% accounting for rolling averages now vs. then)."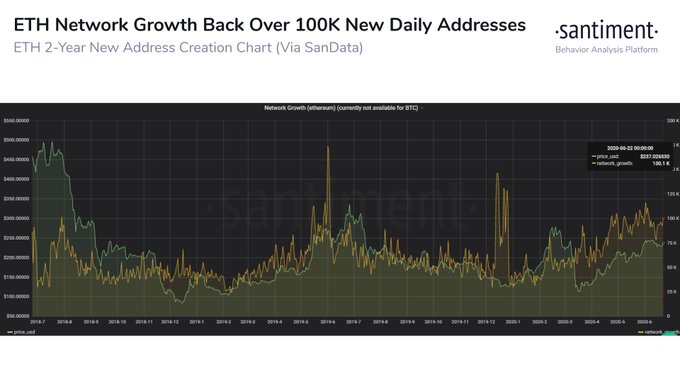 Ethereum usage outlook by Santiment (@Santimentfeed on Twitter).
What's Behind Ethereum's Usage Spike?
Much of Ethereum's recent growth as a network seems to be related to one overarching narrative: DeFi.
Decentralized finance has seen parabolic growth over recent weeks. The concept of migrating financial services onto a blockchain, specifically Ethereum, has clicked with many users.
This segment of the crypto market has seen so much growth that DeFiPulse is registering a growth of 60% in nine days. The growth is in the total value of tokens locked in DeFi.
The reason why DeFi has seen its adoption spike is due to the introduction of a cryptocurrency called COMP.
COMP is the native token of the Compound protocol. It acts as an incentive for Ethereum users to increase their usage of Compound.
While this is a classic "liquidity mining" system, Compound has attracted new users due to the high yields offered by COMP incentives.
High Fees Could Deter Growth
While many embrace the further adoption of Ethereum and DeFi, fees have spiked as a result of the uptick in usage. ETH Gas Station is now reporting that it costs 40 Gwei to send a "standard" transaction, one confirmed within five minutes.
40 Gwei means that you're only paying ~$0.20 for a regular transfer of ETH. Yet, due to how the network works, a smart contract transaction can cost dozens of dollars. Many users, in fact, have reported $30+ transactions over the past week when using DeFi applications.
Unless a scaling solution is implemented, the high fees that are likely to continue to grow will likely attempt to slow the blockchain's adoption.
Featured Image from Shutterstock
Price tags: ethusd
Charts from TradingView.com
On-Chain Data: Ethereum Is Rapidly Growing as DeFi Hype Spreads