After recording a spike following the enticing yields of Ethereum (ETH) liquid staking platforms such as Lido offers, Ethereum total staking deposit is beginning to see a plummet just a few days before the Shanghai launch which is set to take place on April 12.
This dip was initially revealed by on-chain analytics provider Glassnode on April 9 in a report disclosing the current state of the Ethereum staking ecosystem. According to the report, the decline in Ethereum staking deposits can be attributed to two main factors. 
Why Is Ethereum Staking Deposit Declining?
The on-chain analytics provider revealed ETH staking deposits are currently down due to regulatory pressure and the Shanghai upgrade. Over the past few months, the US regulators especially the Securities and Exchange Commission (SEC) have expressed a keen crackdown move on the crypto industry.
Related Reading: Ethereum Price Looks Ready For Another Leg Higher Over $1,880
Recently, the agency deemed Ethereum as security and subsequently went after staking services and platforms supporting the asset. On March 9, New York's attorney general filed a lawsuit against KuCoin for failing to register with the state before letting investors buy and sell cryptocurrencies on its platform
Furthermore, the most anticipated catalyst for Ethereum, the Shanghai upgrade, has been slated to launch within the next two days (April 12), this has caused many investors looking to deposit or stake on the Ethereum mainnet to pause and wait for the aftermath of the upgrade.
The Shanghai upgrade, also known as Shapella, is an update that will enable stakers or validators of the Ethereum mainnet to withdraw their staked ETH from their respective staking platforms. According to Glassnode, both of these two factors can be attributed to the reasons behind the ETH staking deposit's latest plummet. 
Lido Outshines All Other Staking Providers 
Meanwhile, among the wide market of staking providers, Lido Finance has emerged as the leader outshining others such as Coinbase, Binance, and Kraken. Glassnode data shows the total amount of ETH staked on Lido has reached new highs this year.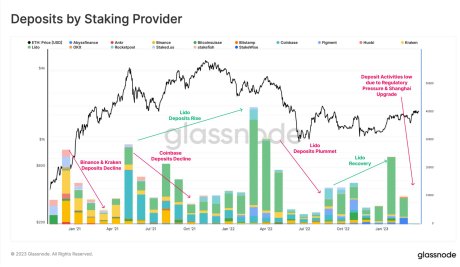 The analytics provider stated:
As the dust settled between the three giants, it was Lido who emerged victorious, continuing to dominate deposit inflows as of present.
Related Reading: Total Ethereum (ETH) Staked On Lido Finance Reaches New Milestone
Currently, Lido Finance accounts for nearly half of the total ETH staked, with the platform amassing up to $11.1 billion Ethereum staked. With centralized exchanges such as Coinbase taking a 23% commission of every stake, Lido only takes 10% with an additional yield on DeFi platforms via its staking token Lido Staked ETH (stETH). This explains the platform's large holdings of the total amount of ETH staked.
Regardless, ETH is currently moving in a bullish trend up by nearly 1% in the last 24 hours with a trading price of $1,852 and a market capitalization sitting above $223.1 billion.
Featured image from Shutterstock, Chart from TradingView