Matic has just announced that Tether is now available on their network. The Matic team tweeted that this would help Ethereum immensely by diverting activity away from the mainchain.
1/ The industry's leading stablecoin, Tether (USDT), is now available on Matic Network Layer2 to overcome Ethereum's performance constraints!🚀$USDT is the industry's most popular stablecoin, with a staggeringly large market capitalization of over $15bn. pic.twitter.com/M38KtnaXym

— Matic (@maticnetwork) September 28, 2020
Last month, total daily Ethereum fees hit an all-time high with an $8.6 million charge for August 13, 2020.
Industry observers pinned the problem on "DeFi mania," which they say is clogging network capacity and driving up gas prices.
Users have taken to social media in their droves to voice personal anecdotes of excessively high gas fees.
The situation has come to the point that last week, Coinbase Pro announced they would no longer absorb the costs. Instead, going forward, they will now pass the charge onto customers.
"Historically, Coinbase Pro has absorbed these fees on behalf of our customers. However, as crypto has begun to gain broader adoption in applications like DeFi, payments and other projects, networks have gotten busier."
Matic Network Goes on "Stablecoin Spree"
With that mind, Matic's announcement comes as welcome news to Ethereum users struggling with high gas fees.
The firm laid out the advantages of using Tether on its network by referring to quicker transactions, as well as the cost savings it will bring.
"By utilizing Matic, users will be able to send USDT at lightning-fast speeds at a fraction of the cost of the gas fees on Ethereum. This will not only provide a superior UX, but will also assist with Ethereum's congestion crisis by taking the strain from the mainchain."
Dai is already available on the Matic network and has been since 2018. But the past 24-hours have also seen Matic announce the integration of the second biggest stablecoin by market cap, USDC.
"Continuing our stablecoin spree, $USDC is now available on Matic Network to enable frictionless transfers #PoweredByMatic! USDC is a US dollar-backed stablecoin, managed by a consortium called Centre, founded by @circlepay and including leading crypto exchange @coinbase."
However, it's the integration of Tether that will make the biggest difference in tackling Ethereum's "performance constraints".
In the last 24-hours, USDT volume was $42 billion, which towers above USDC's volume at $400 million. Also, as the most paired stablecoin, Tether has the widest reach of crypto users.
What's more, a look at Etherscan's gas tracking tool shows Tether was the second biggest gas guzzler over the last 24-hours.

Top 5 gas guzzlers on the Ethereum network. (Source: etherscan.io)
As such, some would say that bringing Tether to the Matic network was a stroke of genius.
But will users take to it? And more importantly, will this be the catalyst that drives up the MATIC price?
So far, markets have not reacted to the news. Currently, the price of MATIC is up just under 2% to $0.019.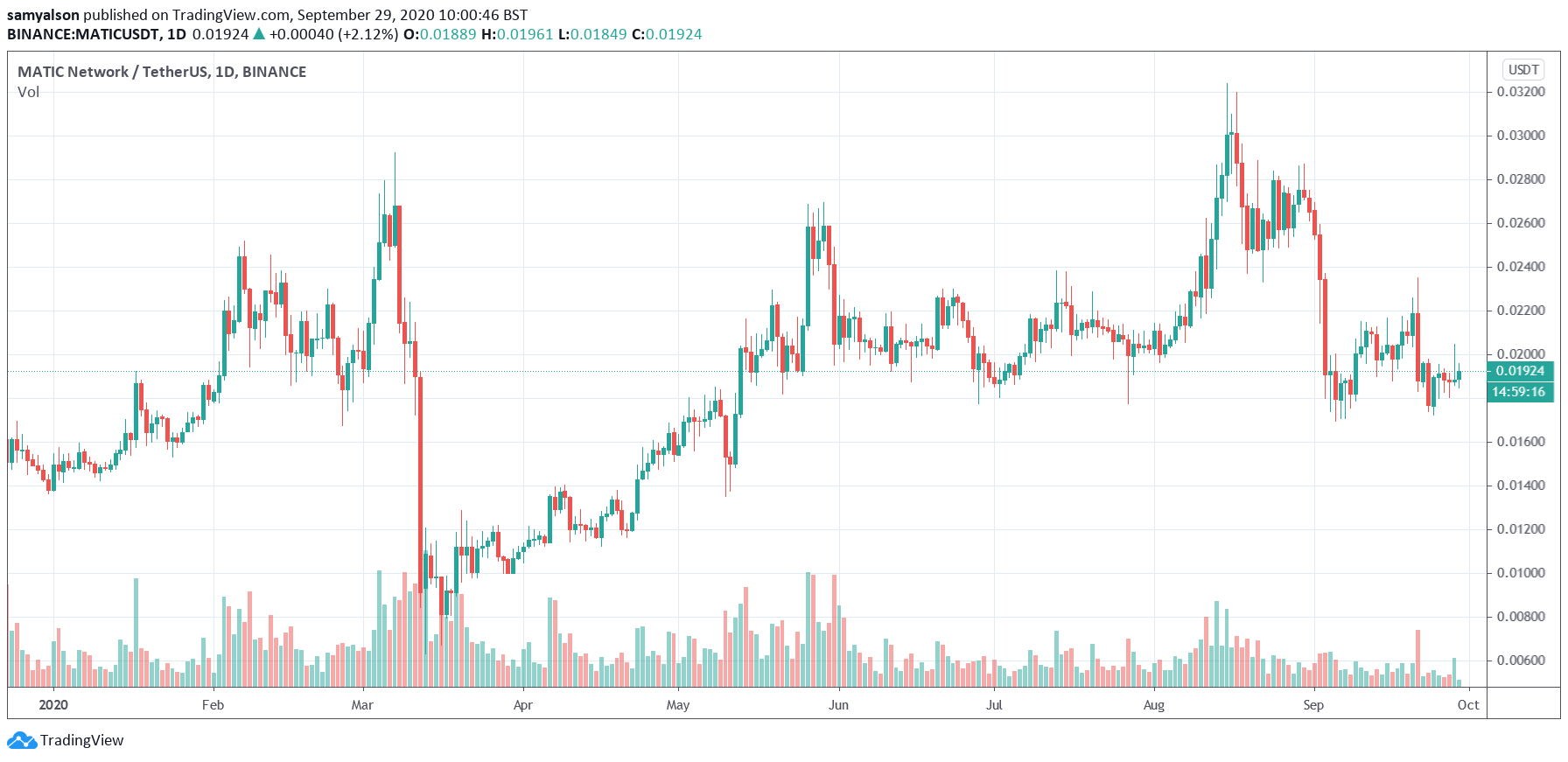 MATIC daily chart YTD with volume. (Source: tradingview.com)