When it comes to software piracy platforms, the top performers remain for the office productivity suite and Windows operating system. So it's not a surprise that the developer of the two products, Microsoft, takes its moves in creating Ethereum backed anti-piracy measures.
Microsoft's research department released a recent document involving contributions of other researchers from Alibaba and Carnegie Mellon University.
The document revealed that the software giant engaged in a blockchain-based reward system to fortify its anti-piracy campaigns.
Related Reading | Total Cryptocurrency Market Cap Value Surges Across $1.9 Trillion Setting A New Record
The research has a title, Argus: A Fully Transparent Incentive System for Anti-Piracy Campaigns. This implies that Microsoft will depend on the transparency of blockchain technology for its new system.
Argus is a protocol built on the Ethereum blockchain that proposes to give a trustless incentive mechanism. Also, it will secure data from any open unknown or hidden population of piracy reporters.
Here's How Ethereum Powered Anti-Piracy Program Will Run
The document states that this should be taken as a shared system issue. Furthermore, it reveals that in the real application, there are unavoidable obstacles that need surmounting. It's only the finished aspect that would ascertain the desired security irrespective of full transparency.
Argus allows tracing pirated content back to its source while giving a watermarking algorithm as contained in the document.
Furthermore, every report of leaked content, known as proof of leakage, has a procedure that hides the information. Hence, only the informer can report the exact watermarked copy without taking possession of it.
There are incentive-reducing precautions in the system that deter an informer from repeating the exact leaked content using different aliases.
The report from the paper believes in the security and functionality of Argus to achieve anti-piracy campaigns in real-world situations. It states that a shift to an incentive mechanism that is transparent is the expected solution.
Related Reading | Ukraine's Security Service Closes Illegal Cryptocurrency Exchanges
Explaining the challenge of fees in the Ethereum network, the document records the team's optimization of many cryptographic operations.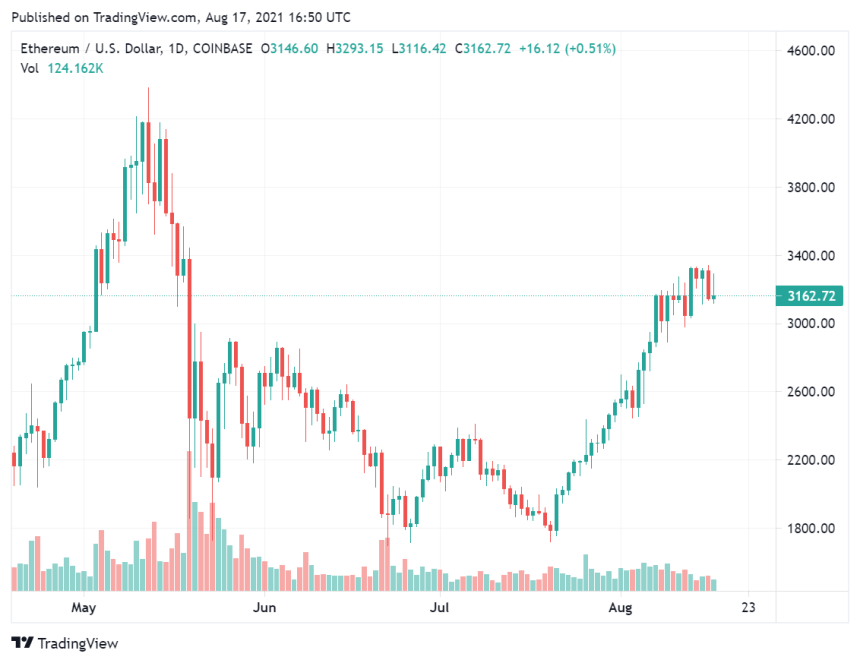 ETH is trading sideways although bulls are trying to push Ethereum ahead | Source: ETHUSD on TradingView.com
This helps reduce the piracy reporting cost equitably for running 14ETH-transfer transactions on Ethereum's public network. However, the expanded form represents thousands of transactions.
There is now a global concern from technological companies to protect intellectual property and combat digital piracy. For example, there's a recent report of piracy combating move from the IT subsidiary of Indian Conglomerate Mahindra Group, Tech Mahindra.
The company launched its new platform that runs on blockchain-based digital rights and contracts. The platform operates on IBM's Hyperledger fabric protocol, and it's meant to boost the entertainment and media industry.
Featured image from Pixabay, chart from TradingView.com