With all the exploits and hacks in the crypto industry, it is shocking that some players have remained sincere.
Many exchanges have already lost considerable sums to criminals, and while some get refunded, others don't. For example, in the case of Bitfinex, a user nearly lost 7,676 ETH in a wrong payment transaction.
The decentralized exchange mistakenly sent a $23 million payment in gas to the miner when it was supposed to be $100,000 in Tether.
Related Reading | New To Bitcoin? Learn To Trade Crypto With The NewsBTC Trading Course
When the DeversiFi team discovered what had happened, they quickly assured users that their funds were safe. According to them, it was an erroneous transaction and nothing else.
Luckily, the company owned up to the mistake and agreed to bear the brunt of the loss if nothing else could be done to recover the money. However, the miner is one of the sincere ones. Therefore, block 13307440 owner agreed to return 7626 of the ETH, which the hardware address sent as payment.
The blockchain is immutable.

But the revolution we are part of is defined by our values as humans.⁰⁰

Thank you to the miner of block 13307440 who we can confirm is returning 7626 ETH that were incorrectly paid today as a tx fee.

A post mortem will follow tomorrow. https://t.co/FqkEZ9DK8P

— DeversiFi ? (@deversifi) September 27, 2021
While the company says thanks to the miner, the community is not satisfied. The discrepancy in the returning figure shows that the miner is holding 50 ETH worth $150,000.
Users Blame High Ethereum Gas Fees
Users now blame the increasing Ethereum fees as the cause of the mistake. In a recent report by BitinfoCharts, Ethereum's price on transactions is currently at $45. So instead of falling as expected, the costs are increasing.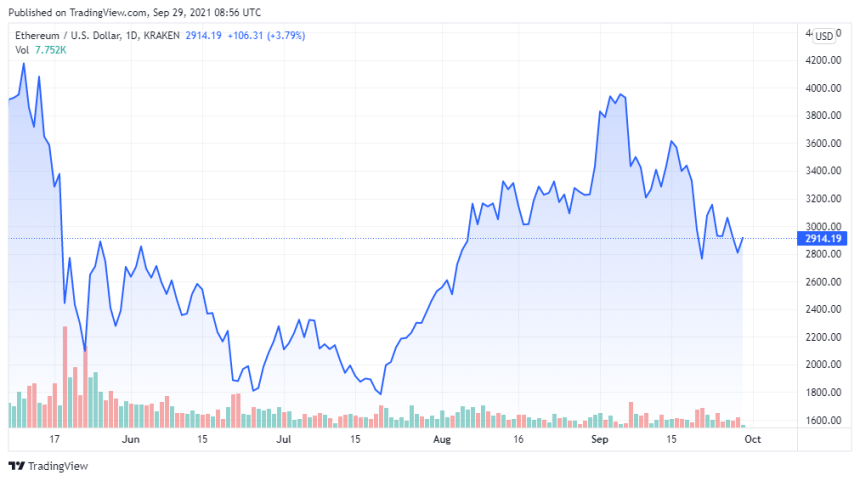 Ethereum trades in an upward trend | Source: ETH-USD on TradingView.com
Related Reading | Morgan Stanley Bags Over 58,000 GBTC Shares As Bitcoin Price Shakes
Moreover, the swapping fee on Uniswap stands at $74, and the fees for smart contract activities are even higher. Thankfully, the burn rate remains at 5 ETH/minute.
Featured Image by Pixabay - Charts by TradingView