Mid-August saw total Ethereum gas fees top a record $8.6 million in one day.
Following a brief respite, which coincided with the collapse of YAM Finance, total gas fees are starting to creep back up again. The latest data shows total gas fees reached $7.1 million yesterday.
Daily total gas fees on the Ethereum network. (Source: coinmetrics.io)
The current state of affairs has some commentators debating the sustainability of the Ethereum network. Long wait times, as well as high gas fees, have soured the experience for many users.
During Mid-August, when total fees were at their peak, the average gas fee also reached an all-time high, at $6.62. At present, the average transaction fee is $5.99, dangerously close to mid-August levels.

Source: bitinfocharts.com
Many blame the popularization of decentralized finance (DeFi) protocols for network congestion. But the DeFi craze looks set to continue, and with that, so are spiraling gas fees.
Taking this into account, the CEO of Shapeshift, Erik Voorhees, gave a prediction on the current gas saga.
He believes the network will grind to a halt under the weight of DeFi transactions. As a result, developers move to other Ethereum compatible chains to keep up with demand while ETH 2.0 remains in development.
"Prediction: Ethereum gas fees ruin Defi for normal users (until Ethereum 2.0 in 1-2 years). To meet demand, developers start rapidly porting Defi components over to Cosmos via Ethermint which just launched and is apparently compatible with Solidity already."
Ethereum 2.0 Touted as The Solution to Soaring Gas Fees
The comments made by Voorhees were a tongue in cheek remark on a number of fronts.
However, the crippling cost of using the Ethereum network is still a significant challenge for stakeholders. This is a fact that hasn't escaped core developers, who are working to address the problem.
Back in April 2019, core developers put forward the Ethereum Improvement Proposal 1559 to counter the issue of spiraling gas fees.
As we are witnessing now, the present auction mechanism is wholly inadequate as it puts miners in control of fees. What developers hope to achieve with EIP 1559 is the implementation of a variable base fee process.
"Because these base fee changes are constrained, the maximum difference in base fee from block to block is predictable. This then allows wallets to auto-set the gas fees for users in a highly reliable fashion."
What's more, the critical component of this system is that miners only get to keep a small premium of the base fee, with the base fee itself getting burned.
Under this system, there is no incentive for miners to manipulate fees to extract extortionate amounts from users.
As good as this sounds, like Voorhees alluded to, Ethereum 2.0 is years away from completion.
While the Phase 0 rollout of ETH 2.0 is scheduled for the end of the year, or early 2021, this upgrade refers to the implementation of proof-of-stake and building out a registry of validators.
It's likely that Phase 1.5, when the mainnet becomes a shard, is when the issue of high gas fees gets addressed. According to Ethereum, Phase 1.5 will be ready in "2021".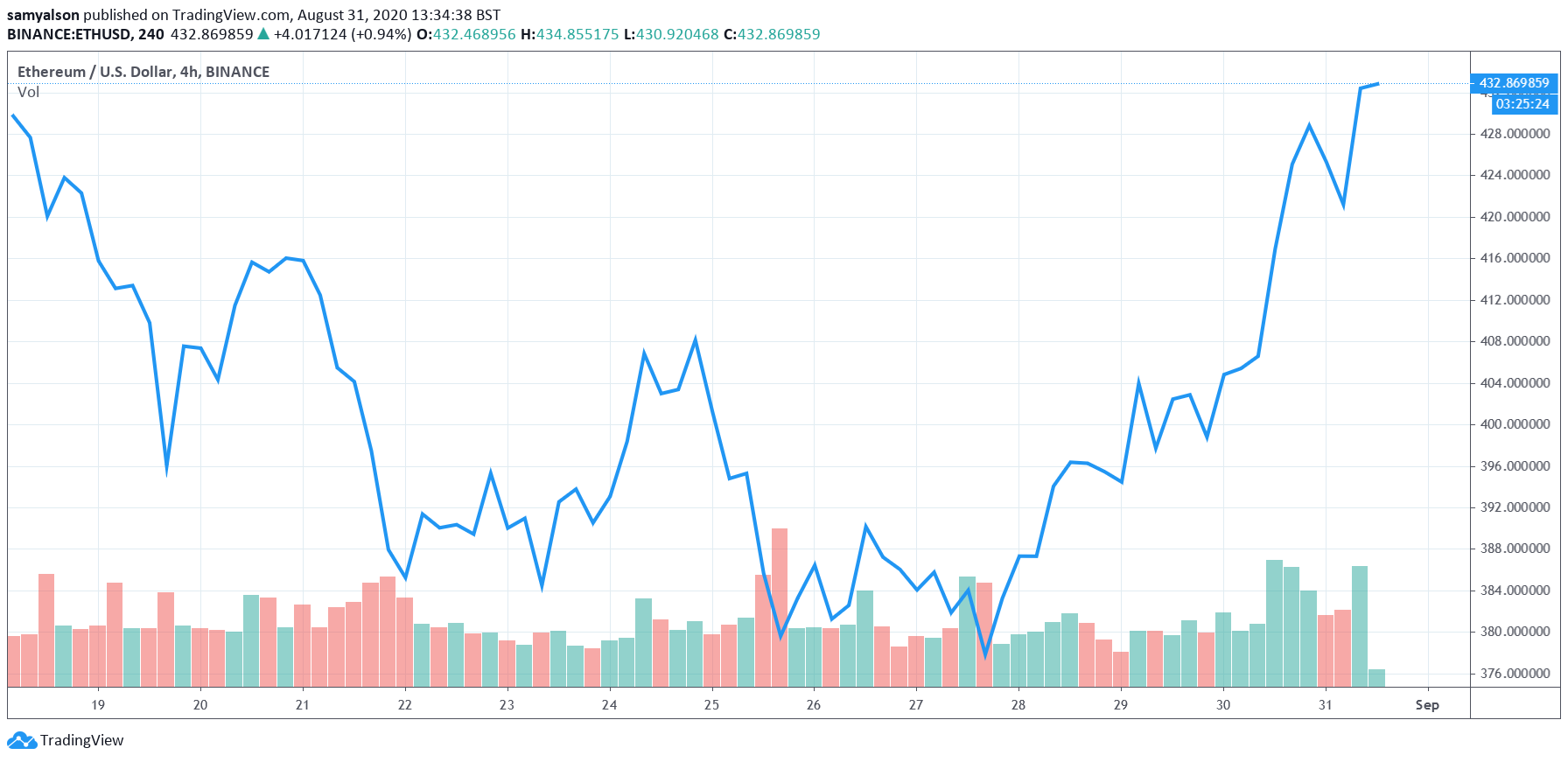 Ethereum daily chart with volume. (Source: tradingview.com)