The issue of high Ethereum gas prices isn't going away anytime soon. Just last month, total daily fees on the Ethereum network managed to reach an all-time high of $8.6 million.
Following a brief respite from high charges, the latest data from coinmetrics.io, for August 31, 2020, shows an alarming trend back towards that all-time high. Total daily fees for the end of last month reached $8.2 million.
Considering the activity that has taken place since then, it would be no surprise if the all-time high gets topped in the near future.

Ethereum daily gas fees. (Source: coinmetrics.io)
In line with expectations, this is a pattern repeated for average transaction fees. This time, the latest data shows average transaction fees hit $11.61 yesterday. While some way away from the all-time high of $14.58, set on September 2, 2020, it's still an unacceptable part of the ERC-20 ecosystem.
More pressing than that, the situation poses serious questions about the sustainability of the Ethereum network.

Source: bitinfocharts.com
Uniswap Airdrop Seen as a Kind Act of Generosity
Many blamed the mania surrounding DeFi for the high charges. In particular, the network activity that arose from the glut of newly launched tokens during that period.
With that in mind, things took a turn for the worse on Wednesday when decentralized exchange Uniswap surprised the community with the launch of their new $UNI governance token.
The firm has allocated 150 million tokens for distribution by airdrop. Each address that interacted with the Uniswap V1 & V2 protocol, before September 1, is eligible to claim 400 $UNI.
"Uniswap owes its success to the thousands of community members that have joined its journey over the past two years. These early community members will naturally serve as responsible stewards of Uniswap."
The move was widely seen as a generous act on the part of Uniswap. Many praised the team for sharing their financial success with early adopters.
Amazon never gave you AMZN for buying books

Google never gave you GOOG for doing searches

Facebook never gave you FB for setting up a profile

Uniswap is giving you UNI for contributing liquidity

That's the difference

— Ryan Sean Adams – rsa.eth ? (@RyanSAdams) September 17, 2020
What's more, it had the effect of stealing thunder from rival DEX Sushiswap, who was, up until that point, back on the ascendency following a change in management.
Following a deep selloff on the launch, the price of $UNI recovered. At the present time, one $UNI is priced at $5.16.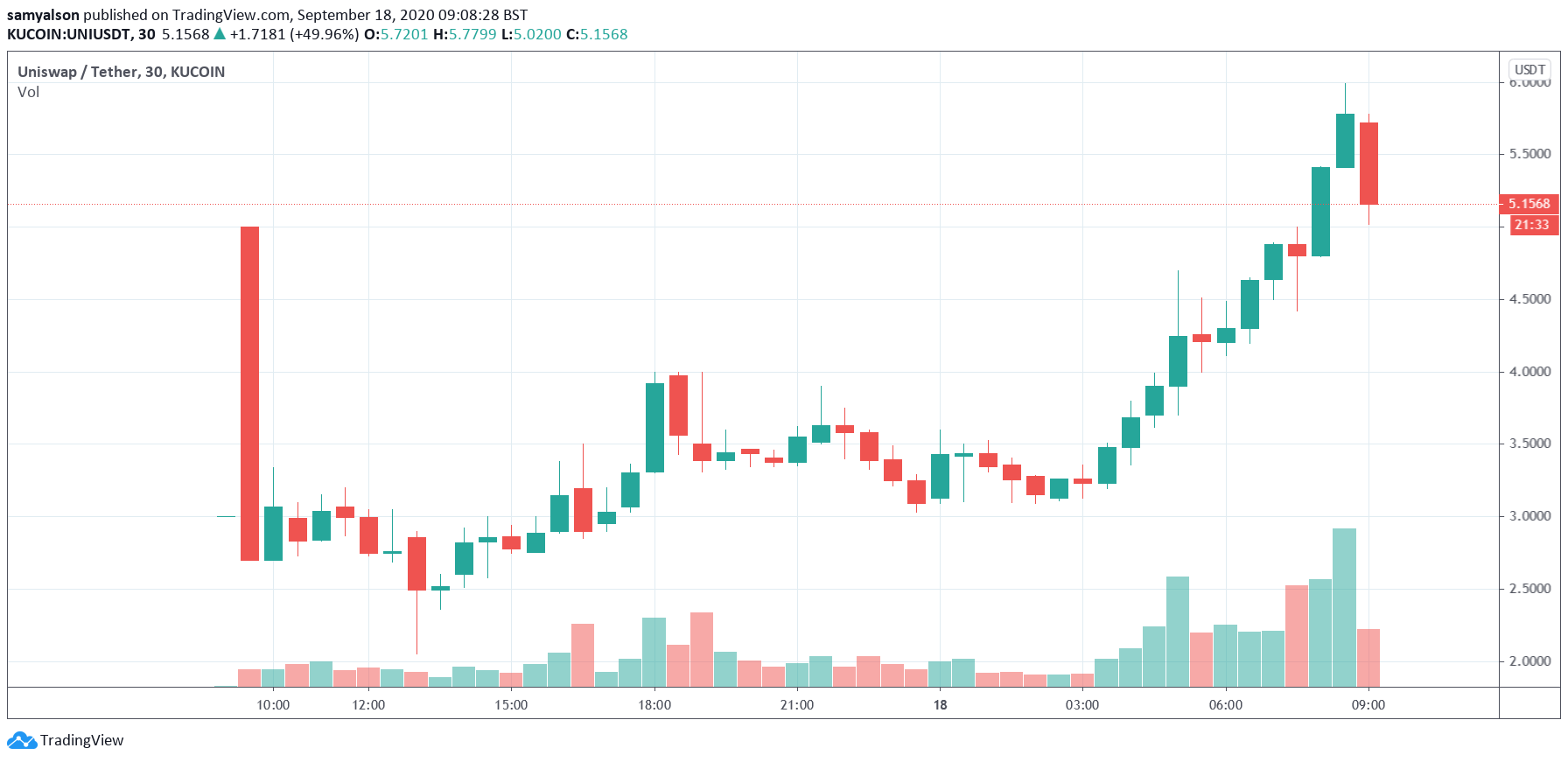 Uniswap 30 minute chart with volume. (Source: UNIUSDT on tradingview.com)
Uniswap Contracts Dominant Ethereum Network Activity
Despite Uniswap's act of generosity, the effect on gas fees has been catastrophic.
Uniswap contracts account for four of the top 10 gas guzzlers on the Ethereum network. This includes the top spot, where the Uniswap V2 contract accounted for almost a quarter of the total gas used in the last 24-hours.
Top 10 gas guzzling contracts on the Ethereum network. (Source: etherscan.io)
The upshot of this situation is a terrible and costly experience for Ethereum users. Aside from high charges, many have vented their frustrations over stuck transactions, even having paid for the fast option.
This Uniswap thing has taught me…

Ethereum is awful to use for day to day transactions. I still have transactions 'queued' even though I have paid for 'fast' gas lol

I'm not meant for this DeFi craze. Just give me SIMPLE!

— They Call Me Jongo "I ♥️ CTP & HIVE ?" (@Jon_G_Olson) September 17, 2020
Solutions such as using layer 2 protocols, or waiting for ETH 2.0, doesn't fit with the way the majority of people use the Ethereum network now. With that in mind, how long can Ethereum carry on like this?