Ethereum has both benefitted and its rep been harmed from the recent explosion in farming for DeFi tokens. As investors poured liquidity into these tokens, sending and locking up so much ETH sent prices of the crypto asset soaring. But it also at the same time sent gas prices spiking even higher.
As investors became frustrated it led to claims of Ethereum's untimely demise at the hands of Polkadot, EOS, and all the other proposed "ETH Killers." However, a crypto fund manager has revealed a strong case to why that'll never happen.
Crypto's Hottest Night Club Is Ethereum, And Everyone Wants In But Doesn't Wanna Pay The Premium
This week, frustrations boiled over regarding rising Ethereum gas fees. The smart contract focused altcoin is the platform of choice for nearly all DeFi tokens. Dapps and DEX platforms are a dime a dozen on Ethereum, prompting using the network to cost a pretty penny.
Money puns aside, it has become very costly to send ETH or any ERC-20 tokens built on the Ethereum blockchain. An example of it costing $15 in gas fees to send just $50 in USDC made rounds across crypto Twitter showing off just how out of control things have gotten.
Related Reading | Ethereum Slides 14% In 24 Hours, Bear Div Hints At Deeper Drop Ahead
A crypto bashing party broke out, with those participating claiming that if ETH 2.0 doesn't arrive soon, things could get "gloomy" for the top-ranked altcoin in the future.
However, Felix Hartmann, Managing Partner at Hartmann Capital, has a compelling case for why that just won't happen, and Etheruem will continue to reign supreme.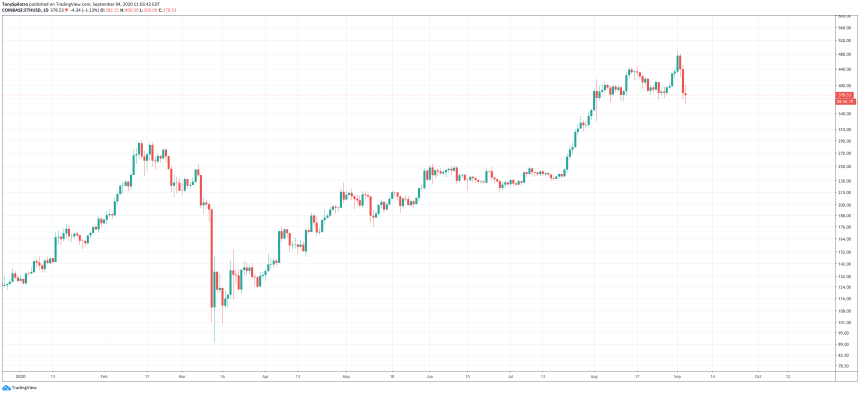 ETHUSD Daily - Were Gas Fees Partly Responsible For ETH Dump? | Source: TradingView
Fund Manager Claims No ETH Killer Will Have The Altcoin's Lunch
Hartmann, who is the head of a crypto asset management firm and a dystopian author, backs up Ethereum with a flurry of facts. The firm he heads is a member of the Forbes Finance Council. He compares Ethereum to the "hottest night club in town" that everyone wants to get into.
When the most popular venue is at max capacity, it doesn't make it any less 'the place to be.' If anything, it can make the venue that much more inclusive, by pushing away outsiders and serving only those willing to pay the premium to build on the best.
Counter-Point | Soaring Ethereum Fees Could Cause A Gloomy Future For The Altcoin
The current trend even benefits the industry as a whole, he says. More people using Dapps means more testing, more innovation, and a faster-growing space with more liquidity for real projects.
According to the fund manager, all mania phases feature silliness, scams, and in the midst, innovation. He says the Sushis, Pizzas, and Hot Dogs currently cooking up the crypto space will eventually die out, but users will already be onboarded on Etheruem and DeFi.
Rising gas fees show this onboarding taking place at a massive, rapid scale. And that cannot be a bad thing.