Solana (SOL), post-FTX life, has been very rough. On a monthly and biweekly time frame, CoinGecko data shows bearishness, while daily and weekly time frames show modest appreciation.
What this proves is that the wounds left by the demise of FTX have not been healed by Solana's native token.
Ever since FTX collapsed, SOL has been losing a huge amount energy.
As bearish signals continue to emerge from technical analysis, the price decrease is likely to continue.
It's possible that prices will fall down below the 61.80 Fibonacci level, which is now at $12.58.
This may be because Alameda Research, FTX's sibling in the business, had a significant role in the Solana ICO.
Investor trust plummeted as concerns about Solana's close ties to SBF and his company developed in the wake of the failing exchange's holding of almost a billion in SOL.
Is The Star Just Fading Or Dying?
SOL was the poster child of DeFi in that side of the crypto industry. As of writing, the token is trading at a red candle at $13.55, a staggering 62.2% decrease in value from its $36.83 price pre-FTX.
However, Solana's prospects are bleak even before the crash. Messari's Q3 report on Solana reveals that only certain ecosystem components, such as NFTs, have truly stabilized and even flourished.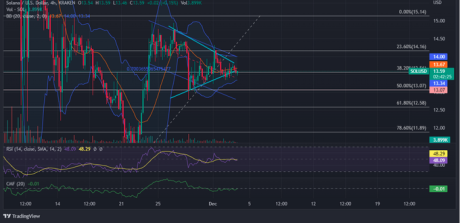 Chart: TradingView
However, the token's technical aspects show potential. The RSI readings are oversold, while the metric is slowly gaining pace. This is backed by a favorable increase in the CMF index.
However, this occurs on a daily basis. In the 4-hour time frame, it created a triangle that is, to say the least, bearish.
With a Pearson's R score of 0.7, the regression channel confirms a further downward push, indicating that a downtrend is more likely than an uptrend.
The narrow BB channel is likewise extremely bearish. Not to mention the resistance posed by the center band.
Anxiety Pervading In Solana's Ecosystem?
FUD (fear, uncertainty and doubt) is prevalent in this case.
The market is dominated by fear and a negative market mood as a result of Solana's tight relations to FTX.
The 4-hour timeline provides insight about SOL's future course. The $13.07 is a vital support zone for SOL to stay out of extinction.
If the indicated support is breached by the bears, a plunge below the 61.80 Fibonacci level is not out of the question.
SOL total market cap at $4.9 billion on the weekend chart | Featured image from Business 2 Community, Chart: TradingView.com