After high demand from its customers, banking giant Goldman Sachs has made a 180-degree turn on its position towards Bitcoin. In the second quarter of this year, it will offer its wealthiest customers access to the cryptocurrency.
In March last year, the banking institution denied that BTC is an asset class. Now, Global Head of Digital Assets Mary Rich endorsed one of the narratives that has favored the cryptocurrency the most over the course of the year in an interview with CNBC: Bitcoin is a hedge against inflation.  Rich said:
(…) we're sitting at the dawn of a new Internet in some ways and are looking for ways to participate in this space.
Bitcoin as sustitute for gold
Galaxy Digital CEO and Bitcoin bull Mike Novogratz also gave an interview to CNBC and stated that his firm is "excited" to work with Goldman Sachs and other institutions. Novogratz believes that the market has matured enough for institutions "as big" as this one to enter the crypto market.
However, he believes the crypto financial ecosystem is in "its first inning" and expects to see more BTC integrations into the traditional market during the year. Comparing the performance between Bitcoin to that of gold and silver, Novogratz determined that the "adoption story" has been BTC's biggest tailwind and the reason the precious metals are underperforming.
Tesla, MicroStrategy, Morgan Stanley, Goldman Sachs and other institutions' stake in BTC strengthens it politically, Galaxy Digital's CEO added, asserting that there are enough Bitcoin users in the U.S. to claim that "we have crossed the Rubicon."
Taking actions that hurt the cryptocurrency industry could be too unpopular. In response to a question about the "true" value of 1 BTC, Novogratz confessed that his original price for the cryptocurrency was $60,000 because it would reach 10% of gold's market cap. However, Novogratz thinks it could go further:
Bitcoin is on an inevitable path to have the same market cap then a higher market cap as gold. It's just how fast adoption happens. Adoption is happening faster than I had predicted. It's shocking to me how people are moving into the system and how short people are. Once you decide it's an asset class, if you are not long, you are short.
Bitcoin is trading at $59,014 with minor gains of 0.1% and 8% in the last week. Upon Goldman Sachs announcement, BTC has seen a bullish momentum after a drop in the 24-hour chart.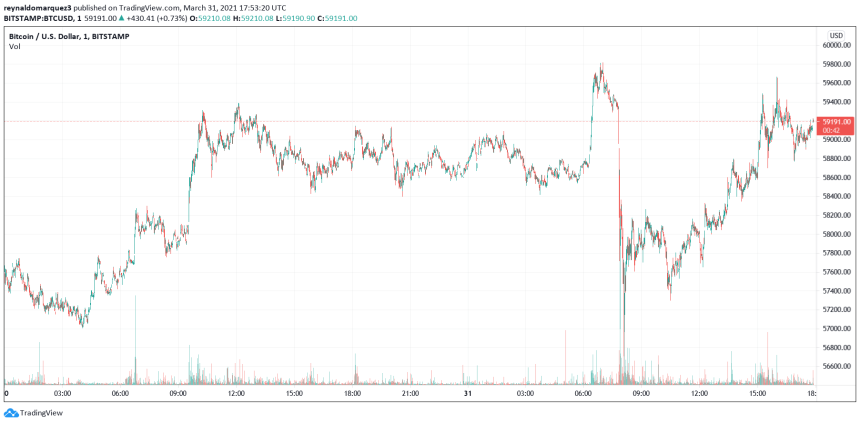 With Glassnode data, analyst William Clement claims BTC's capital inflows are on the rise setting a price floor at $54,800. The analyst added:
A lot of distribution in the current range we're sitting in as well, don't expect price to stay at these levels for long.