There was great excitement early last month when first Yahoo, and then Google Finance added bitcoin data to their finance pages.
Reference articles: Yahoo Finance Adds Bitcoin Prices, Google Finance Now Showing Bitcoin Prices, Too
Now, Google search results will now show you the price of bitcoin, which will be much to the satisfaction of users of the world's most popular search engine.
Searching for a query like "1 bitcoin" or "bitcoin price" will show you the relavent conversion to United States dollars (or other currency, depending on your location), and even allows you to make on-the-spot conversions without having to leave the search results page (talk about convenient!).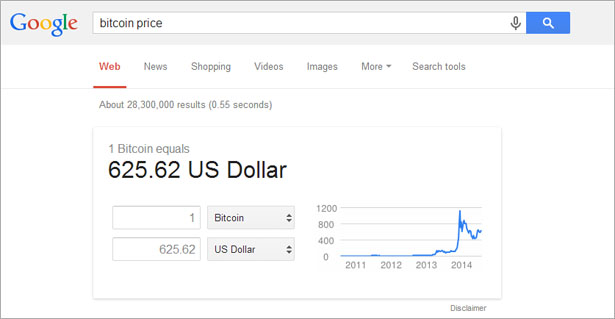 The data is coming from Google Finance (which as mentioned above was integrated last month), and the price data originates from Coinbase — a San Francisco-based firm that allows the public to buy and sell bitcoin easily, in addition to offering merchants bitcoin payment processing services.
Coinbase determines the price of bitcoin with the use of a complex algorithm, which more often than not is on par with the price you'll see at exchanges like Bitstamp.
But while we're appreciative Google has made it easier for bitcoin price-watchers to make conversions, they weren't the first search engine to incorporate prices into search results.
That title, believe it or not, goes to Microsoft's Bing search engine, which added support for the feature in early February.