To contribute to Bitcoin and crypto regulation, 4 prominent partners have formed the Crypto Council for Innovation (CCI). Created by investment firm Paradigm, crypto exchange Coinbase, payment processor Square, and investment firm Fidelity Digital Assets.
The initiative aims to lobby on behalf of the cryptocurrency industry, conduct research, and promulgate the benefits of this asset class as well as its underlying technology to society. In a post via its Twitter handle, the Crypto Council for Innovation claimed:
We'll provide useful information – and dispel misinformation – for policymakers, regulators, and citizens around the world. We all want the same thing from technology: to create better lives for human beings. The road to making that happen is paved with high quality information.
Initially, the organization will focus on 3 key areas, singled out for their potential to "transform lives and the livelihoods" of people for the better. First, the Crypto Council for Innovation will seek to contribute towards strengthening the economy and creating more jobs.
In addition, the initiative aims to create a more "accessible and inclusive" financial system. Finally, the organization will seek to enhance privacy and security for all individuals.
On its website, the ICC states that the scope of its cooperation is global. Among other tasks, the organization said they will share data on cryptocurrencies to counter "misinformation".
In parallel, they will seek the support of governments and institutions around the world to "encourage responsible crypto regulation". In a subsequent post, CCI stated:
This potential, like crypto itself, transcends borders. There's no state too rich, region too poor, village too remote to benefit from crypto. That is why our scope is global. Wherever you are, our doors are open. Join us to unlock the promise of crypto!
Announcing CCI #bitcoin https://t.co/cT3AQf0op7

— jack (@jack) April 6, 2021
Bitcoin's supply crisis deepest
At the time of writing, Bitcoin is trading at $58,189 with sideway movement in the last 24-hours. On the weekly chart, BTC has 0.9% gains and 18.7% in the 30-day chart.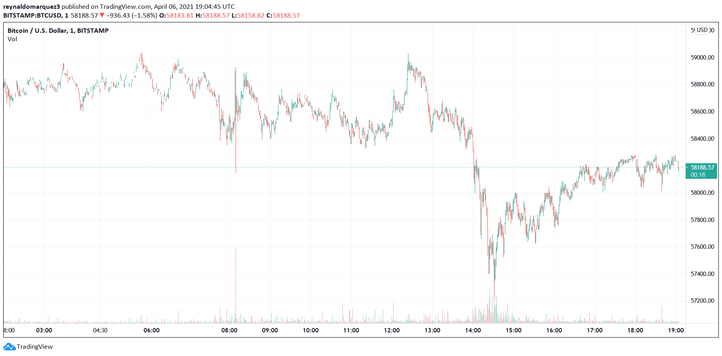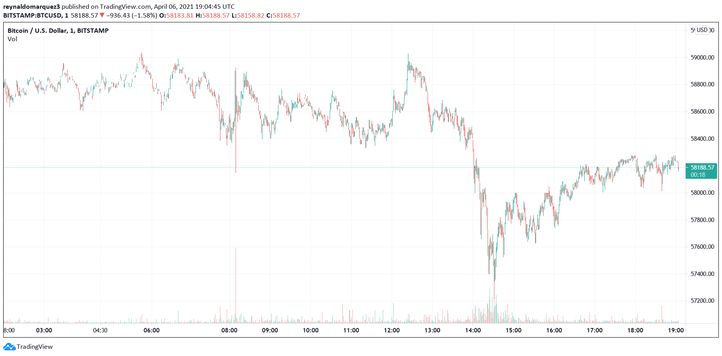 BTC is lagging other altcoins in the top 10 by market cap, its price seems to be stuck belove $60,000. However, BTC's supply on exchanges is on the decline.
Data from Glassnode indicates that over 15,680 BTC has been withdrawal from main exchanges in the last day. As shown by analyst William Clemente, 23,970 BTC have left from trading platforms in the last week and 568,618 BTC in the past year.
This averages out to 1,557 BTC (~$88m) per day over the last year.

There's only 900 BTC (~$51m) mined per day.

— William Clemente III (@WClementeIII) April 6, 2021
The analyst claims that BTC's outflows from exchanges and Bitcoin miners increasing their buying pressure on the cryptocurrency will contribute to its price appreciation.