Viberate.com is a kind of IMDB for music. What started as a small social media analytics service has now evolved into a massive database of musicians from all genres and profiles – from local DJs and garage bands, to Justin Bieber and Metallica. The database is open, so anyone can add new profiles or curate the information in existing ones. The profiles are a recap of a musician's career as they include daily-updated social media stats, gig dates, content feed and even contacts to managers, agents or the artist directly.
A co-founder of the platform is one of the best techno DJs in the world, UMEK: "It's crazy to look back at where we started and see where we are now. From a pet project with 1,200 DJs to a platform with 120 thousand artists in a matter of months. At first we only wanted to see how DJs are doing online, but then the service exploded. Now we want to create profiles for just anyone, working in the music business: artists, venues, promoters, agent – everybody gets a profile!"
According to their website, the founders' vision is to offer a marketplace for musicians, where they will have a chance to offer gigs to promoters online, much like Airbnb lets people rent their apartment to tourists. Just a couple of days ago they announced they will implement the blockchain technology into the platform, so artists will have the option to get paid in Bitcoins or in Viberate's native cryptocurrency, the Vibe.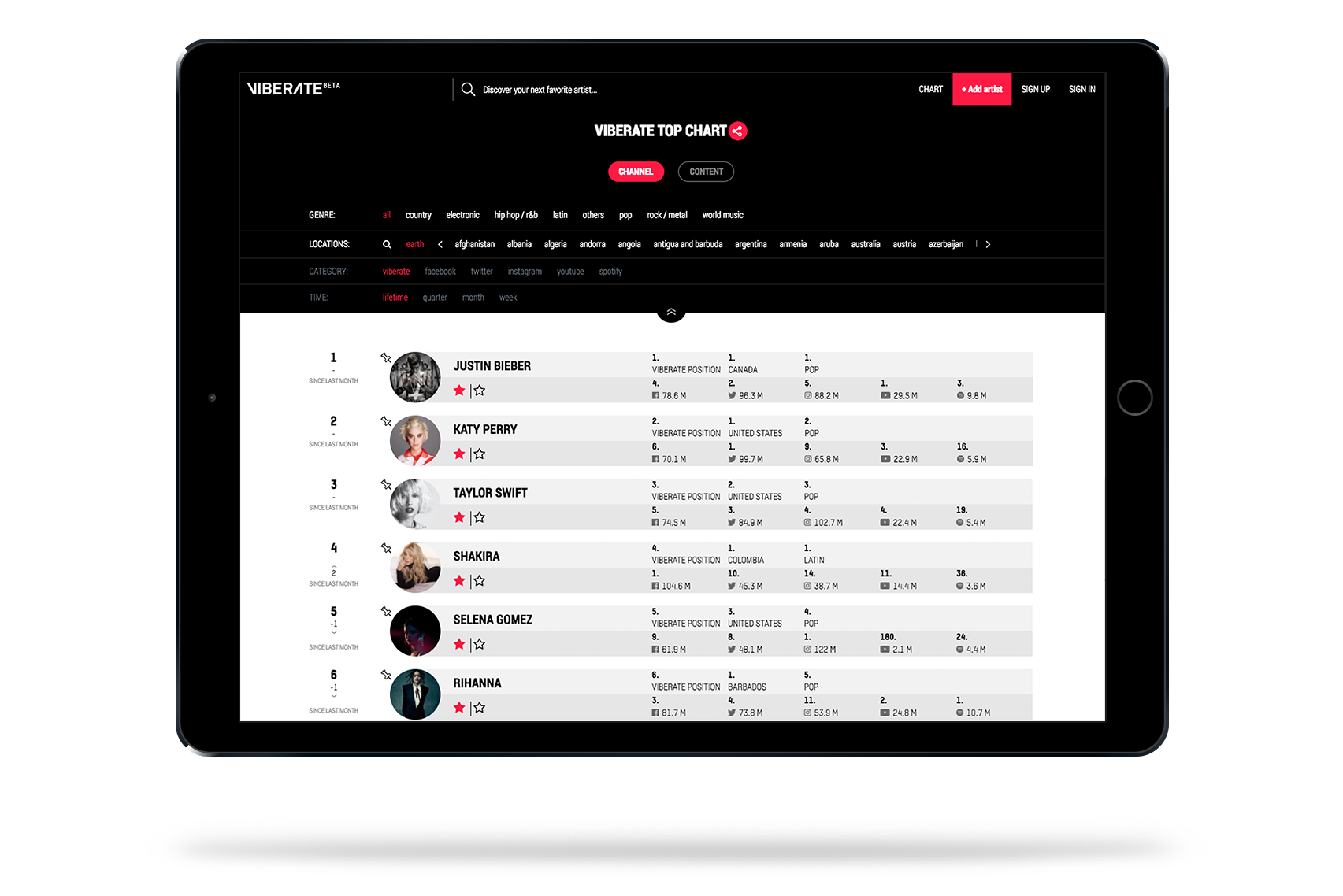 UMEK: "We were busting our heads with piles of different laws for different markets, and launching a global live music marketplace seemed more and more distant to us. We wanted to offer escrow for payments, but we would need licenses for every major market. We wanted to process payments, but payment processing costs were a deal breaker. Luckily, one of our friends is deeply into Bitcoin and all things crypto, so he asked us why we don't look into using the Ethereum platform to handle payments and escrow. It's amazing to see how powerful this new technology is and how fast it's growing. A few years ago a friend asked me why I don't charge my fees in Bitcoin, and I just looked at her strangely. It was around $60 back then. I still can't get over this one."
The founders see the business opportunity in so called "long-tail" artists, who aren't signed to an agency, or as UMEK explains: "No agent wants to work with small garage bands or unknown DJs. It's not that agents are a bunch of bad guys, it's just not economically viable to work on a commission, when your clients get $200 per gig. But for a platform like ours, it doesn't cost anything to represent hundreds of thousands of such artists. In the end, we will be the world's biggest talent agency. You won't be able to book Tiesto for your party, but you'll have a large selection of warm-up artists to choose from. And anyone can sign up free of charge, we don't discriminate, as long as you're a musician."
Viberate is now getting ready to issue their own crypto token named the Vibe. Their token crowdsale starts on September 5. After the crowdsale ends, the Vibe will be trading on a couple of crypto exchanges. The token mechanics are described in detail at www.viberate.io
Service URL: https://www.viberate.com/
ICO URL: https://www.viberate.io/
Explainer video: https://youtu.be/MG1MvZr3XqA