The use of smart contracts remains the key turnaround factor with the cryptocurrency space. Smart contracts brought about the decentralization of digital assets and eliminated third-party interferences in crypto transactions.
Distributed ledger and open-source cryptocurrency, IOTA, moved their smart contract platform to a beta stage. Launched in October 2020, this latest phase offers its users a platform to get high-speed and zero-fee transactions.
IOTA emerged within the 2017 ICO boom. The digital asset came to support the Internet of Things that harmonizes physical items into the internet and digital world. Nevertheless, the cryptocurrency floated to irrelevance as interest in it died down in 2018.
Related Reading | By The Numbers: What $1000 In SHIB Is Worth Now
A reinvention of the network by its Co-Founder Dominik Schiener came earlier this year. With his determination, the IOTA Co-Founder decided not to give up on the project by upgrading it by introducing a critical new upgrade.
Advantages Of The New IOTA Upgrade
A report reveals that the beta version inculcates an Ethereum Virtual Machine (EVM). Thus, ERC-20 tokens are now interoperable within the network. Additionally, the smart contract programming language is Solidity (the programming language of Ethereum) attached in the tangled language of the network.
Furthermore, the platform will leverage a sharding mechanism. This allows high-degree operability via smart contracts wrapping to the base layer of native tokens. Remarkably, smart contracts creators can set their execution fees which will enable drive-down competitions among different chains.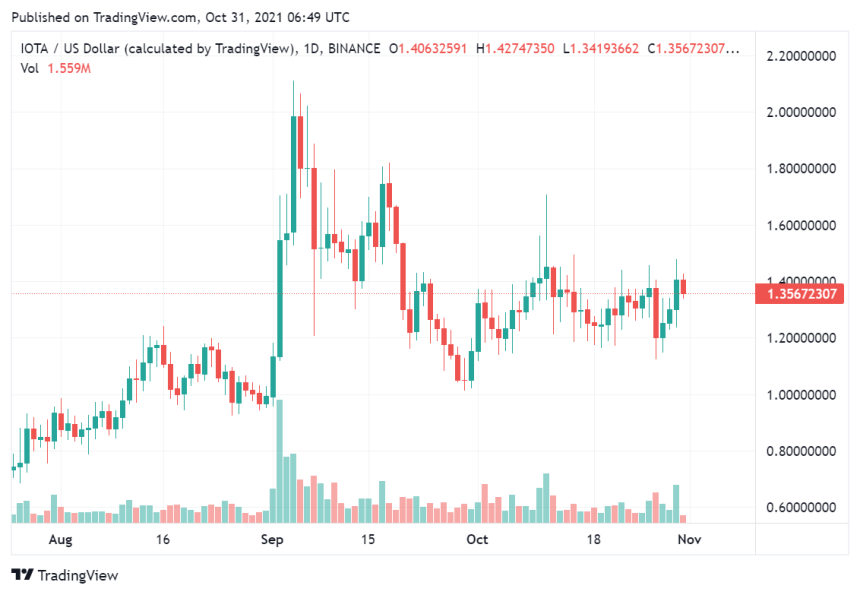 MIOTA is currently facing a decline | Source: IOTAUSD on TradingView
In comparison with other networks like Ethereum, some believe IOTA is lagging in the smart contracts race. Nevertheless, Dominik Schiener is of a different opinion concerning the issue.
Related Reading | Crypto Adoption Boosts Travel: Travala Rises From The Ashes
Schiener explained that they took their time to develop a smart-contract solution that operates to bridge the shortfalls of other competing chains. He cited an instance with Cardano's smart contract that faces limited throughput while IOTA's provide unlimited scalability.
Speaking of the zero-fee on the platform, the Co-Founder said it's a significant competitive advantage. He explained that the feeless nature of the network serves as the doorway for their numerous opportunities.
These include their partnership with multinational companies and governmental agencies and interest from SMEs, startups, and crypto operators. Schiener mentioned that the volatile nature of fees could strain business models and oppose great economic moves.
IOTA cuts across promoting ecosystem growth and decentralized application development via project financing. Though MIOTA is making gradual progress, its current price is still far from its former glory.
However, the European Commission selected the token last month to feature in its blockchain infrastructure project despite its low position. This selection stands as a possible action that could pave the way for future growth for MIOTA.
Photo by Moose Photos on Pexels, charts from TradingView.com