For obvious reasons, the close approximatations between Litecoin and Bitcoin price movements continue to exist. As a result, the former is also bouncing between specifically prevailing support and resistance lines, while the absence of enough trading volume continues to haunt.
Litecoin 4H Chart BTC-e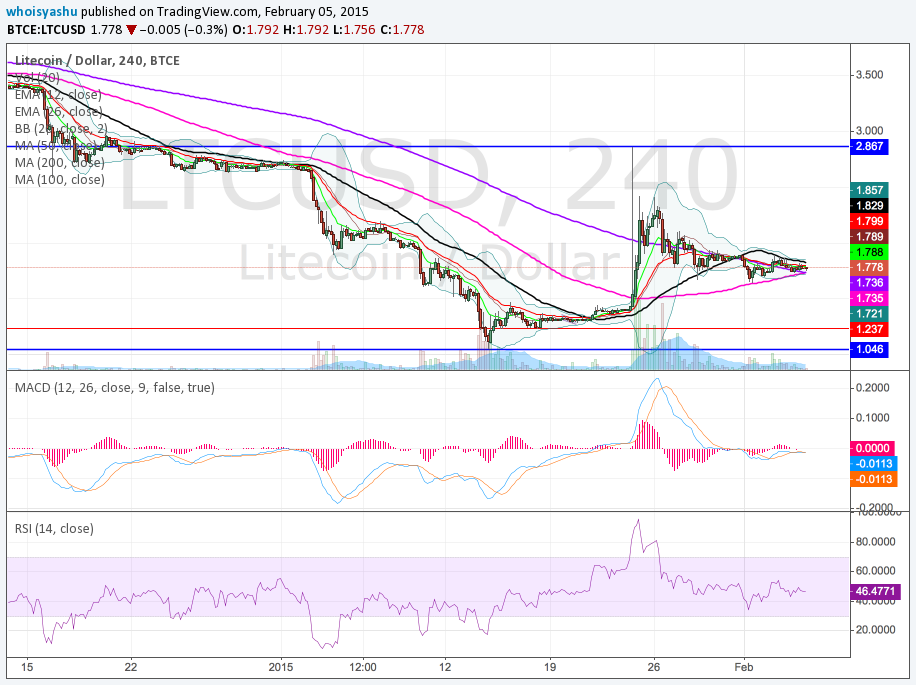 The LTC/USD exchange rate is currently trending sideways in absence of influential trading volume. After a spike to $2.86 last week, the market has retreated back to bearish regions. In the midway, the Litecoin price has attempted a few bullish correction but only for very short-terms. Meanwhile, the periodically stiffing gap between Bollinger Bands is indicating a congestion scenario, which normally ends up in a breakout towards south (per experience).
As per the latest readings, the possibility of a near-term bullish attempt is likely as well. For this to happen, a break above 1.8 will ensure some bullish sustenance. The upshift will also preserve the RSI to stay around 45-50 area. This is also the point where price will try to battle the 200-, 100-H SMAs, clearing way for further correction.
But let's not forget the comparatively high selling volume even such little peaks bring with them. Considering the Litecoin price reverses after hitting the 1.8 or nearby levels, the pressure would fall back once again on the near-term support 1.55. A break below this point will bring 1.00 back in sight, further below which lays a dangerous bearish breakout.
Image Credits: Trading View and Litecoin.