Litecoin (LTC) was among the few bright spots for the crypto market which had to endure the negative effects of the collapse of the FTX exchange platform.
In the midst of one of the worst implosions that the space has ever witnessed, LTC momentarily became vulnerable, plummeting all the way down to $49.58.
But the cryptocurrency stood its ground, though, while the likes of Bitcoin and Ethereum were sent crashing to various monthly lows and eventually commenced its own rally to close November on a high note.
As a result, Litecoin exited last month with an index price of $76.52 and registered an impressive jump of 24% within a 30-day period.
The altcoin is also performing well during the first days of December. At the time of this writing, according to tracking from Coingecko, the digital coin is changing hands at $83.11, with an uptick of 10.8% in the last seven days.
Litecoin Has A Healthy Blockchain But Holders Failed To Make Profit
Aside from the sustained surge in trading price, LTC is also witnessing positive developments in other areas.
For instance, according to data shared by CoinWarz, the asset's mining hash rate has once again hit another all-time high, peaking at 613.81 TH/s.
Within four months, the Litecoin blockchain has recovered from the decline it experienced back in July, rallying by 64%.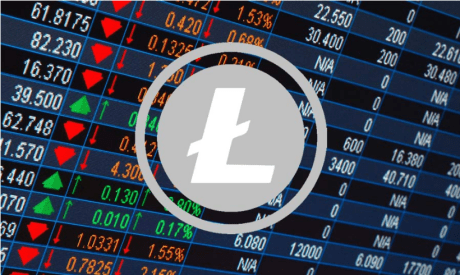 Image: Cryptotelegram
Moreover, as of December 3, the DeFi network has established its highest difficulty level since going online, recording a block height of 2,379,925. The average difficulty of Litecoin blockchain translates to a value of 19.52 million according to Messari. 
Meanwhile, profitability was one gray area for the altcoin, as most of its holders were unable to make profit from their investment during the previous month.
As of November 30, LTC had a 30-day moving average of -149,000 for its Network Realized Profit/Loss (NPL). In addition, during the same time, Litecoin had a -28% Market Value to Realized Value (MVRV) ratio.
This indicated that despite the crypto experiencing price growth, in November, some of its investors still held at a loss.
Price Decline Could Happen For LTC Within Next Few Days
Although LTC managed to block the effects of the crypto market meltdown that was triggered by the FTX implosion, there is a possibility that the asset may experience price correction soon.
According to the forecast of online cryptocurrency information provider Coincodex, this could happen within the next five days with LTC losing almost 8% of its value to change hands at $76.33.
Moreover, 30 days from now, the crypto is expected to recover a bit and trade at $80.75, although this value is also lower than the current one it has. 
LTC total market cap at $5.9 billion on the daily chart | Featured image: InsuranceHub, Chart: TradingView.com