The Litecoin price is looking quite comfortable after yesterday's rally towards the intraday peak of 1.95. There is definitely no need to remind that the sudden upsurge has been influenced by the digital currency locomotive Bitcoin, whose very own value sky-rocketed amid a notable pump. And now when the latter is visibly attempting a new temporary support near 260, Litecoin is doing something similar around the 1.85 mark — like every time.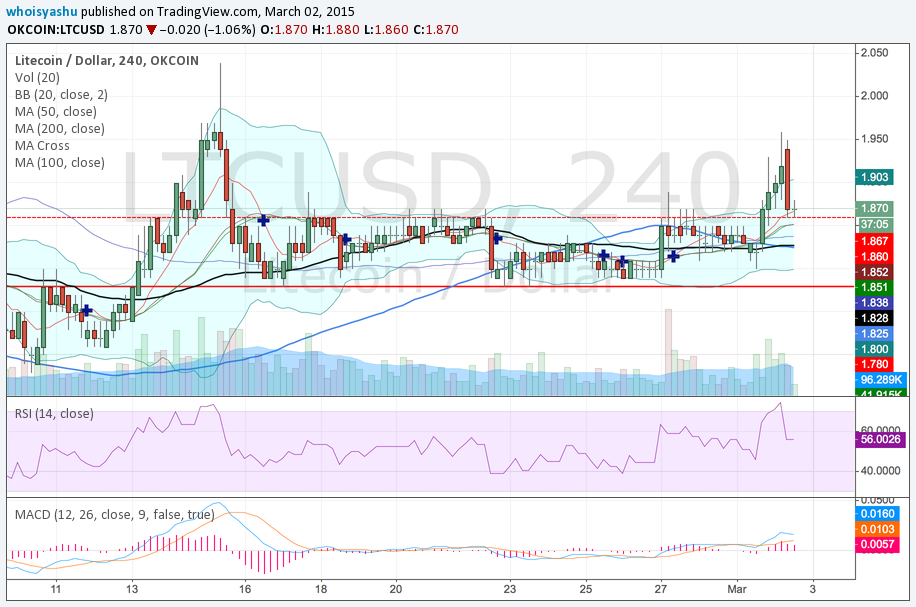 As you can see on the 4H OKCOIN chart above, the technical indicators are exhibiting a near-term bullish bias in the market, because:
The Litecoin Price is clearly trending above the 50H MA.
The RSI is near 56 — ideally a neutral area.
The MACD blue curve is situated above the normal line and saffron signal curve, though with its head a little south.
The Litecoin price is still targeting the 50% retracement level — right aligning with the 1.85 — as its next temporary support. As price continues to float above this particular point, price might retest the previous higher high near 1.95, with an upside risk towards 2.00, the point from where the Litecoin price was briefly pulled back during the Feb 15th trading session. A long-term bullish bias will be confirmed only when this peak is breached to the upside.
However, staying near the temporary support for too long will increase the probability of a downward slope, probably towards the next support near 1.81. There the pressure will fall back once again on last month's bottom near 1.76 to keep the Litecoin price away from falling into a bear trap.
Conclusion
From the look of the current price behavior, setting a stop loss near 1.81 will be a smart move in case of bias invalidation. If price continues to trend high, shorting near the current peak level makes sense.
Disclaimer: Cryptocurrency trading is full of unannounced risks and is also subjected to manipulations. NewsBTC.com won't be held responsible for any of the losses incurred after following the above predictions.
Chart Credit: TradingView.com