Litecoin founder Charlie Lee today tweeted a cryptic emoji message of a chicken, dolphin, bee, cash, and soon arrow. Several of Lee's followers replied, speculating over what he meant.
But it was @MASTERBTCLTC who gave the most likely explanation by replying with "Litecoin flip B cash soon."
🐓 litecoin
🐬 flip
🐝 B
💵 cash
🔜 soon

— Master⚡️250k BTC 6.25k LTC 2021 (@MASTERBTCLTC) November 16, 2020
Lee has neither confirmed nor denied any of the responses to his message. What's more, there is no logical explanation over why a chicken would represent Litecoin.
Nonetheless, an analysis of the CoinMarketCap top 10 shows Litecoin in the ascendency, with Bitcoin Cash stumbling, lending support to this interpretation.
At present, the difference between sixth and seventh place is a matter of $183 million, or 0.04% of the total crypto market cap.

Source: CoinMarketCap.com
Litecoin Aiming For Sixth Place on CoinMarketCap
Litecoin is up almost 12% this last week, having today spiked to a 12-week high, at $68.50.
Technical analysis has noted the formation of a major bullish trend line, giving more upside soon. Analysts are targeting $70 if LTC maintains its momentum.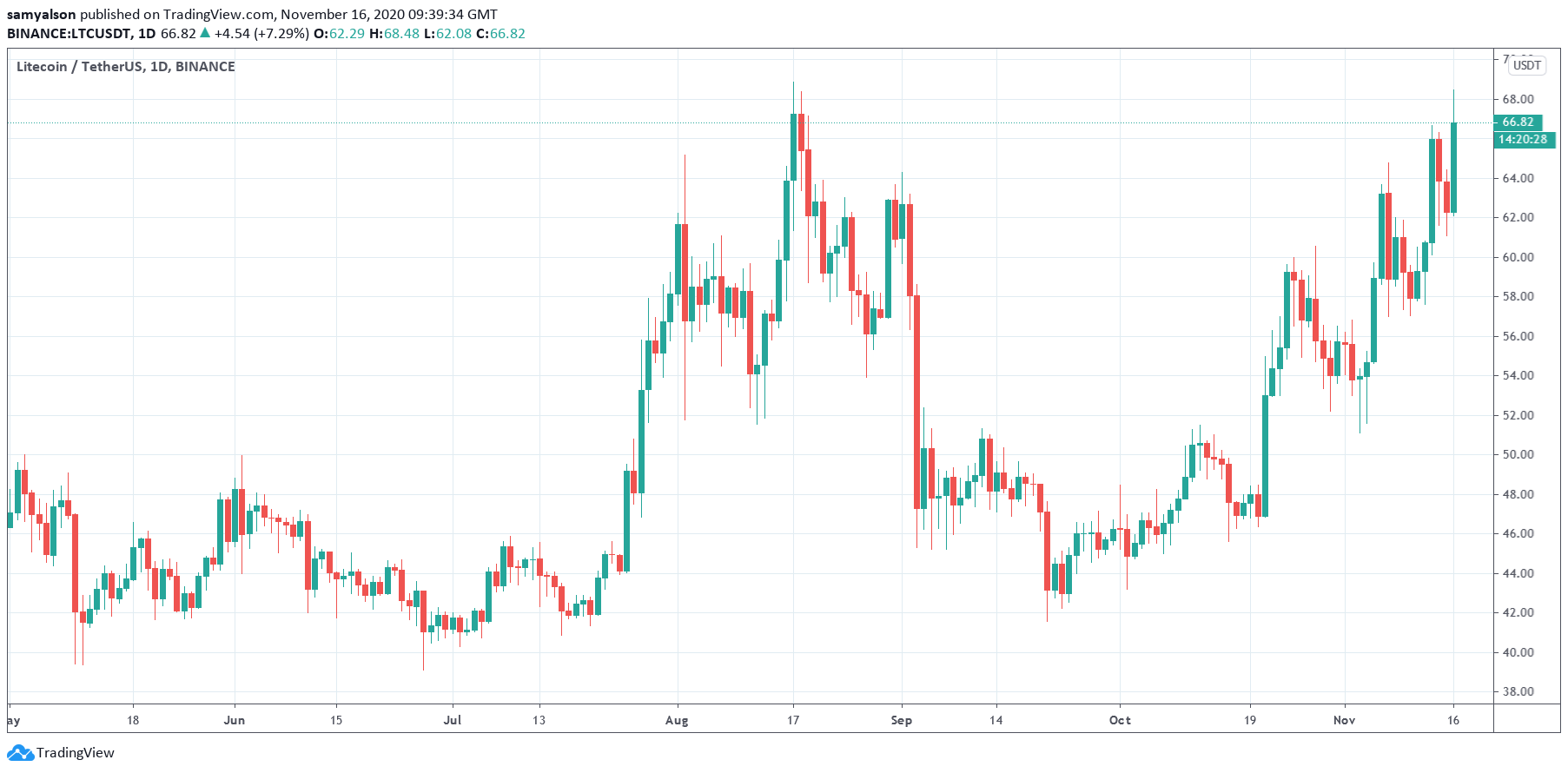 Source: LTCUSDT on TradingView.com
Whereas today, Bitcoin Cash is suffering a case of the post hard fork blues. The last 24-hours has seen a 3% drop in its price.
Unlike LTC, which has closed a series of higher highs since the end of September, Bitcoin Cash struggles to gain any upward momentum, having bounced off the $240 support line on three occasions recently.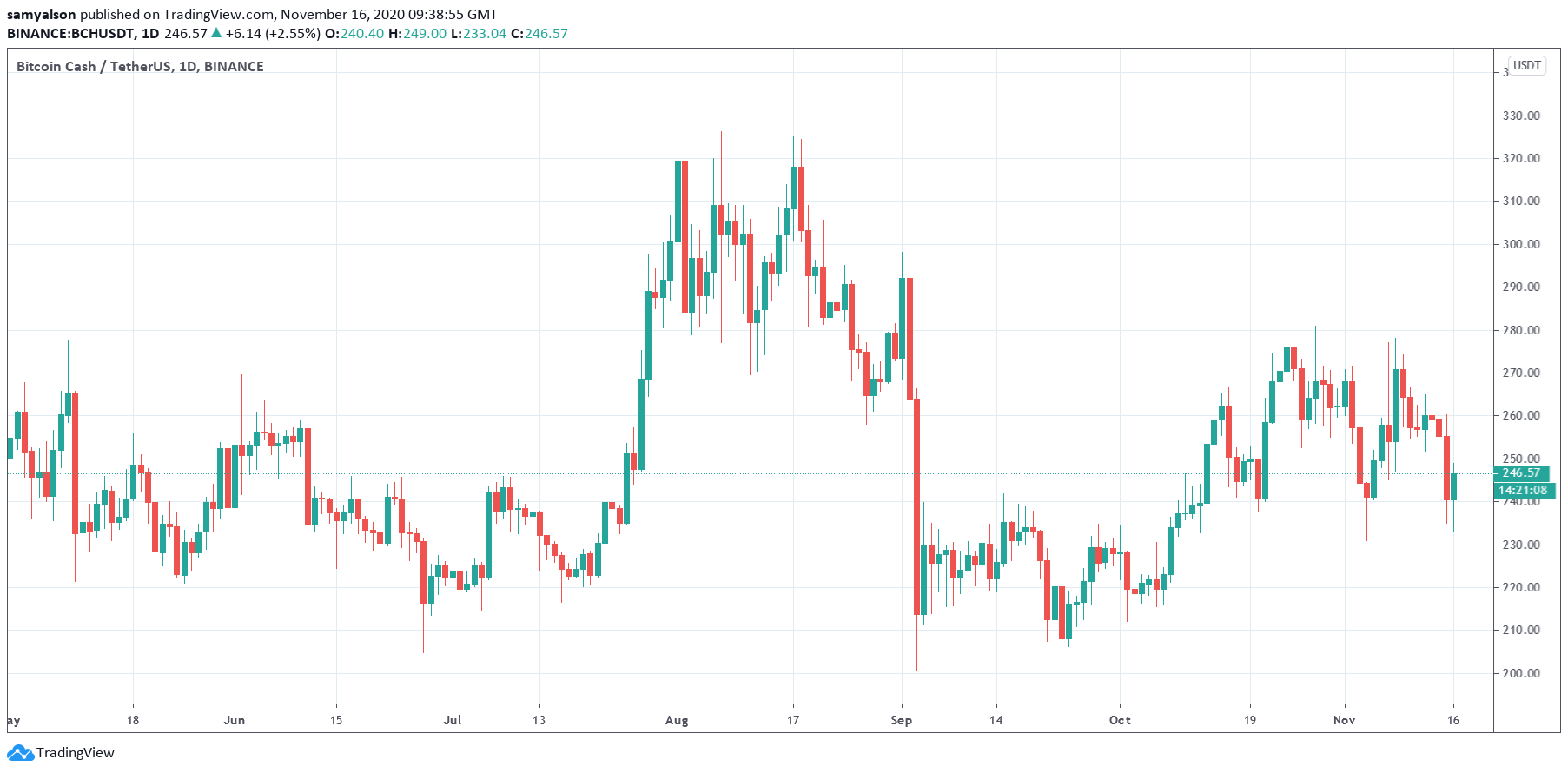 Source: BCHUSDT on TradingView.com
Future of Bitcoin Cash Uncertain Following Hard Fork
To add insult to injury, the future of Bitcoin Cash hangs in the balance following the chain's hard fork yesterday.
The split arose due to disagreements over the Infrastructure Funding Plan (IFP). Those in the Bitcoin Cash ABC faction called for an 8% tax on miners' profits to fund network development. Whereas Bitcoin Cash Node supporters felt a tax on miners was unnecessary and believed the protocol should remain unchanged.
Bitcoin Cash proponent Roger Ver voiced his opposition to the miner's tax by calling out its centralization.
"Diverting part of the #BitcoinCash block reward to pay a single development team is a Soviet style central planner's dream come true. Please stop."
Ver's comments were directed at developer Amaury Séchet, who maintains that a miner's tax is necessary. In the long term, Séchet believes the trickle-down effects will lead to an increase in network value.
"This allows Bitcoin ABC to make this much needed improvement while miners who may prefer other rules are free to choose a viable, alternate implementation."
If Bitcoin Cash ABC fails to attract sufficient hashing support, the project would vanish. While that could be cause for celebration for Bitcoin Cash Node supporters, the question is, can Bitcoin Cash carry on as it did before the fork?
One thing is certain, Litecoin is dangerously close to taking sixth spot.