Data shows a Litecoin whale has withdrawn $65.5 million in LTC from the crypto exchange Binance, a sign that may prove to be bullish for the price of the coin.
A Litecoin Whale Has Taken Out 835.8k LTC From Binance
As per data from the crypto transaction tracker service Whale Alert, two large LTC transfers have been spotted on the chain during the past day.
The first of these Litecoin transactions involved the movement of 73,794 LTC, worth just under $5.8 million at the time of the transfer.
Massive transfers like these usually belong to a single whale, or an entity made up of multiple investors. Depending on the intent behind them, such transactions may have noticeable impacts on the market.
Here are some additional details about the transfer that might shed some light on why it was made:
Looks like the sender had to pay a negligible fee of  0.00004518 LTC for the coins to go through | Source: Whale Alert
As you can see above, the sending address in this case was attached to a wallet associated with the crypto exchange Binance, while the receiver was an unknown address.
Unknown addresses like these are usually personal wallets, and are unaffiliated with any known centralized platform.
The second Litecoin transaction saw a whopping 762,073 LTC move on the chain, equivalent to $59.8 million according to the exchange rate at the time of the transfer.
Below are the details regarding this transaction.
This massive transfer seems to have taken only $0.02 in fees to be possible | Source: Whale Alert
It looks like this transaction also went from the crypto exchange Binance to an unknown wallet, much like the other transfer.
In fact, both these transactions involved the same sending and receiving addresses, implying the same whale might be behind both of these.
Transfers where coins exit the centralized custody of exchanges are called "exchange outflows." Usually, investors withdraw their coins from these platforms for accumulation purposes.
Hence, large outflows like the ones observed during the past day can be a sign that whales are accumulating, and can therefore be bullish for the price of Litecoin.
LTC Price
At the time of writing, Litecoin's price floats around $77.5, down 1% in the last week. Over the past month, the crypto has gained 37% in value.
The below chart displays the trend in the price of the coin over the last five days.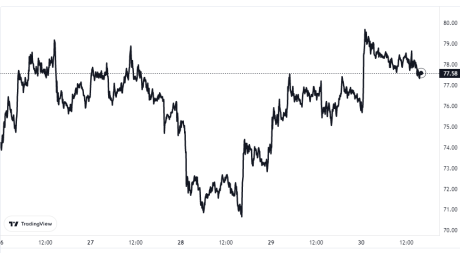 LTC has been climbing up during the last couple of days after the plunge to $70 | Source: LTCUSD on TradingView
Featured image from James Lee on Unsplash.com, charts from TradingView.com, CryptoQuant.com