Crypto derivatives exchange, BitMEX, has announced the launch of Litecoin quanto perpetual contracts on its trading platform.
We're further diversifying trading opportunities with the launch of our fifth quanto swap – say hello to the LTCUSD quanto perpetual swap, launching on 30 July 2020. More details on our blog: https://t.co/ObYhgH86od pic.twitter.com/HhJydXNU4X

— BitMEX (@BitMEX) July 21, 2020
The LTCUSD quanto perpetual swap testnet is currently live, but the final product won't be released until July 30, 2020. Up to 33x leverage is on offer.
"This is the fifth quanto contract to be launched on the BitMEX platform, offering users further diversification of trading opportunities. It follows the successful introduction of the XRPUSD and BCHUSD quanto perpetual swaps and ETHUSD quanto futures earlier this year."
A quanto derivative refers to a contract where an underlying asset, such as Litecoin, is traded, but the contract settles in another asset, such as Bitcoin.
This enables traders to be long or short LTCUSD without ever having to deal with either Litecoin or USD.
It mimics a margin-based spot market and uses a funding rate mechanism, in this case, a Bitcoin multiplier of 200 Sats/$1, between buyers and sellers to keep the traded price aligned to the underlying reference price.
Quanto contracts expose traders to the risk of both the underlying and settled assets going against the trade. This can result in highly unpredictable bankruptcy risk.
"Suppose a trader shorts 1 ETH @ 200 while BTC/USD is 10,000 and believes his liquidation price is 300. If ETH/USD goes to 250 and BTC/USD goes up to 12,500 at the same time, he will find that he is already liquidated because the size of his position is exploding with the BTC price itself."
Three Arrows CEO, Su Zhu recently took a Twitter poll to gauge understanding of covariance risk in quanto contracts. Of the 1,461 respondents, more than half did not understand the concept.
Do you understand that quanto derivatives involve covariance (also known as cross-gamma) risk?

Aka the ethusd quanto, xrpusd quanto on bitmex

— Su Zhu (@zhusu) February 6, 2020
Users Puzzled Over Why BitMEX Choose to Launch Litecoin Quanto Contracts
The feedback from users highlights significant concern over why BitMEX selected Litecoin to launch a new quanto contract offering.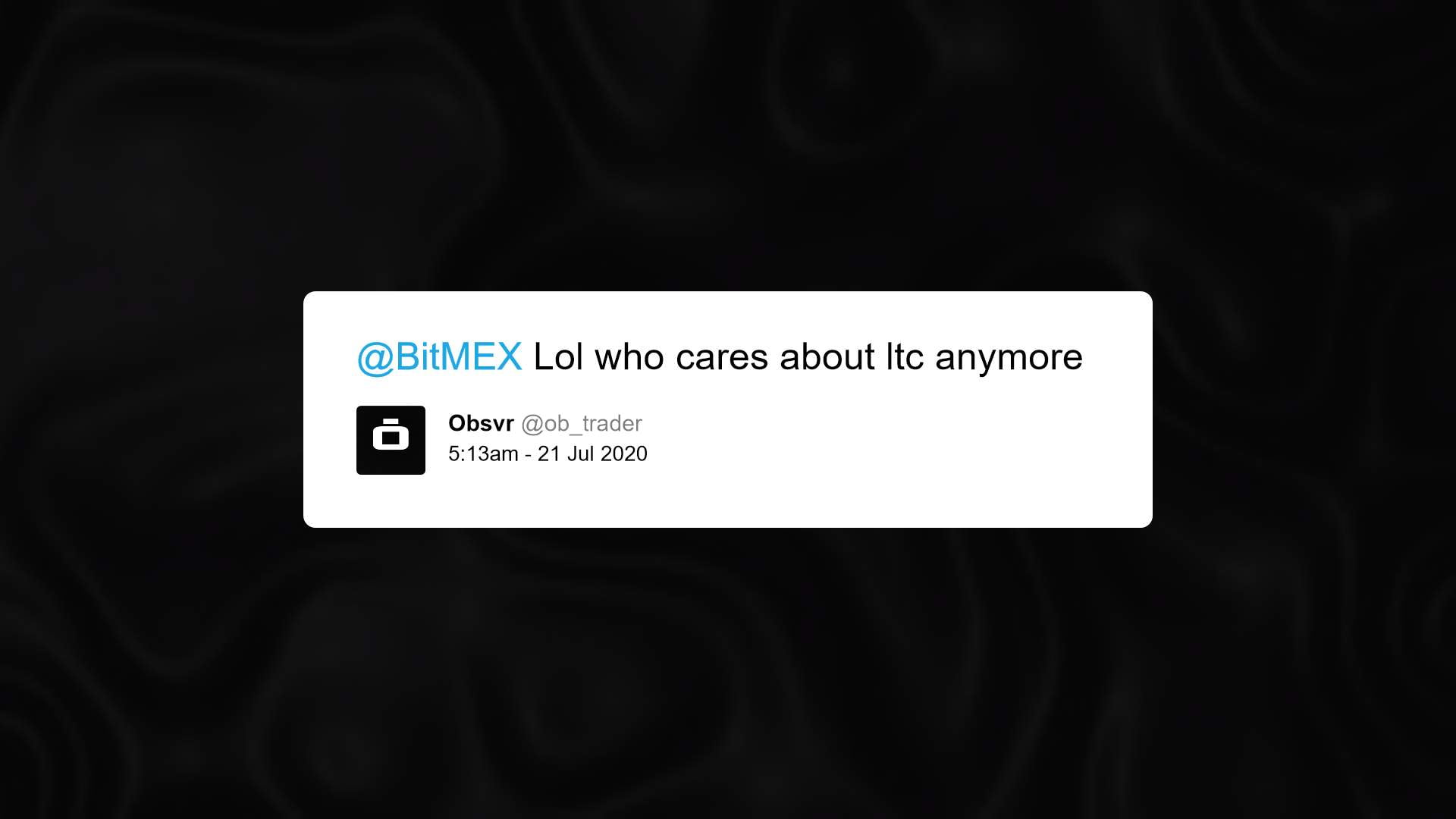 Source: twitter.com
Major developments by Litecoin include speculation over a tie-in with Cardano. It's understood that Cardano CEO, Charles Hoskinson wants to improve cross-chain communications between the two projects, but no further details have been released as of yet.
Litecoin CEO, Charlie Lee also stated that the Litecoin MimbleWimble testnet is due to launch by the end of summer.
But with the buzz surrounding DeFi, especially staking, crypto investors lack the passion they once had for Litecoin.
With that, Project Director at Litecoin Foundation, David Schwartz hit back at critics by saying, with a currency use case, Litecoin is supposed to be boring.
"Some people say #LTC is dead. It's literally built to be a currency.. It's supposed to be boring. Let an apple be an apple & an orange be an orange. It is used, traded & being improved upon more now than it ever has. Smart contracts & opt-in privacy on #Litecoin = legit."
Binance Continues to Lead Exchange Innovation
In terms of exchange innovation, BitMEX is lagging behind Binance. This month, Binance's stablecoin offering BUSD hit $1 billion in purchasing volume, further cementing plans to build out an entire Binance ecosystem.
As well as that, the world's largest exchange by volume continues developing products that users want, in particular exchange staking.
Binance recently announced exchange staking for Stellar XLM. It joins the likes of KAVA, Tezos, and VeChain in the firm's portfolio of staking coins.