Litecoin momentum is potentially changing, network usage is skyrocketing, and the cryptocurrency's halving is ahead.
Yet the asset remains drastically undervalued relative to Bitcoin, Ethereum, and other factors. Here is a closer look at why Litecoin could be the most undervalued asset in crypto.
LTC Vs BTC Vs ETH Compared
Litecoin was once a top ten or higher cryptocurrency that has since fallen from that lofty pedestal. A nine-month-long up-only bull run and more than 10,000% ROI left the coin ranging for going on its fifth full year.
Unlike other top coins like Bitcoin and Ethereum, LTC never made dramatic new all-time highs in 2021. On some exchanges, the record high is still set for 2017. After the 2017 bull market peak, Litecoin has lagged behind the two largest coins by market cap.
But this is common in the final stages of a bull market, after which Litecoin wildly outperforms both BTC and ETH in a flash. That sort of situation could return, according to the charts below, starting with the below comparison of LTC versus Bitcoin and Ether.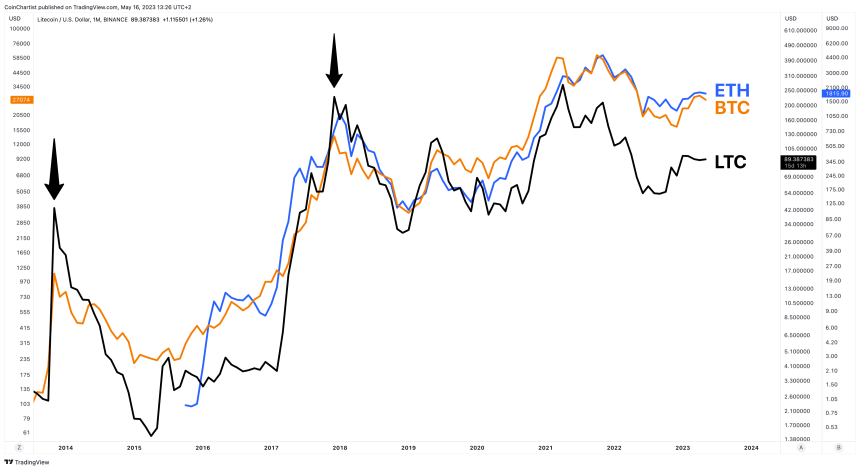 LTC is drastically underperforming BTC and ETH | LTCUSD on TradingView.com
Crypto Market Moment Ready To Change
Another sign that LTC is due to outperform the market can be found in the one-month LMACD crossing bullish. The signal is at least a two months ahead of Bitcoin and Ether and suggests a larger move in Litecoin first.
According to Investopedia, momentum "refers to the inertia of a price trend to continue either rising or falling for a particular length of time." The LMACD is a momentum measuring tool, and it could be indicating that Litecoin's inertia just made a major swing in the positive direction.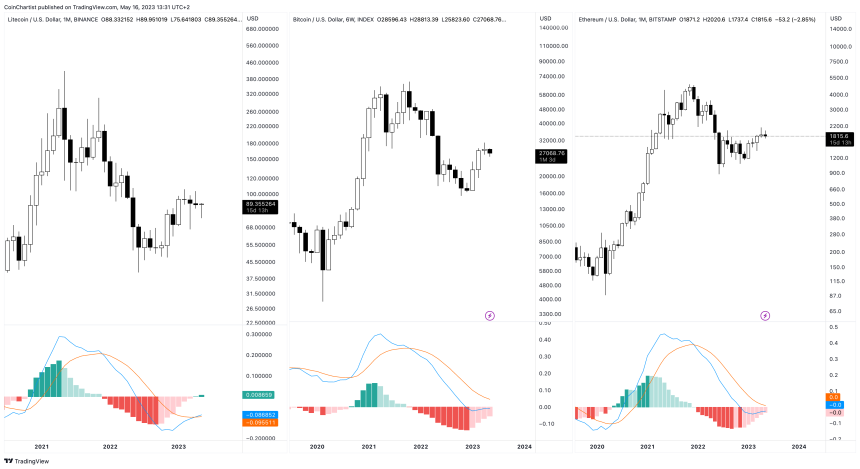 The LMACD has crossed bullish on only one of these charts | LTCUSD on TradingView.com
Litecoin Elliott Wave And The Final Advance
Litecoin technicals, according to Elliott Wave Principle, could also point to much higher prices. The current wave count and Fibonacci retracement levels are characteristic of an expanding diagonal pattern.
These patterns appear at the beginning or the end of a motive wave. Considering the larger wave count, this would suggest an ending expanding diagonal and perhaps the last major rally in Litecoin in some time.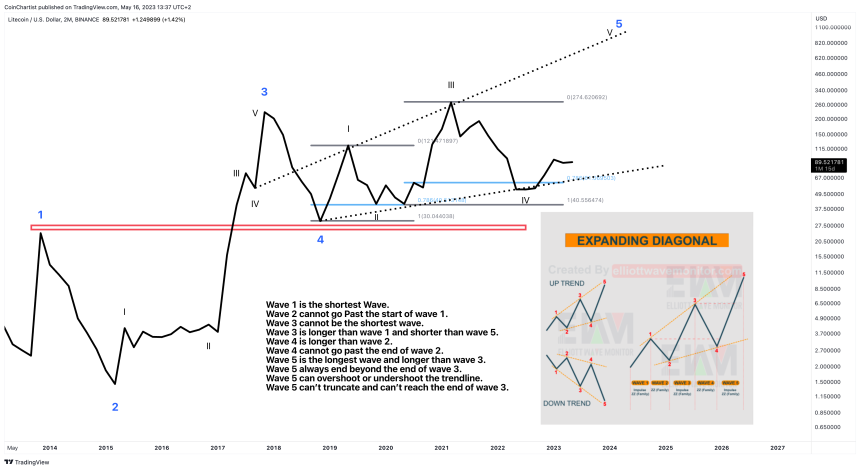 Is this an ending diagonal pattern? | LTCUSD on TradingView.com
LTC Fundamentals Support Soaring Higher
Finally, LTC transactions are currently skyrocketing. From a fundamental perspective, this is as bullish as it gets for any cryptocurrency. Litecoin is benefiting from an explosion of ordinals on the LTC-20 standard, congestion on Bitcoin and Ethereum, and more.
Network transactions are off the charts | LTCUSD on TradingView.com
Essentially, the Litecoin ecosystem is booming again. When network usage skyrockets, LTCUSD spikes in price. We also have yet to mention Litecoin's halving, which is less than 80 days away.
A mega thread 🧵on why I am more bullish on #Litecoin than any other asset in the space starting with what I believe is cyclical perfection using Hurst Cyclical theory

Internal 1/3 harmonics match up with a larger cycle, which also has 1/3 harmonics

I see the grand finale next pic.twitter.com/cAh5CrnlUZ

— Tony "The Bull" (@tonythebullBTC) May 16, 2023