Blockchain technology remains the revolutionary aspect of cryptocurrency and the entire digital assets as a whole. It brought more innovations and popularity to the industry, which have attracted more users and developers.
The use of blockchain technology is erupting within several mainstreams and sectors of the global economy. Recently, this amazing technology has found a useful application in the medical field. A Mexican medical firm, MDS, has launched a coronavirus testing service that utilizes blockchain technology to confirm its results.
A local media report, iProUP news reported that MDS Mexico launched a digital result-profiled platform. This will enable its patients to access their results as updated in real-time. Furthermore, the physical delivery of the results comes with a QR code.
Related Reading | Bitcoin ETF Check, What's Next For BTC
This enables scanning for the verification of the results. Also, from MDS Mexico's blockchain, it's very easy to access the vaccination history of a patient.
Purpose For Blockchain Adoption
According to its report, MDS mentioned that adopting blockchain technology is a means of safeguarding all the results of its clinical tests.
Also, it will protect the personal data of patients as well prevent COVID test result falsification. The company explained that it commenced the certification of the SAR-CoV-2 detection tests via cryptographic signature and blockchain technology.
This move eliminates the possibility of getting falsified negative results. Thus, the QR Code, which remains unalterable, unique, and immutable, protects the information and is verifiable globally.
Moreover, the medical firm's blockchain has uploaded testing results that contain a doctor's cryptographic signature. This must be the doctor that verified the result of the test.
Before now, there have been other companies in Mexico using digitized covid test results. One of such moves is the April announcement from Mexico's National Chamber of Commerce (CANACO) of a state-sponsored initiation.
According to CANACO, the initiative is a collaboration with Xertify, a private technology company, for the digitalization of vaccination passports.
For this initiative, there are some requirements from the beneficiary. These include their official means of identification and proof of the vaccination from the Ministry of Health.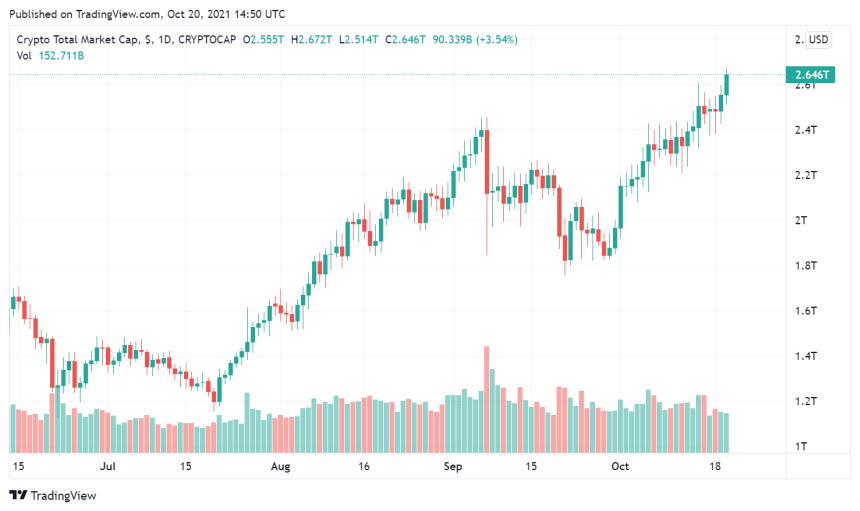 Crypto market is at its all-time highs | Source: Crypto Total Market Cap on TradingView.com
Also, a representative from the Xertify firm disclosed that his company is in charge of the vaccination receipt digitalization. He mentioned that this would help in its authentication in another language without falsification.
Related Reading | Grayscale Investments Set to File for Bitcoin Spot ETF as Competition Heats Up
Similarly, an Australian firm in August facilitated the use of a vaccine registry based on blockchain technology.
The company opted for such an introduction to cut down the proliferation of counterfeit coronavirus vaccination certificates floating online. Through the blockchain-based registry, there will be a stop to the involvement of fraudsters selling fake COVID-19 certificates.
Featured Image From Pexels and Chart From TradingView.com