MicroStrategy is one of the loudest crypto advocates listed on Wall Street. Now, the Michael Saylor-led company is engaging in one of the first-ever corporate bond sales that specifically earmarks the proceeds for Bitcoin purchases.
MicroStrategy's Strategy? Buy The Dip
After initially planning to issue $400M of the debt, by the time the deal was launching on Monday, the company saw immense demand. Saylor and team elected to up that amount to $500M with Tuesday's junk bond sale. These type of bonds generally offer more aggressive yields, while running a higher risk of default. The secured notes where reportedly sold at a yield of 6.125%, according to reports, after earlier pricing discussions around 6.25% and 6.5%. Investment bank Jeffries led the offering.
The news comes after a bevy of Bitcoin purchases throughout this first half of the year. To start the year, MicroStrategy locked in 20,000 BTC with a hefty price tag in excess of $1B. The company grabbed a few hundred more in recent weeks at around $55K per coin. After a weekend at Miami's Bitcoin 2021 Conference, Saylor is ready for more.
To date, the firm owns in excess of 90,000 BTC with an average per coin price just shy of $25K. Nonetheless, Bitcoin's second quarter dip is evident; MicroStrategy reported in a filing this week a roughly quarter billion dollar hit in it's next earnings report from the crypto's fluctuating price. After issuing convertible bonds in the past to make crypto purchases, Saylor seems to be set on buying the dip with this first-ever corporate bond sale.
Related Reading | There's Zero Chance Of Bitcoin Being Replaced Says Saylor
Corporate Bonds Garnering Some Attention
This isn't MicroStrategy's first "first". The company was also one of the first to pay their board of directors in Bitcoin, and Saylor was led the firm to be the first to have a modified corporate strategy integrating Bitcoin. Saylor's hyper-fixation on Bitcoin in particular has drawn a fair share of critics, but all that aside, MicroStrategy's business intelligence products are still seeing success with substantial Fortune 500 customers in their wheelhouse.
This week's bond offering is also notable not just for being the first of it's kind, but also from the response it drew. The company upped their offering to $500M in notes, but received in excess of $1.5B in orders for the offering – including a large number of hedge funds, according to reports. Despite the recent Bitcoin dip, many major investors still seem to be chomping at the bit. The weeks to come could be particularly telling around their aggressive perspective.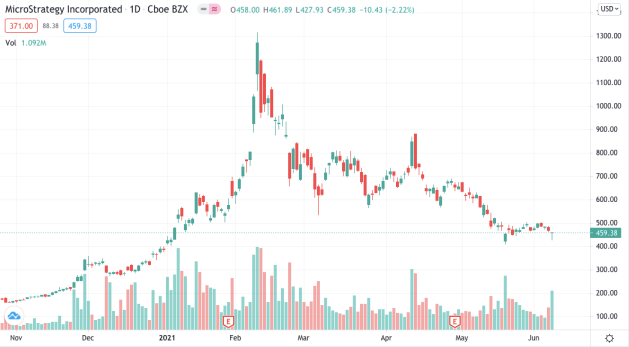 MicroStrategy has come back to earth after yielding substantial attention earlier this year with Bitcoin purchases. | Source: $MSTR-NASDAQ on TradingView.com
Related Reading | Saylor: North American Bitcoin Miners To Form Coalition After Meeting With Elon Musk
Featured image from Pixabay, Charts from TradingView.com