CNBC has learned that bank giant Morgan Stanley will offer its client access to Bitcoin. According to an internal memo by the banking institution, crypto firm Galaxy Digital and FS NYDIG will enable the product.
NYDIG is proud to partner with Morgan Stanley, the first US bank to offer access to #Bitcoin for their wealth management clients. https://t.co/Xq9ZjQ2yjn

— NYDIG (@NYDIG_BTC) March 17, 2021
With over $4 trillion in assets under management, Morgan Stanley has become the first major U.S. bank to launch a product to grant its client exposure to the cryptocurrency. Sources quoted by CNBC claimed the decision was taken after Morgan Stanley receive pressure from its clients.
Access to Bitcoin, but not for everyone
However, only those individuals with over $5 million will be able to qualify for the funds. Morgan Stanley claims BTC is only suitable for those with "an aggressive risk tolerance". Even those clients will be allowed to put 2.5% of their funds into the cryptocurrency.
Therefore, the minimum investments for the funds will be $25,000 for the Galaxy Bitcoin Fund LP and FS NYDIG Select Fund. The Galaxy Institutional Bitcoin Fund LP will require clients to invest $5 million, as a minimum. CEO of Galaxy Digital, Mike Novogratz, said:
Galaxy is thrilled to partner with Morgan Stanley, the first US bank to offer Wealth Management clients access to bitcoin funds.
In parallel, a report by Morgan Stanley claims Bitcoin is reaching the point of becoming an "investable asset class". The report is careful about making a direct recommendation to clients looking to gain exposure to the cryptocurrency. However, it claims BTC could be at a critical point for adoption.
With cryptocurrency, we think that threshold is being reached. A firming regulatory framework, deepening liquidity, availability of products and growing investor interest—especially among institutional investors—have coalesced.
The report also suggests an "investment strategy" with a small (2.5%) position in BTC, hold in the form of publicly-traded products. In the U.S., investors have limited options to follow the report's suggestion.
But just like Morgan Stanley's client, regulators in that country have been receiving a lot of pressure from institutions looking to gain exposure to BTC. The report states:
Our initial modeling, replicated in spirit by a recently published CFA Institute study, suggests diversification benefits from the low correlation of cryptocurrency to other assets and that Sharpe ratio improvements can be achieved with positions no greater than 2.5%. It is important to keep in mind that we are only in the top of the first inning.
However, Bitcoin's price has shown little reaction to the news. At the time of writing, BTC trades for $55,591 with gains side movement during the past day and a small gain of 1.4% in the last hour.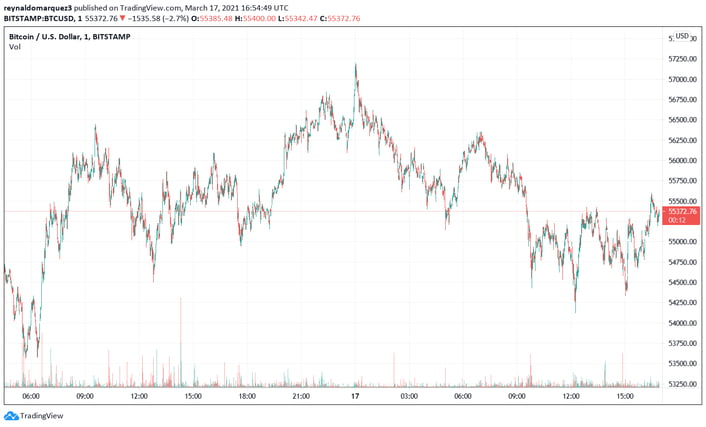 Over the past year, BTC shows an increase of 1,007% driving by institutional adoption. Morgan Stanley's funds are sure to continue to strengthen BTC's place as a world-grade store of value.